Similar to Korean, Japanese may be one of the hardest languages to learn, but now it is possible to achieve high conversation skills with the help of Android apps. In essence, all of these apps are different than others, developed for language learning purposes, making them as useful as possible. Of course, if this is the first time you encounter Japanese, you will need more time. Here are the best apps to learn Japanese on Android: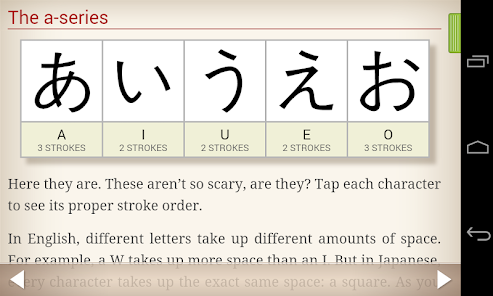 Human Japanese is the best app for those looking to learn Japanese. It contains a wealth of content, including 500 pages of interactive content, 1800 recordings of vocabulary words and phrases spoken by native speakers, and 800 example sentences.
The app also features animations of every hiragana and katakana character, as well as animations that help users understand the daily tasks of Japanese people. The games and review quizzes are also very helpful in keeping track of your progress.
Takoboto is an offline Japanese-English, English-Japanese dictionary and Japanese language learning tool. You can type any word you want into the app and it will translate it immediately. You don't need an internet connection to use it, which makes it really convenient. The latest addition to the app is a question mark button. If you don't know how to read a certain symbol, you can just hit the question mark and it will show you the reading.
The main purpose of Takoboto is as a dictionary, but it is also a common Japanese learning tool. Some of its features include 200,000+ Japanese entries with English translations, search as you type with kanji, kana, romaji, or alphabet, example phrases to see how words are used, easy kanji search by selecting multiple radicals, conjugated forms provided and can be searched, voice audio using text-to-speech.
With all these features, Takoboto is one of the most comprehensive Japanese language learning tools available.
Obenkyo is an app that helps you learn Japanese through illustrations, drawing patterns, and multiple-choice quizzes. With over 2300 Japanese animations and 14,600 words translated into English, Obenkyo is a comprehensive tool for learning the language.
In addition to helping you memorize Japanese numbers, words, and symbols, Obenkyo also includes a kanji dictionary with over 2300 entries, stroke animations, readings, and translations.
The app also includes a 14,600-word Japanese-English dictionary and an experimental grammatical particle test with over 100 sentences from Project Tatoeba.
Studying Japanese kanji can be a challenge, but with the right tools, it can also be fun and rewarding. The Japanese Kanji Study app is one of the best ways to learn and practice kanji, offering a variety of quizzes, tests, and flashcards to help you learn new words every day. The app is also interesting to use, allowing you to practice by drawing kanji characters.
With the Japanese Kanji Study app, you can customize your study experience to best suit your needs and preferences. You can choose which type of information to focus on (meanings, readings, example words, or sentences), and you can even select which JLPT level or common vocab words you want to focus on. The app adapts to your learning progress, making it an effective and efficient way to learn Japanese kanji.
The JA Sensei app is a great way to learn essential Japanese phrases. The app contains over 900 common Japanese phrases, organized by theme, that will come in handy for real-life communication.
The smart quiz feature helps improve your expression and comprehension skills, and the audio clips provide context for each phrase. You can also break down each phrase to get a list of words and a detailed grammar explanation. Plus, you can record your voice and compare it to a native speaker's pronunciation. And if you want to create and manage your own personal lists, you can do that too!