Similar to Korean, Japanese may be one of the hardest languages to learn, but now it is possible to achieve high conversation skills with the help of Android apps. In essence, all of these apps are different than others, developed for language learning purposes, making them as useful as possible. Of course, if this is the first time you encounter Japanese, you will need more time. Here are the best apps.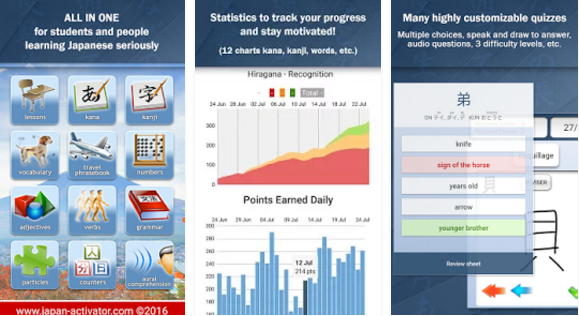 Human Japanese is definitely the best app on the list. It features 1.800 recordings, 500 pages, 800 sentences (examples) and a lot more. The interface uses reviews, illustrations and animations in order to help you learn new words and get the ability to forge sentences. A unique feature is animations that help you understand the daily tasks of Japanese people.
Type any word you want and the app will translate it immediately. You don't need the internet connection, because this is one of rare apps that work offline. When you don't know the symbol, you can use a question mark. It is the latest addition to the app and it makes it better. The main purpose of this app is as a dictionary, but it is also a common Japanese learning tool.
Obenkyo is developed to help you memorize Japanese numbers, words and symbols. It uses illustrations, drawing patterns and multiple choices. Just some of the features include 2.300 Japanese animations and 14.600 words, translated in English language.
With the assistance of quizzes, tests, practices and flashcards, you will learn new words daily. It is interesting to use the app and it also allows you to practice by drawing kanji. Currently, it is available only in English language, but soon other languages will be supported.
JA Sensei Learn Japanese Kanji
The real power of this app is in the phrases, more than 900 in fact that allows you to learn the most needed words in no time. Other methods include audio quizzes and tests. The app also teaches you numbers (from 0 to 10.000).
Moe Moe Japanese is a new, intuitive game-based app that will teach you all the phrases you are going to need. It is one of the most interesting and the simplest apps of this kind and as such, it is mandatory for all travelers.
This app is developed by international broadcast service, NHK. It uses audio lessons to teach you new words. You can download new ones when you complete old ones. More than 50 expressions can be learned as quickly as possible.
56 different categories and 200 grammar lessons are the most important features of this app. All phrases are divided accordingly to the situation where you may need them, which also makes learning easier. The total number of phrases is 4.000, so you will be able to use Japanese language as a tourist in Japan without an issue.