Have you ever wished you could take a recording of a conversation, lecture, or song with you wherever you go? With the ever-growing selection of Android apps, there's an app out there for just about everything—including voice recording.
Voice recording has become an integral part of our lives. Whether we use it for field interviews or academic lectures, it is a tool that allows us to communicate with others in a quick and efficient manner. In addition, voice recording is also a fun app to have which allows us to send voice recordings to our friends or to record lectures for academic purposes.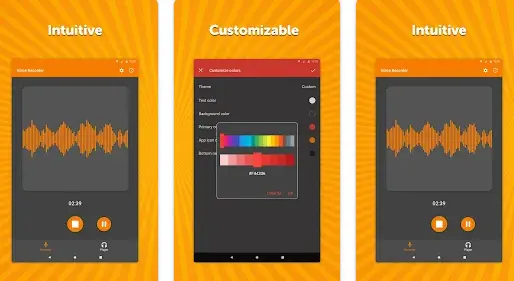 Here are five of the best voice recorder apps for Android, based on our experience and research:
Voice Recorder is an easy-to-use, high-quality audio recorder. It starts recording instantly when the user presses the record button and can save files in either mp3 or ogg format. The app has a very simple user interface, with all the necessary functionality located on one screen.
Users can record, play, pause, stop, and delete their recordings right from the app. They can also share their recordings with others via email or social media. The app also features a live audio spectrum analyzer and a microphone gain calibration tool.
Easy Voice Recorder by Digipom is one of the coolest applications that I have ever come across. It allows you to record audio in HD quality and then save it in a format that saves space. This makes it super easy to transfer the recordings to your computer.
You can also skip the silent parts to make the file more compact and save space. Moreover, this app has a lot of cool features like being able to share recordings easily through email or your favorite app. It also has light and dark themes, which is really awesome.
The Smart Voice Recorder app is a great tool for anyone who wants to record audio effectively. lectures, meetings, and other events. The app automatically skips silent parts of the audio to save space, which is a huge time-saver. Additionally, the app includes recording lists that are easy to use and an audio spectrum analyzer.
These features make the Smart Voice Recorder app popular amongst users. The app is also effective and battery-efficient. Users can control the recording process and launch shortcuts to start recording quickly and easily.
Have you ever needed to record a meeting, interview, speech, or lesson and found yourself without a recorder? Or maybe you wanted to record a song but didn't have the right equipment. With Voice Recorder & Voice Memos, you can easily record audio on your phone. This voice recorder can help you in many ways, you can record voice, record conversation by recording memories, and make voice-overs for videos.
Thus your phone can be used as a phone recorder, a dictaphone, a podcast recorder, or a smart music recorder. Whether you need to record audio for work or pleasure, Voice Recorder & Voice Memos is a useful tool to have. Plus, with high-quality output and no time limit for recordings, you can be sure that you'll get the recordings that you need.
Simple Voice Recorder is an app that you can use to record audios. You can use this audio recorder and voice recorder as a music recording studio. This free app goes straight to the point, it contains no fancy features that you won't use. It shows the current sound volume on a nice visualization that you can have a lot of fun with.
You can also take audio notes from this recording app or keep voice memos for later to listen. This recording app offers a helpful audio recorder and voice recorder player too so that you can listen to your recordings quickly within this recording app, and maybe rename or delete them.
You can use Simple Voice Recorder to record interviews, lectures, speeches, academic notes, songs – anything you like! The recordings are stored in convenient locations so that you can access them quickly and easily. There is also a search function so that you can find recordings by date, time, or keyword.
Conclusion
All of these apps are available for free on the Google Play Store, so give them a try and see which one works best for you. Whether you need something simple to capture day-to-day reminders or something more robust to save important business calls, there's an app out there that will fit your needs perfectly. Happy recording!