Voice recording is an integral tool that is critical for you if you do field interviews quite often. Even if you do not, it is a fun application to have which allows you to send voice recordings to your friends or to record lectures for academic purposes.
Here is a list of the best voice recorder applications available on Android.
Voice Recorder by Green Apple Studio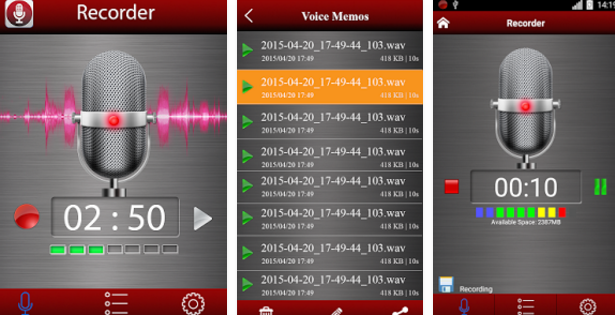 This recorder is marked by HD quality and an easy-to-use interface. It starts instantly when the need arises and can save files in mp3 and ogg formats.
It has all the required functions on one screen which makes it convenient to use.
Easy Voice Recorder by Digipom
This application allows you to record audio in HD quality in a format which saves space. The recordings can easily be transferred and used in your computer.
Moreover, you can skip the silent parts to make the file compact and therefore utilize space efficiently.
Smart Voice Recorder by SmartMob
This application allows you to record long lectures effectively. It automatically skips the silent parts of the audio to save space.
The inclusion of recording lists which are easy to use and an audio spectrum analyzer makes this application popular amongst users.
Voice Recorder by Mamoru Tokashiki
This application includes a feature of Timer Recording. It means you do not need to be physically present the entire time to record an audio.
The function to search a file via the title and date is also convenient in this recorder. Such features added to the high quality of the sound make this an excellent app.
Audio Recorder by Sony Mobile Communications
This app allows you to flawlessly edit, record and search audios via its interface system. Its Stereo microphones allow you to record audio in high quality.
The addition of the noise-canceling function adds on to the overall appeal of the app.