Apps for handwriting notes are some of the most common and the most desirable apps on Google Play. They allow you to take notes, to sketch anything you like and much more. Here are 5 the best handwriting note apps for Android.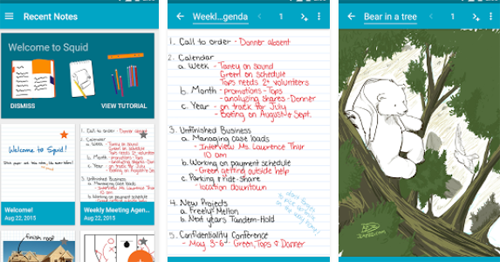 The app stands out with its natural handwriting experience using an active pen, passive stylus, or even your finger. Squid's versatility extends to PDF markup, making it an ideal tool for filling out forms, editing or grading papers, or signing documents.
You can also import images, draw shapes, and type text, creating a comprehensive and flexible note-taking tool. An innovative organizational structure allows you to keep your notes within notebooks, significantly enhancing your productivity.
Squid shines in its use of vector-based technology, keeping your notes visually appealing regardless of the zoom level or the device you're using. It also provides useful features such as the stroke eraser tool for erasing entire letters and words, and the true eraser tool for erasing parts of words.
The selection tool enables you to modify the color and thickness of your handwriting and even resize a drawing without losing quality. With the ability to change the paper types (e.g., blank, ruled, graph) and sizes (e.g., infinite, letter, A4), and options to cut, copy, and paste items between notes, Squid offers a rich set of tools for any note-taking requirement.
The app has received significant recognition, being featured on Google Play and receiving honors in productivity for the Samsung Galaxy Note S Pen App Challenge. A premium version of Squid offers additional features, such as creating notes with premium backgrounds, importing and marking up PDFs, backup and restore functions, and additional tools including a highlighter, "true" eraser, shapes, and text.
G Suite for Education customers can even purchase Squid Premium in bulk. The developers are receptive to feedback and have a system in place for reporting bugs. In short, Squid offers a powerful, intuitive, and adaptable note-taking experience, making it an excellent choice for both personal and professional use.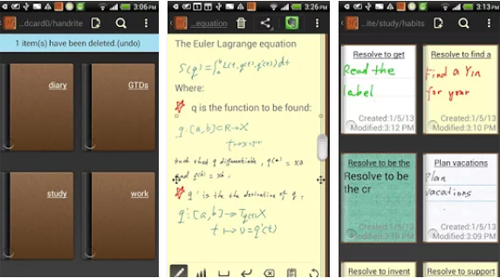 HandWrite Pro Note & Draw is another app that shines in the realm of handwritten notes.
It combines the simplicity of a pen-and-paper interface with the sophistication of a digital app. It's not just about writing notes; you can also add diagrams, sketches, and doodles to your notes, making it a versatile tool for students, artists, and professionals alike.
The cherry on top? It comes with a built-in palm rejection feature, ensuring your notes remain clean and unmarred by accidental touches.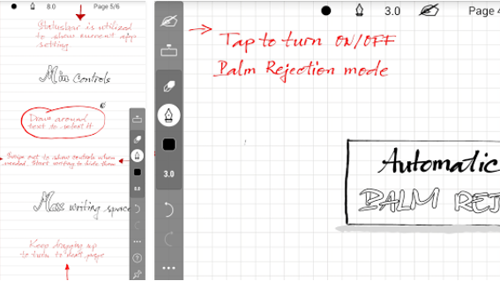 INKredible is designed with simplicity and focus in mind, striving for a distraction-free environment that fosters creativity and productivity. Its minimalist user interface, often presenting users with nothing more than a blank canvas to express their thoughts, is a testament to this mission. This design ethos is refreshing, eschewing the need for multiple controls and options that usually clutter the interface of similar applications. Instead, it provides a serene and clutter-free workspace that encourages users to concentrate on their writing.
From a technical perspective, INKredible is a tour de force. With over three years of research and development dedicated to perfecting its vector-graphics inking technology, the app ensures your handwriting looks elegant and visually appealing, often better than it does on paper. It leverages sophisticated manipulation of Bezier curves, rendering your handwriting with exceptional finesse and detail.
Impressively, this high-quality rendering is resolution-independent, ensuring your notes look stunning whether they're displayed on a screen or printed out. While the creators humbly admit that the writing experience may not be perfect, it's safe to say that INKredible comes exceptionally close, setting a new standard for handwriting applications.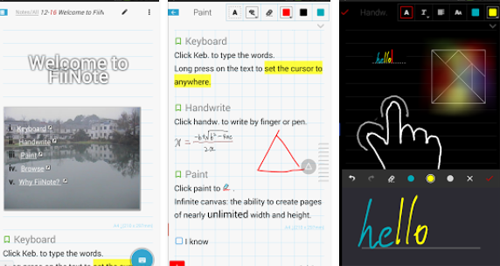 FiiWrite is a simpler version of FiiNote app. The main difference is in the ability to use thekeyboard, which the second app here allows you. Anyway, you will have all the needed features at your disposal.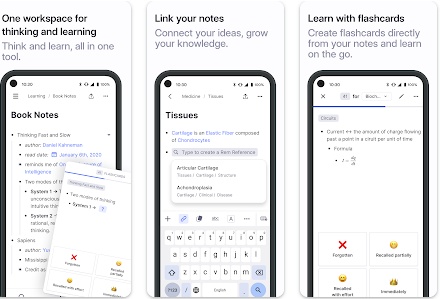 RemNote is a comprehensive learning tool that combines note-taking, knowledge management, flashcards, and spaced repetition to make learning effective and efficient. It's not just a note-taking tool; it also offers features like flashcards, PDF integration, backlinks, and more to help you study, stay organized, and think better.