Reading email daily is an unavoidable task to many people. Fortunately, there are many good email readers on Android that can help you quickly take a glance or reply to any emails on the go.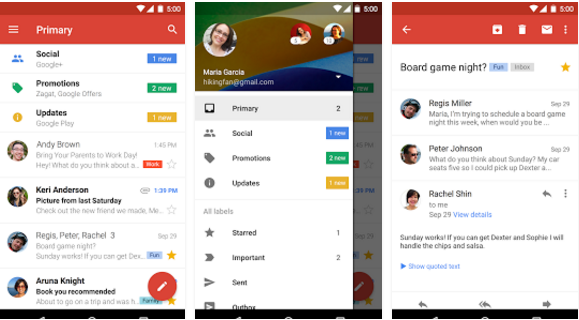 It is a native Gmail reader from Google for its email service. And it supports other email hosts as well, be it Outlook, Yahoo or self-hosted emails. Gmail has a simple and user-friendly interface. It is the first choice to most Android users because it is shipped with any Android devices and any Android users already has an Gmail account to begin with.
Its main features:
An organized inbox. The inbox doesn't include emails it detects as social or promotion. They are sorted into 2 different categeries so you can read emails from work or family first.
Better spam control. Gmail is quite good in blocking spam or phishing emails.
15GB of free storage. That's a lot for storing emails. However, it's shared with other Google services like Drive.
Multiple email types support. You can use any IMAP/POP emails and multiple accounts within this app.
Similar to Gmail, Outlook is an native app for Microsoft's email service but also supports other types of emails. Outlook put important emails into Focused inbox and displays its first for quick access. It has been updated constantly to fix bugs and to implement new features.
Blue Mail is a free and beautiful email reader that can manage unlimited number of mail accounts from different providers or self-hosted ones. Its smart push notifications allows its users to download emails the instant they are sent to the email server. It can group emails while enabling personalization across multiple email accounts. Blue Mail has different settings for notifications: Quiet Hours, Custom Sounds, Vibrate, LED Light, and Snooze.
myMail help manage all your email accounts ine one app, be it Gmail, Yahoo, Outlook, AOL, iCloud, Live, Exchange, GMX, or any other IMAP or POP3-enabled mailbox. Setting up an email box on myMail is really simple and easy; just input username and pass then let myMail do the rest. Its real-time push notifications can be customised to fit your lifestyle better.