Youtube is a great resource for finding videos on any topic. You can also watch videos online, or download them to watch offline. However, one of the best things about YouTube is that you can also use it to create animated GIFs.
These days, you can find GIFs almost everywhere. GIFs are one of the best ways to share a quick, funny moment with your friends on social media. It's easy to create GIFs from your favorite YouTube videos, and in this blog post, we'll show you how. So whether you're looking to create a gif of your favorite singer dancing or a video of your cat playing with a ball of yarn, follow these simple steps and you'll have a GIF made in no time!
4 Best Websites to Generate a GIF From a Youtube Video
Utilizing GIFs has become a common way to communicate and express oneself online. The process of making GIFs has become relatively easy as well. In this guide, you will be teaching making a GIF from a YouTube video using Gifs.com. This website is user-friendly and easy to use. All you need is the URL of the YouTube video and then you can select the section of the video that you want to make into a GIF.
First, you need to copy and paste the preferred YouTube video link into the URL space of the homepage. Then click Continue:

Next, choose the part of the video you like the GIF to begin from. Similarly, choose the ending part of the GIF.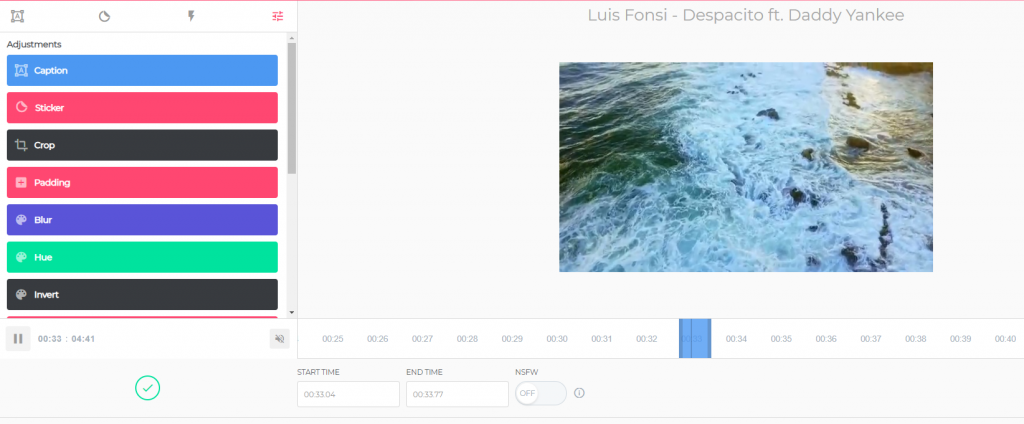 Before making the GIF, the site does provide some customization options which users can play around with. These take account of putting in a caption, color editing, cropping the clip, and a whole lot more.
If you think that your GIF is ready, click the 'Create GIF' tab that can be found at the top right-hand portion. To end with, you can put in or insert tags or a title to the GIF you have made, as well as make a decision if you would like your GIF to be private or public.
When you have completed your GIF, the site provides you with options to either download it or share it. If you think you might want to use the GIF again in the future, it's important to save the link in someplace. That way, if you ever need it again, you'll be able to easily find and use it. Additionally, if you share the GIF with someone and they lose the link, you'll be able to send it to them again. Having the link saved someplace also allows you to keep track of your GIFs and see how often they're being used.
If you would want to access excellent features –like getting rid of the watermark – you are required to sign up or register for a GIFS.com premium account. Signing up or making an account will need you to pay starting form $1.99 per month.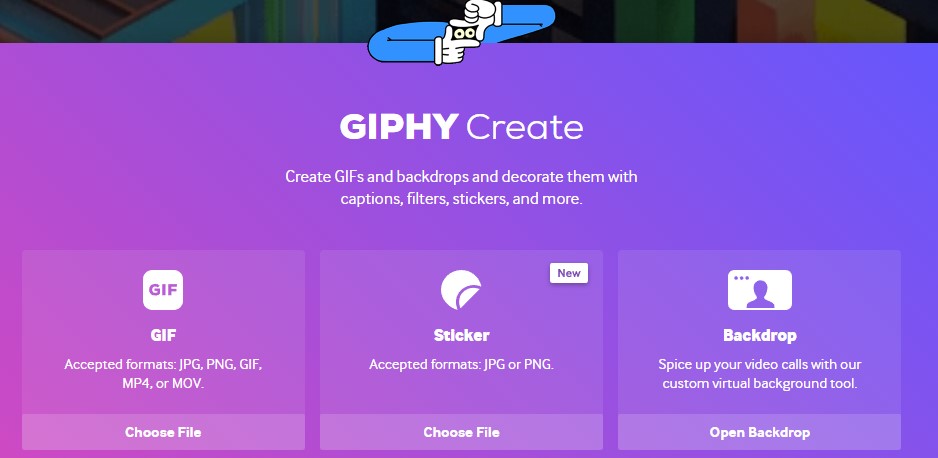 Giphy is a popular online GIF-making service that supports YouTube and Vimeo links, as well as manually created GIFs from photos. It also has a host of different options for customizing your GIF, including adding captions and other elements to make it just how you want.
You can even use Giphy to create your reaction GIFs, which is a great way to get your friends and family involved in the fun. Whether you're looking for a way to add some levity to your day or you're looking for a new way to communicate with your loved ones, Giphy is worth checking out.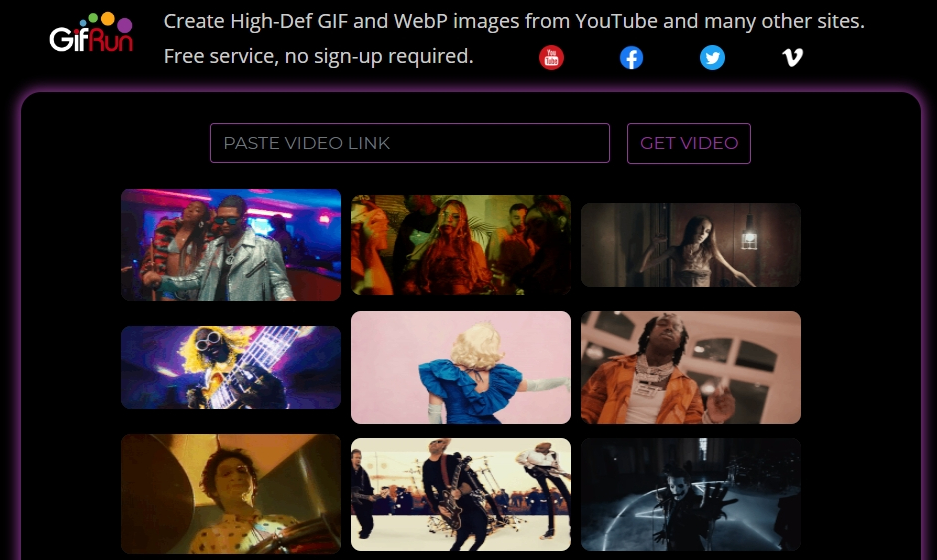 Gifrun.com is a free online service that allows you to create high-quality GIF and WebP images from YouTube and many other sites. It is easy to use and offers a variety of customization options. Users can choose the start and end points of the GIF, as well as add text and filters. Gifrun also allows users to create GIFs from other online videos, as well as images.
Simply enter the URL of the video you want to convert, and Gifrun will do the rest. There's no sign-up required, so you can start creating GIFs right away. Best of all, Gifrun is completely free to use.

This website is the perfect place for all your GIF needs. With a free account, you can keep all your GIFs in one place for easy access and sharing. You can also create your own GIFs, which are great for when you want to capture a special moment or share your favorites with friends.
Plus, the website is user-friendly and easy to navigate, so you'll be creating GIFs like a pro in no time! So whether you're looking for the perfect GIF to share with your friends or just want to browse through some of the funniest ones out there, makeagif.com is the place to go.
You can make a gif from a Youtube video by going to one of the websites above and following their instructions. Gifs are a fun way to share a video or moment with friends, and they're easy to make! Once you've made your gif, you can share it on social media or even