The digital offers us new possibilities through audio and video content. People who aim to be influencers use social media to display their video content. It's an excellent strategy to connect to large audiences around the world.
But, are you confident that producing audio and video could lead you to success? Well, it can connect you to a lot of people. But, you still need SEO or search engine optimization so that search engines like Google would discover your content.
From here the idea of transforming audio to text comes in.
The Importance of Transcription 
Do you want to boost SEO and your web presence? Then, it's not bad to leverage your content using transcription tools. In transcribing an audio content, you can develop and enrich the content of your website.
Transcription allows you to put into text the recorded conversations with clients that you want to share on your site. You can write interesting articles with good storylines that people would be interested in reading.
Whether you want to write articles or share stories, transcription helps you to create a captivating approach that would boost your SEO and web site.
Here are two of the best transcription tools you can use.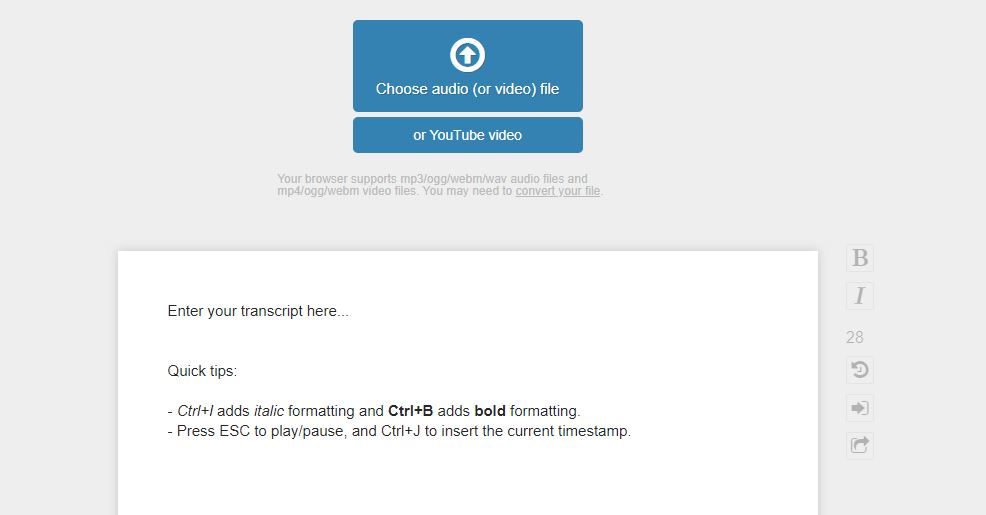 For marketers and journalists, automated transcription is good, but you don't have to do it at all times. Sometimes, it's still great to use the browser-based manual transcription tool such as oTranscribe.
Why?
The manual transcription offers you the following:
Accurate word recognition
Discernment of speakers and audio
Content familiarization
The oTranscribe is also a handy tool. For example, journalists who transcribe a recorded interview would have a deep understanding of the interview due to the accurate word recognition offered by oTranscribe.
Playback Control 
If you use manual transcription before, the playback speed would be a challenge. You have to keep pace with the audio track when you type. You also need to maintain the accuracy of the tool when it comes to the sentences and the structure of the conversation.
Don't worry! oTranscribe lets you adjust the audio speed adjuster by clicking the right function keys. The manual transcription tool makes it easy for you to hear the words very well as you transcribe.
Amazon's continuous expansion in many industries is a turning point in the development of cloud computing platforms. These platforms offer advanced and excellent solutions such as the Amazon Transcribe.
What Amazon Transcribe Could Do For You?
Amazon transcribe very reliable to developers who use speech to text functions in their applications. Business owners would find the tool handy in generating subtitles from video and audio. It's also excellent if you want to transcribe calls from clients.
For online marketers, Amazon Transcribe allows them to create rich content such as articles and blog posts
Also, you gain excellent features such as edited transcriptions, timestamps and custom vocabulary that help the transcribing work easy for you.
What transcription tool should you prefer to use?
Well, it depends on your purpose of using the tool. You can find a manual transcription tool to transcribe a podcast episode. If you're going to write articles, the automatic transcription tool – Amazon Transcribe is an excellent choice.