Transcription software is a tool used by professionals to convert audio and video recordings into written text. It is a valuable tool for journalists, researchers, students, and many other professionals who need to quickly and accurately transcribe audio and video recordings.
Transcription software can be used to transcribe interviews, lectures, podcasts, and other audio and video recordings. With the right transcription software, you can save time and effort while ensuring accuracy.
Some software companies offer manual transcription services which can help reduce the chances of errors. Furthermore, many transcription software programs are accessible through personal mobile devices, allowing users to access their features on the go.
In this article, we will discuss the best transcription software available on the market today.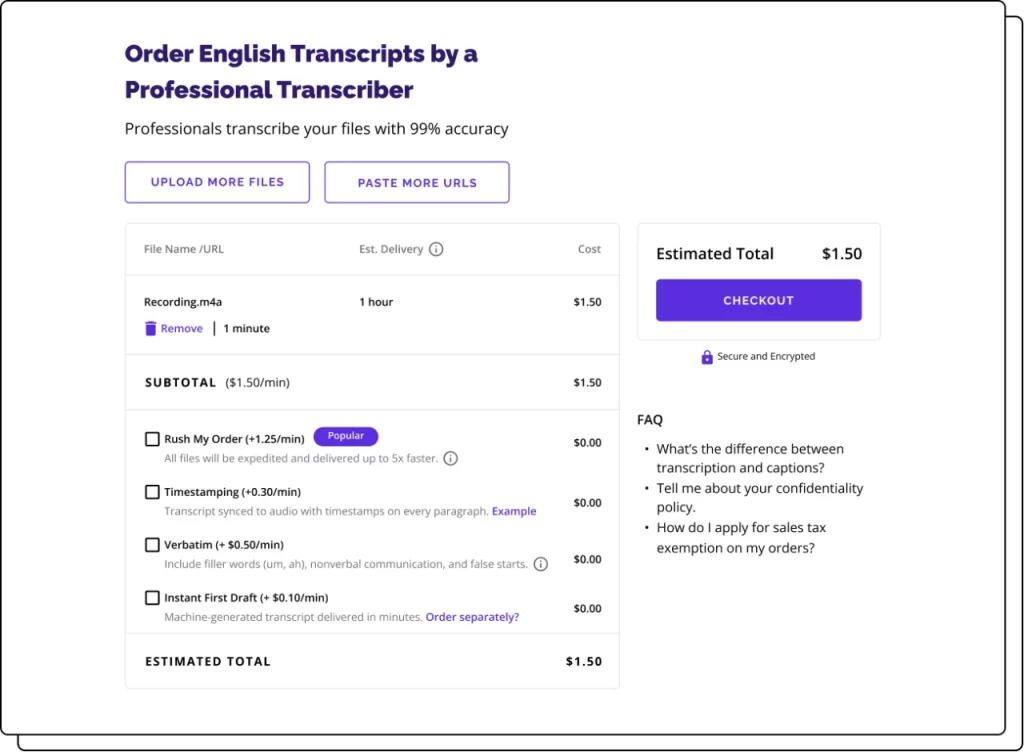 Rev is an accessible platform that complies with the Americans with Disabilities Act (ADA) and Federal Communications Commission (FCC) regulations. The software offers a range of features, including professional typists who can transcribe your audio and videos, a transcript editing tool, AI-based transcription, and subtitles in English and 15 other languages.
Revolutionary technology has allowed Rev to become the global leader in transcription services. Its advanced algorithm is constantly updated with data provided by roughly 50,000 high-quality transcribers. This will enable Rev to offer accurate language services that are dependable and widely used by major corporations around the world, including Amazon, Microsoft, and CBS.
It also integrates with YouTube, Vimeo, JW Player, and more platforms. Rev offers AI-based transcription and provides 90% accurate live captions for Zoom. The pros include 24/7 customer support and live captions for Zoom.
GoTranscript provides an easy and cost-effective way to transcribe audio and video files. All you need to do is upload your file via the web or link, pay the amount via your chosen method of payment, and get the transcript delivered to you via email.
GoTranscript ensures the accuracy of the transcript through its 4-step process and proofreading and reviewing of the documents. The accuracy of the transcription is 99%, and all transcriptions are human-generated.
GoTranscript was founded in 2005 and has customers such as BBC, Netflix, Samsung, and BOSE. It supports over 47 languages and has features such as API integration, a low cost of $0.77/minute, and customer support via phone, email, or chat.
I chose TranscribeMe as a low-cost AI transcription service. Not only do they have top security protocols and processes, but they are also compliant with HIPAA and GDPR protocols. They made sure that my data was kept safe and secure.
TranscribeMe offers custom solutions, including geofencing the workforce to specific locations.
With their technology and workflows, they provide the highest quality data consistently and at an affordable price. You will be thankful that you can trust TranscribeMe to keep your data secure while still getting cost-effective services.
Otter is an AI-powered transcription software that enables users to accurately convert audio files into text form. It's especially helpful in transcribing conversations and voice notes, featuring an accuracy rate of 80-95%. It supports various audio and video formats and can output the transcript in multiple formats, including Microsoft Word, PDFs, and PowerPoint slides.
Otter AI can help you save time and energy when taking notes or summarizing meetings. It can do this 30 times faster than traditional methods, allowing you to focus on other tasks. It also allows you to collaborate with teammates in real-time, by adding comments, highlighting important points, and assigning tasks.
Otter has been adopted by many leading organizations, including IBM, Dropbox, Zoom, and UCLA. Additionally, it offers a number of productivity features to make the task of transcription easier, such as speaker identification, summary keywords, and highlighting key phrases in the text.
Descript is an incredibly useful piece of software for anyone who needs to record audio or video, edit it, create podcasts, or transcribe the content. It is highly recommended for its power and ease of use, and it can be used for a variety of purposes.
It offers a wide range of features, including the ability to easily record audio and video, edit recordings, create podcasts, and transcribe content accurately and quickly. It also offers features like mixing and editing, filler word detection and removal, and live team training.
Descript also has a free version and is SOC 2 Type 2 compliant for data security, as well as providing priority support. The only downside is that it doesn't have video hosting.
Trint is a powerful transcription tool that uses artificial intelligence to transcribe audio and video files. Trint has an intuitive interface and can transcribe audio from a range of sources, including webinars, interviews, and podcasts. The tool offers a range of transcription services, including time-stamped, verbatim, and translated transcription. Trint also provides a powerful search function that allows users to search for specific words or phrases within the transcribed text.
One of the key features of Trint is its integration with a range of other tools, including Adobe Premiere Pro, Adobe Audition, and Microsoft Word. This can be useful for users who need to edit or manipulate the transcribed text within other software applications. Trint also offers a range of pricing plans to suit different needs and budgets.