For those who dream of becoming a prominent business tycoon and making lots of money,  Cash, Inc is a fun RPG clicker game you can enjoy. Although it seems like the usual clicking game, it is not a simple game. Cash, Inc. game also requires business strategies and insight to progress and get ahead in the game.  Some even call it a business management game. Player need o decide which business to upgrade or focus on.
Main Task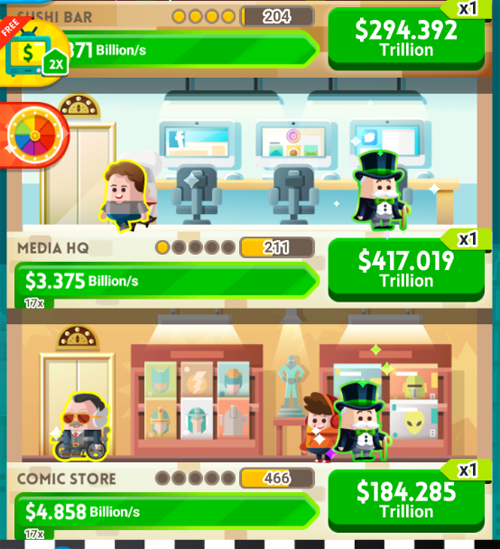 The main task of Cash, Inc. is to acquire a business and upgrade it to earn more profits. Initially, you will start with a small comic book store, and as you progress further into the game, you will unlock more businesses and finally get to the Galactic Station. As you upgrade each business and reach a higher level, your profits will increase.
Hire VIPs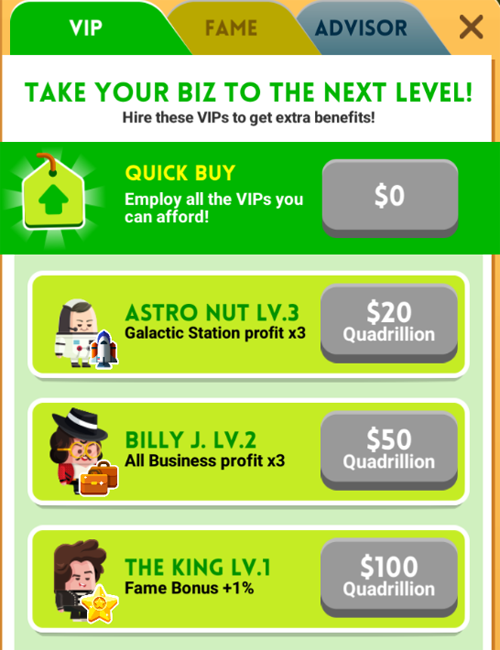 VIPs will increase the profits of your businesses. You must focus on hiring a manager. A manager will help in collecting your profit. Once you hire a manager, you can rely on the manager to collect your income even when you are not playing. Other VIPs will increase your profits from specific businesses. You can also double your income by watching promo videos that are offered.
Prestige and Earn Fame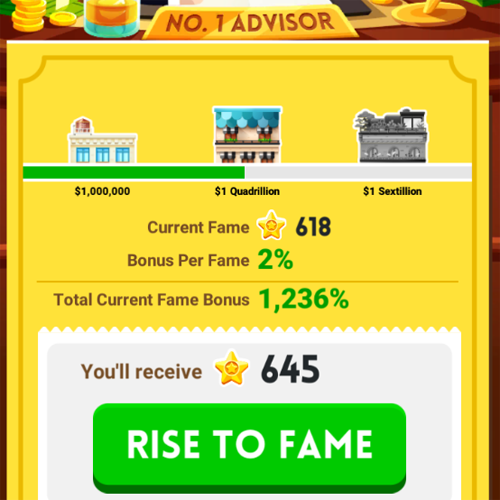 Prestige is a feature that resets your progress, earn fame points and turn on profit multiplier. Once you unlock all businesses, you will be eligible to use this feature. It is an essential step to progress in the game. If you find it difficult to earn more income in a particular business, you can prestige and start over again while activating the profit multiplier and earning fame points. After prestige, your income will multiple, and you can use fame points to purchase the best upgrades. Prestige also helps to balance the business upgrades. Watching the promo videos will earn you more fame points.
Free Crystals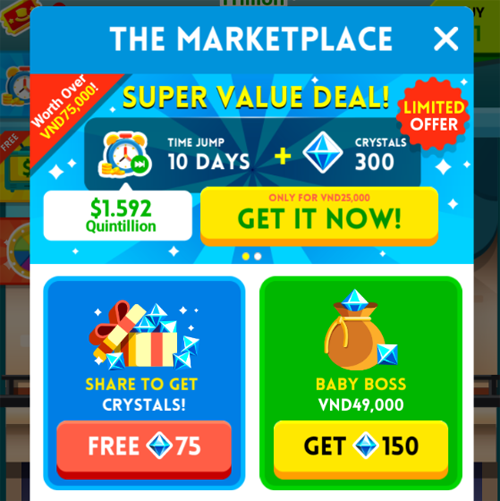 Crystals are the main currency of this game. There are several ways to earn free crystals. The first is to connect your game account to Facebook to earn free crystals. You can also earn crystals by sharing the game with your friends. When a friend downloads the game, you will receive your free crystals.  You will earn more free crystals when you enter the crystal shop for the first time. You can trade your crystals for golden tickets or earn billions instantly in the boost section. Save your crystals to use them when you reach Galactic Station and boost your earnings.
Cash, Inc. is a fun game to learn about business management. Although it is a simple clicking game, it requires a lot of strategies to decide which button to click-on. You can experience being a successful business tycoon through this game.