Korean is the most context-based language in the world. If you don't have time to go to an academy, these apps will help you start learning this language anytime.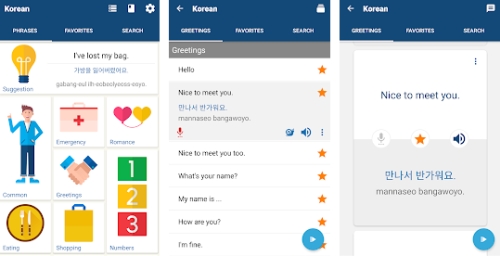 Learn Korean boasts over 800 daily-used Korean phrases and vocabularies. With Learn Korean, you can learn from the Korean speaking parrot that help you practice your speaking and listening skills. It can record your pronunciation to compare it with the original. It is easy to manage your favorite words as well.
FEATURES
– Many useful Korean phrases & words
– Pronunciation recorded by native Korean speaker
– No Internet connection required
– Instant search by keywords
– Customizable font size
Learn Korean 6,000 Words is an easy and fun way to learn Korean. The app provides 6000 words with images to illustrate words, phonetic transcriptions and pronunciation recordings by native speakers. They are divided into 15 topics with 140 subtopics. Don't worry about your Korean levels! The app is designed to be suitable for beginner, intermediate and advanced levels.
This is the best app to start learning Korean. I personally use this app. The app is designed to guide you through lessons from easy to hard, from Hangul to daily situations. Learning with this app is like talking to your friends, but in Korean. Install this Korean learning app, chat with Lanny then you will become a master in Korean soon.
L-Lingo Learn Korean Pro
L-Lingo Learn Korean Pro will immerse you in the sights of the Korean language through 65 lessons divided in multiple categories such as sports, time, professions, colors. The app supports both Korean and Latin scripts to make users learn easier based on their levels. L-Lingo is designed to be easy to use with thousands of visualized words and sentences, native speaker pronunciation. You can start reading K-pop news and K-pop blogs, and watching Korean drama and variety shows after completing all of this app's lessons.
Korean Vocabulary
Korean Vocabulary is a well organized education app on Android. It is well designed to maximize learning results with attractive flashcard displays. The app's vocabularies cover all daily conversation and education's requirement. The FREE version supports vocabularies in 6 topics while the PRO one will show more.