During the last years, a desire for cryptocurrencies has been increased significantly. Now, more and more users want to trade, earn, sell or simply be in touch with this type of currency. These apps can assist you with this matter.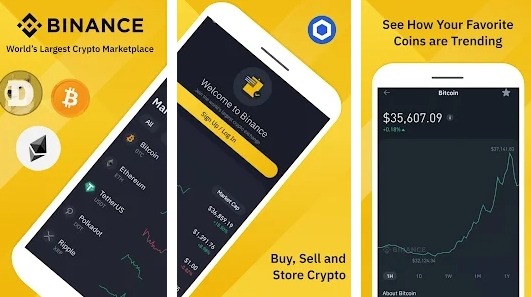 So you've been hearing a lot about Binance and you're not sure what it is? In short, Binance is a cryptocurrency exchange where you can buy, sell, and trade digital currencies. Launched in 2017, Binance has quickly become one of the most popular exchanges due to its low fees and impressive number of supported cryptocurrencies.
Binance is a leading global cryptocurrency exchange and the first to offer BEP2 tokens. With millions of users from over 190 countries, our user-friendly platform makes it easy for you to buy, sell and trade digital currencies like Bitcoin, Ethereum and more.
Plus, with some of the lowest fees in crypto, you'll be able to keep more of your hard-earned money. So what are you waiting for? Download the Binance app today and join the crypto revolution! If you're looking to get into the world of digital currencies, Binance is a great place to start.
Looking to stay ahead of the curve in the cryptocurrency world? Look no further than CoinGecko. Real-time market data for Bitcoin, Ethereum, XRP, Dogecoin, Binance Coin, Litecoin, SLP and over 8,000+ cryptocurrencies mean you'll never have to miss a beat in this rapidly changing marketplace.
Build your own portfolio and track real-time Profit & Losses so you always know where you stand. Stay up to date with trending crypto news by top news outlets and set personalized price alerts with large market movement alerts so you never have to worry about missing out on a big opportunity again.
And if you need to convert between currencies – fiat or crypto – our instant calculator has got you covered.
Trust Wallet is the perfect mobile crypto and Bitcoin wallet for anyone looking for a safe, secure and easy way to store their cryptocurrencies and digital assets. With Trust Wallet, you can send, receive and store Bitcoin and other cryptos securely and easily with the Trust Wallet mobile app.
Plus, you can use Trust Wallet to earn interest on your crypto, play blockchain games and access the latest DApps and DeFi platforms.
All of those who are dealing with cryptocurrencies will need an appropriate wallet. The app here is a wallet designed specifically for this purpose. You can send and receive funds and etc.
One of the main advantages is the PIN protection, longwise availability on 25+ languages. There are 17 million users at the moment and the number is increasing as we speak.
MetaMask is the perfect way to get started with the new, decentralized web. Whether you're an experienced user or brand new to blockchain technology, MetaMask makes it easy to connect to the new internet. With millions of people trusting us around the world, our mission is to make this exciting new space accessible to everyone.
Use MetaMask to buy, send, spend, and exchange your digital assets safely and securely. Log into websites securely and trade assets with other users, play games, borrow and lend money, publish content, and more. The possibilities are endless with MetaMask!
Here is another app which is developed as a cryptocurrency wallet. It allows to the users to make payments using their smartphone and an app. It is safe and reliable to use, but at the same time sophisticated. You can pay using Bluetooth when the Wi-Fi is unavailable. The app is something each Bitcoin user must have. It is also the oldest and one of the most popular digital wallets at the moment.