Android is a versatile operating system that allows you to customize many aspects of your device, including the app launcher. A launcher on Android is a program that provides a graphical interface for managing the home screen and launching applications. Android launchers typically provide a dock for holding icons, a widget panel, and a desktop for arranging icons. Some launchers also include features like application search and weather information.
If you are bored with the built-in launcher or you want some new features on your Android device, the following are the best launcher apps that will help you to do so.
The Best Android Launcher Apps
Launcher apps offer a wide variety of features, so it is important to choose one that meets your needs. Some launchers simply provide a different look for your home screen, while others include handy features like widgets, shortcuts, and customizations.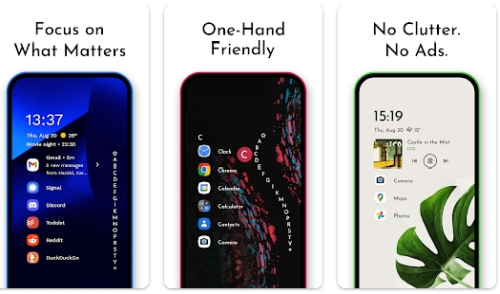 Trying to navigate your phone with one hand can be a frustrating experience. You have to contort your hand in strange ways to reach all the little buttons, and often you end up dropping your phone on the ground.
Niagara Launcher is a minimalistic and lightweight home screen app that is designed to declutter your home screen and help you focus on the apps that matter to you. The app is ad-free and runs smoothly on all phones, with just a few megabytes in size.
The Niagara Launcher was designed with one-handed use in mind. The launcher's ergonomic design puts all your apps within easy reach, and the adaptive list feature means you don't have to keep opening and closing app drawers.
Its wave alphabet animation makes it easy to find the app you're looking for without even having to look at your phone.
Niagara Launcher lets you hide all pre-installed bloatware and rarely used apps, so you can focus on the apps that are most relevant to you. With this app, you can have a clean and clutter-free home screen that helps you stay focused on what matters.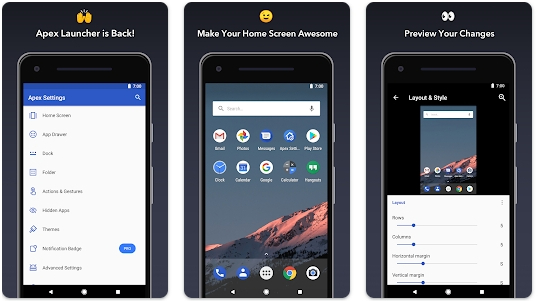 Apex Launcher helps you create a customized home screen experience on your Android device. Apex Launcher allows home screen grid number and size to be customizable, switching between screens is smooth and beautiful thanks to its scrollable dock and infinite & elastic scrolling with fancy transition effects.
It enhances the app drawer with many options such as sorting by title/install date/used and hiding apps from the drawer. Other great features it offers are a theme engine, home screen gestures, and screen locking.
With AppLock, you can protect your privacy with pattern and password protection for apps like Facebook, WhatsApp, Gallery, Messenger, Snapchat, Instagram, SMS, Contacts, Gmail, Settings, and incoming calls. You can also hide pictures and videos.
Apex Launcher also allows you to customize the home screen and app drawer grid size, as well as create custom icons, themes, and labels for shortcuts and folders. With up to 10 icons per page and 5 pages in the scrollable dock, you'll have plenty of room for all your favorite apps.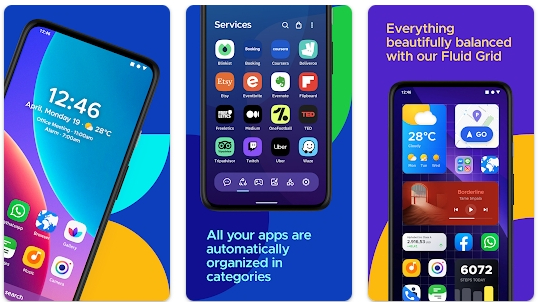 Smart Launcher is a simple, innovative launcher, featuring a minimalist design, low resource requirements, and a user-friendly interface that allows you to launch any application with just a few taps.
Smart Launcher allows you to access the most used app. App Drawer automatically organizes your apps into a few important categories, and it can hide unused apps to avoid distraction. The launcher also supports themes, lock screens, and plugins.
With automatic app sorting, you'll never have to waste time organizing your icons again. And with the ambient theme feature, the launcher will automatically change colors to match your wallpaper. Plus, it's designed to be used with one hand and is completely customizable.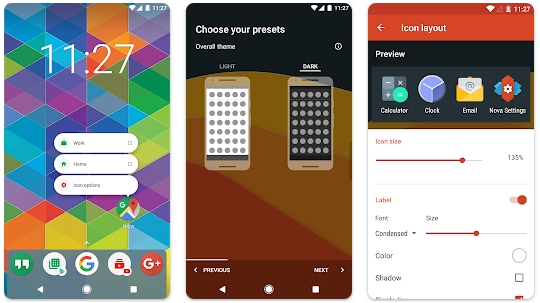 Nova Launcher is the original and most polished customizable launcher for Android. It is mostly used to change icon themes, colors, layouts, animations, and more.
Just a few of the things you can do with Nova Launcher include customizing your icon themes, choosing a night mode or dark theme, and creating a custom app drawer. With subgrid positioning, you can snap icons and widgets into place in between grid cells for a precise look and feel – something that's difficult to do with most other launchers.
Plus, backing up and restoring your settings is a breeze – you can store backups locally or in the cloud.
Nova Launcher is a good option if you're looking for something that's lightweight, simple to use, and has some of the most useful features accessible. Nova Launcher Prime is a premium version that adds more features and extends your device's customization capabilities.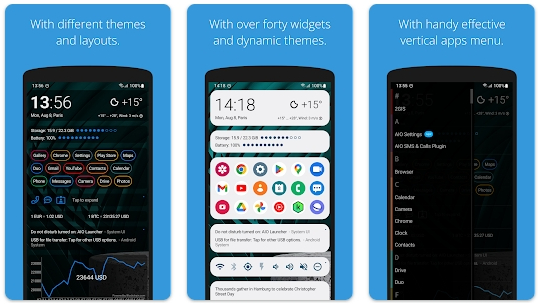 AIO Launcher is one of its kind. For starters, it doesn't have colorful icons and many animation effects. It also doesn't collect personal information. Instead, AIO Launcher uses valuable screen space to show you the most important information – whether that's the current weather, standard android notifications, or your messenger conversations.
And if you're a music lover, you'll appreciate the fact that playback control buttons appear when you turn on the music. Other features include frequently used application buttons, selected application icons, quick contacts, a Numpad for quick calls, a timer, and a list of received emails and notes.
In other words, AIO Launcher is a one-stop shop for everything you need – and best of all, it doesn't take up valuable space on your device.