These days, online shopping is the way to shop. You can browse stuff to buy on your mobile device using many different apps. The convenience of online shopping is unmatched. You can shop from the comfort of your own home and have your purchases delivered right to your doorstep.
Online shopping also allows you to compare prices easily so that you can get the best deals. In addition, you can often find coupons and promo codes for even more savings. Whether you're looking for clothes, electronics, or anything in between, online shopping is the way to go.
Are you looking for the best Android shopping apps? If so, you've come to the right place. In this blog post, we'll discuss five of the best Android shopping apps available today. We'll also provide a brief overview of each app, so you can decide which one is right for you.
5 Best Shopping Apps for Android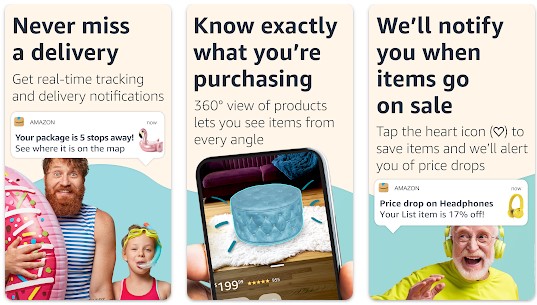 Amazon Shopping is the best app for online shopping from the giant eCommerce firm. You can browse millions of products and share product links, as well as use Alexa for easier shopping. The app is relatively easy to use, but keep in mind that it comes with a lot of options, so you will need some time to get used to it.
Some great features of the app include never missing a delivery with real-time tracking and delivery notifications, as well as getting a full 360° view of products so you know exactly what you're purchasing. Amazon Shopping makes sure you're getting exactly what you want – and makes shopping on Amazon faster and easier than ever before.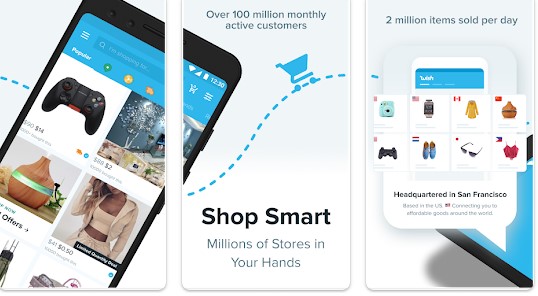 Shopping is more fun when you can find great deals on the products you want. Wish is a great Android app for shopping that can provide you with these deals. Most products are delivered via DHL, but in some cases, you may have to wait up to 3 weeks for your purchase to arrive. Of course, this depends on your location.
When you shop with Wish, you can be confident that your purchases are eligible for a refund within 30 days of delivery. They also take security seriously and strive to keep your information safe when you buy from them. You can read through customer reviews, view photos, and watch videos of their purchases before you buy anything. Plus, you can track your purchases after they're shipped so you know when to expect them. And if you ever have questions about your order, their customer service team is easy to reach through the app.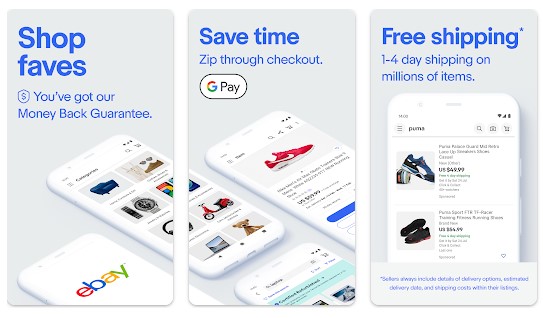 The eBay app is a great way to buy and sell items, but it also allows you to catch great deals. It is possible to save plenty of money in case you use the app regularly. For example, if you are a seller, you will have to use it daily, due to its importance and features.
The eBay app allows users to track their online shopping orders in real-time and quickly and safely speed through checkout. Additionally, the eBay marketplace is a great way to make money by listing items in minutes. Furthermore, the eBay app-certified refurbished section is a great place to browse and buy phones, laptops, portable audio, game consoles, surveillance tools, and more from premium brands iRobot, KitchenAid, Bose, Samsung, and more—all backed by a two-year warranty.
In short, the eBay app is not only a great tool for buying and selling items, but also for finding amazing deals on popular items.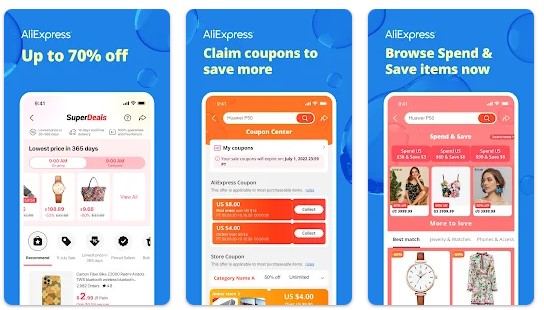 AliExpress is the go-to online shopping app for finding deals on millions of Chinese products! With worldwide shipping to over 200 countries and regions, and an app available in 18 languages, AliExpress is a great choice for international shoppers.
Safe and secure payment methods, 24/7 Help Center support, and Buyer Protection policies make AliExpress a great choice for those who value peace of mind when shopping online. New users can enjoy signup gifts of their first item for the $0.01 or up to $5 coupon, making it easy to get started with AliExpress shopping. Fast delivery options are available for those who need their items quickly.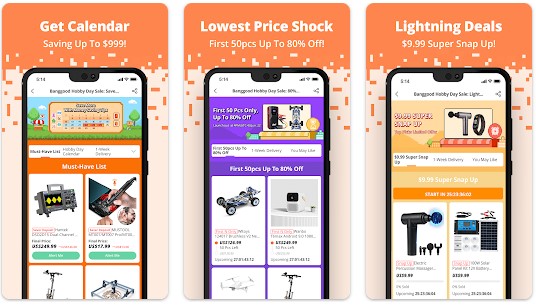 Banggood is a global online shop that provides well-selected, highly cost-effective products. With millions of products available, ranging from consumer electronics to clothing, you're sure to find what you're looking for. And with this convenient online shopping app, it's easy to order and have your purchases delivered right to your door.
You can buy electronics, phones, home and garden items, toys, hobbies, and robots that perfectly fit your need. The secure in-app payment system offers more than 40 different payment methods to protect your personal information. Live chat support is available 24 hours a week in multiple languages. The user-friendly design makes it easy to find what you're looking for. With Banggood, you're guaranteed to find products that are both high quality and low cost.