A slider is a type of image gallery that allows users to cycle through a series of images or photos. Sliders can be used for a variety of purposes, such as showcasing products, promoting blog posts, or highlighting important information. They are an effective way to engage website visitors and help them learn more about your content.
There are a variety of WordPress plugins available for creating sliders. In this article, we will share the 5 best WordPress image slider plugins. There are a number of factors to consider when choosing a WordPress image slider plugin.
The first is the ease of use. You want a plugin that is easy to set up and use, so that you can get your slider up and running quickly.
The second is features. Some plugins offer more features than others, such as the ability to create multiple slideshows, customize the appearance of your slider, or add animation effects.
The third factor is price. Some plugins are free, while others require a subscription or one-time purchase. Choose the plugin that offers the features you need at a price you're comfortable with.
Top Rated Image Slider Plugins for WordPress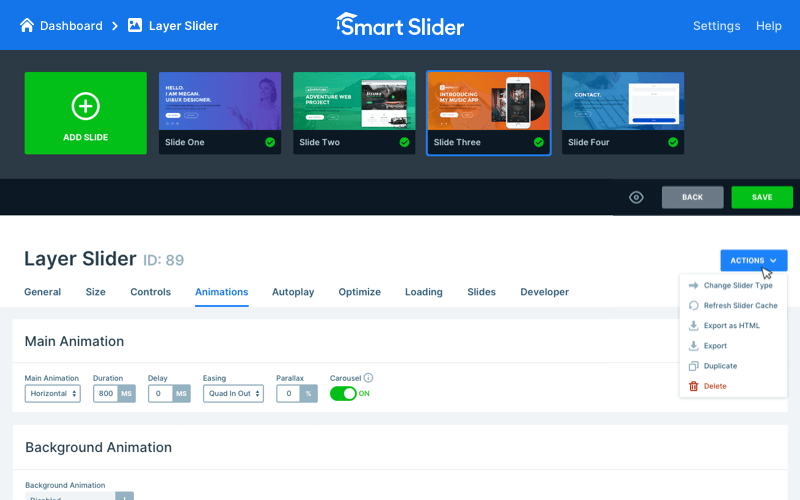 With Smart Slider 3, you can create sliders of any size and shape, with no coding required. Just use the convenient drag-and-drop interface to add layers (text, images, videos, etc.) and customize them to your heart's content. You can also choose from a wide selection of professionally-designed templates to get started quickly and easily.
Smart Slider 3 is fully responsive and SEO optimized, so your sliders will look great and perform well on all devices. With this responsive, mobile-ready slider, you can optimize your content for any resolution and enjoy your site on any device. Whether you're on a mobile, tablet, or desktop, Smart Slider 3 will always look great.
And with a variety of beautiful templates to choose from, getting started is a breeze. Just pick a template and let the magic happen. Or, if you're feeling creative, start from scratch with a blank Slider.
Meta Slider has been the most popular server of image sliders for a long time and is likely to remain on top owing to its value-added features. As a plugin, MetaSlider gives you the power to create a beautiful slider, slideshow, carousel, or gallery. What's more, Meta Slider is highly customizable: for developers, Meta Slider gives access to much of its functionality through WordPress filters and actions. This allows you to tailor MetaSlider to your specific needs and preferences.
Furthermore, MetaSlider supports any content type that your users might want: image, photo, video (YouTube/Vimeo), layer, HTML, product, and post feed. Consequently, Meta Slider is an incredibly versatile and user-friendly plugin that is sure to meet your slider needs.
Soliloquy is a powerful and easy-to-use slider plugin that is perfect for those who are looking to create beautiful sliders without having to put in a lot of effort. With Soliloquy, all you need to do is drag and drop your images into the plugin and you will be able to create amazing sliders that come with a variety of transition effects.
With Soliloquy, you can easily create beautiful image sliders with numerous transitions to choose from. Whether you want a fade transition, horizontal scroll transition, vertical scroll transition, or ticker scroll transition, Soliloquy has you covered. And if you want to customize your slider, you can do so with our built-in templates or by creating your own.
If you are someone who wants more than just the basic features, you can opt for the premium version of the plugin which comes with even more features and transitions. Either way, Soliloquy is an excellent slider plugin that is sure to satisfy all of your needs.
The Robo Gallery plugin makes it easy to create beautiful image galleries in WordPress. With a simple drag-and-drop interface, anyone can create a gallery in minutes, even if they're new to WordPress. For more advanced users, the plugin offers a wealth of options and settings to customize the look and behavior of the gallery.
And for those who want even more control, the plugin includes a Gutenberg block that makes it easy to configure the gallery in the WordPress editor. With features like fade effects, batch image upload, and auto-resizing for thumbnails and images, it is a powerful tool for creating stunning galleries. The 15 hover effects are customizable, so you can easily change the style and colors of the hover animation elements.
Slider is a responsive image photo slider plugin for WordPress blog users. You may combine limitless picture slides in one slider using multiple pictures from the gallery. You can upload multiple images at the same time on your website and also add an unlimited number of images to a single slider for better visibility by taking lesser places.
This image slider plugin allows you to show multiple sliders on a single page or post as you want and provides a neat and clean admin panel to configure your responsive image slider plugin. As per your requirement, you can enable/disable the slider title. Using this slider plugin, you can create an engaging and visually appealing image slider for your WordPress blog in an easy way.