There are many ways to customize UX on Android. For this purpose, we wish to customize all of our possessions to be different from others, even if it is a little home button on our Android phones. Among them, replacing the hard Home button is a good solution to reduce its damage and boost productivity.
Here are some of the apps that are similar to iPhone's Touch Button, which helps you replace your Home button and quickly switch apps.
Top 4 Switcher Apps
Are you tired of having to press the home button multiple times in order to switch apps? Are you looking for a way to quickly and easily switch between your favorite apps? If so, then you need one of these four apps.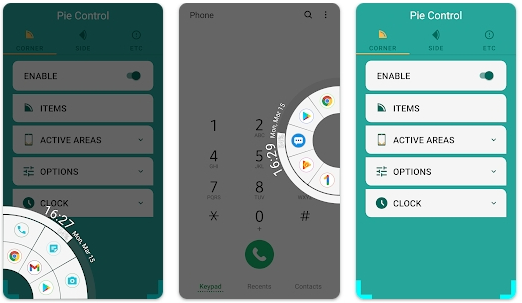 This app is the perfect replacement for all task buttons since it includes an array of shortcuts that deem the need for those buttons unnecessary. An easy-to-operate interface marks the app. Such a feature has been a source of convenience for many.
With this app, you can get more done in less time! It comes with a Customizable widget that helps you control your productivity.
The app opens pie-like floating navigation that includes:
Home
Back
Recent
Show power menu
Back Button is an app that provides a soft-key back, home, and task button along with a floating button and a navigation bar. The physical Home button on your phone can get damaged due to excessive use, so this app can help protect it.
The Back Button is also convenient if you only want to use simple apps, as it gives you access to all the essential buttons in one place. The floating button allows you to keep using your phone even when your physical Home button is damaged, and the navigation bar makes it easy to switch between apps. Whether you're trying to protect your Home button or just simplify your life, Back Button is a helpful app to have.
Have you ever wished you could have a virtual home button on your Android device? Well, with Assistive Touch for Android, you can!
This app provides a virtual home button, volume button, back button, and more, making it easy to perform common tasks without ever having to leave your current screen. It's easy to touch to open your favorite application or go to all settings very quickly.
Assistive Touch also includes a ram booster and screenshot capture tool, both of which can come in handy when you're running low on memory or want to share something you're seeing on your screen.
Side bar screen Swiftly Switch is a quick-switching swipe app with circles, grids, and folders. You can switch back and forth between recent apps or favorite apps, access tasks quickly, and take action to navigate, call, and message .. easily and quickly from any application with just a swipe.
With this touch assistant app, you are like using 3 apps in 1. Ưith the ability to display the same 3 bars when upgrading. An app linked with finger gestures can turn into the Home screens Navigation Bar.
A screen edge app with Panel view, you can access and convert edges quickly: Circle Favorites edge, Quick Actions edge, Grid Favorites edge, Music player edge, Calculator edge, Calendar edge.