People have become more fascinated with taking photographs using their mobiles. And now the situation is such that, people are looking for gallery apps where they can keep their photos. For the Android users, there are loads of these photo gallery apps available in the store. So, if you are one of them, you will certainly like the list of 7 best photo gallery apps that you can choose to use as an Android user.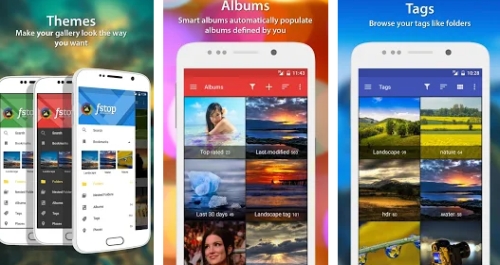 This is another one of those apps that hasn't gained popularity but with a nice material design, it looks awesome. You can use tags to categorize the photos and you can also search them at your will. The best part of this app is that, it can play the GIF files. But some of these advanced features are only available if you buy this app with $4.99. Otherwise you can enjoy its free version.
This is not really a well known app but has a lot of positive points to go with. The look of this app is unique with nice graphics and 3D animations. The photos get loaded quickly enough and work fine. The editor also is not that heavy but pretty basic. You can get this app for free of cost.
This photo gallery is just awesome in one word. This gallery comes with a locking mechanism to protect your images. You can enjoy the features like tagging, dark and light themes, security settings. You get to use this app for free or you can buy this app to use all the features.
This is an app which has simple design and good functionalities. It enables you to sort your pictures quickly and you can also tag a photo or customize your albums. You can get this app for free but to avoid unnecessary ads, you can buy it for $4.99.
This app was first developed for those users with Android Kitkat only but later it got popularity and now it has become one of the best apps in the app store. With a simple design, nice speed and basic photo editing capability, this app can do wonders for you. If you want to use its advanced features, you can buy it for 1.99$.
QuickPic Gallery
The design is nice and clean and you can easily play your slideshow made with images and videos. You can use this app for free and also can use the features like tags, automatic organization etc. at no extra cost. It's significantly smaller than other gallery apps, but packs more power than any of them.
This gallery app is really a useful app with the private storage for your images. You can easily save your photos, videos and other media files in there. It also allows you to lock the app with a fingerprint detection system and can send you an alert if someone tries to break into your app. Although there is a free version available of this app, but buying it for 3.99$ will surely proved to be worthy.