In recent years, there has been a surge in the number of people taking photos with their mobile phones. This has led to an increase in the demand for gallery apps, where users can store and organize their photos. For Android users, there are a wide variety of photo gallery apps available, each with its unique features. To help you choose the best app for your needs, here is a list of 8 of the best photo gallery apps for Android: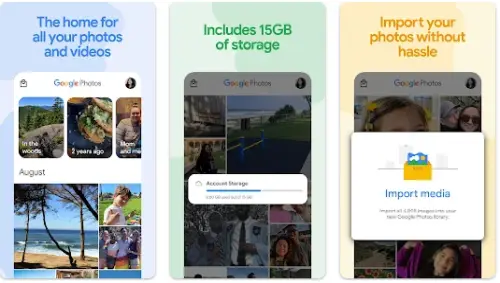 One of the most popular gallery apps, Google Photos, is getting a new storage management tool. The tool will surface photos or videos you might want to delete — like blurry photos, screenshots, and large videos. This will help you easily manage the photos that count toward your storage quota.
In addition, Google is introducing huge storage for high-quality photos and videos. This means that you won't have to worry about running out of space on your device. Plus, the app offers a variety of editing tools to help you make your photos look their best.
With F-Stop Media Gallery, you can easily organize your photos with professional tools and a sleek Material Design interface.
You can browse through your photos on a map with an integrated Google maps experience. You can also save tags (keywords) and ratings in XMP format so they stay with the image and can be read by popular programs such as Lightroom, Picasa, Aperture, Windows Live Photo Gallery, digiKam, and many more. The app also shows metadata read directly from your images (EXIF, XMP, IPTC).
With this app, you can easily custom sort images using drag and drop, choose from a range of different themes, use nested folders to browse your media, access your favorite tag, folder or album directly from the navigation drawer, and set up smart albums with simple rules, exclude folders to prevent album art from showing up in your gallery and play animated GIFs.
With one touch, you can organize your photos on any album of your choice. The app also has a trash folder where you can recover photos deleted by mistake. It supports multiple sort options such as creation time or added time, name, and custom (drag and drop).
I love that it doesn't have any background job running because it saves battery and doesn't upload personal information. It also supports hide and exclude functions using passwords and fingerprints.
You can set a favorite pic as the folder cover and tag and search pictures or videos. Moving files and folders is also easily done with just a few touches. Making and playing GIFs are also possible with this app. Editing tools are also available for use.
Gallery KK is a great photo gallery app for old Android OS. It's ultra-fast, has configurable thumbnail size/colors, and comes with a photo tag viewer & editor. Plus, you can view photos in grid view/filmstrip view, and there are custom action buttons (edit, delete, tags, etc.) in photo view.
Scrolling is easy and options include horizontal/vertical scrolling. Animated GIF support is a nice touch, and you can even hide unwanted folders if you want to declutter your space. Additionally, the app is configurable for different screen orientations and you can show/hide the status bar. If you're looking for a slideshow option, this app has you covered with fade, zoom, slide & flip animations.
A+ Gallery is a fast, simple, and beautiful app for viewing and managing your photos. The app automatically organizes your photos by location and date, making it easy to find the photos you're looking for.
You can also create and manage photo albums, setting favorite albums and hiding unnecessary ones. The app also features a beautiful material design interface and a collection of themes to customize your gallery.
Keepsafe is the best app to secure your personal photos and videos. With Keepsafe, you can protect your privacy, secure your photos, and save phone space. Keepsafe lets you: Preserve special memories, store family photos, protect copies of your driver's license, ID cards, and credit cards, organize important documents, and PIN protect your Photo Gallery.
With Keepsafe, you can feel confident that your personal photos and videos are safe and secure. Thanks to Keepsafe, you can enjoy peace of mind knowing that your precious memories are protected.
All content is behind a lock, meaning that it can only be accessed by the user. The app also offers the option to sync content across devices, as well as backup photos and videos in case of phone loss, theft, or damage.
Keepsafe also has a feature that automatically locks the app when the phone is face-down, as well as safe send photo sharing, which allows the user to control how long the recipient sees the photo.
One of the main benefits of Keepsafe is that it doesn't show up in your recently used apps list! This makes it a great choice for those who want to keep their content private and secure.
A brand new AIGallery is here and it's faster and lighter than ever before! With a new homepage that makes it easy to select the photos you need, efficient album classification and multi-template puzzles, this gallery is perfect for anyone who wants to keep their photos organized and easy to access.
And with picture editing, photo cleanup, and compression features, you can make sure your photos are taking up as little space as possible without sacrificing quality.
With Simple Gallery, you get all the photo viewing and editing features you've been wanting in one stylish, easy-to-use app.
With its improved file organizer and photo album, Simple Gallery makes it easy to keep your images organized and accessible.
And with its intuitive gestures, editing your photos on the fly is a breeze. Just crop, flip, rotate and resize pictures or apply filters with a few taps.
Plus, Simple Gallery supports a wide range of file formats, including JPEG, PNG, MP4, MKV, RAW, SVG, and GIF. So whether you're looking to view pictures or edit videos, Simple Gallery has you covered.
And if you ever accidentally delete a photo or video, don't worry – you can quickly recover any deleted files with the click of a button.