Following apps will help you delete background easily.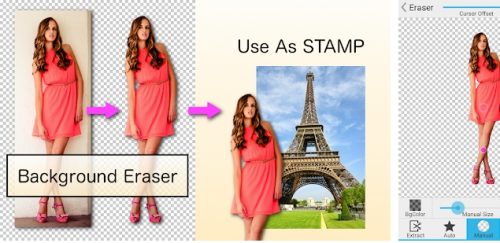 Background Eraser is a simple app for cutting pictures and for making a picture's background transparent. The resulting images and photos can be used as stamps with other apps, such as LINE Camera, PicsArt.
This app features auto mode which can erase similar pixels all together. Objects can be selected and erased accurately via blue & red markers.
See Also: New Android Apps
Change Photo background is a useful app that lets you change the background of your photos with ease. It is simple to delete the objects and change backgrounds of your photos, just with your creativity and imagination. It lets you erase unwanted regions in a photo, make it transparent and even put in a new background. This app also comes with 10 HD wallpapers for users to implement them into their own photos and images.
With Background Eraser you can easily erase the backgrounds of your photos and save the transparent result. It features some advanced erasing tool like Target Area, Target Color and Brush Tool.
Background Remover is not just an ordinary photo editor app, it is quite smart for Android devices. Background Remover app can help you erase background or object easily.
The app has a smart crop feature which allows custom crop size and shape. Background can be quickly removed or restored easily with its built-in tools. It also features Magic Selection tool that can choose a region to delete smartly. Background Remover also provides an option to change background. You can choose non-background, take background image from camera, pic color from color picker or use background images provided by the app itself.
TouchRetouch is an award-winning photo editor app on Android that allows users to remove unwanted regions or objects from any photo. You just need to mark the unwanted items then hit "Go".