One of the great things about Android is that you can customize it to fit your needs. If you want to delete the background from your photos, there are a few great apps that can help you do just that. Here are five of the best Android apps for deleting photo backgrounds.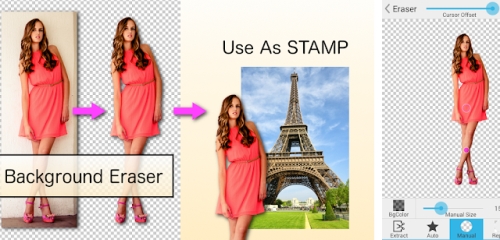 Background Eraser is a simple app for cutting pictures and for making a picture's background transparent- which can be useful for a number of things. For example, the resulting images and photos can be used as stamps with other apps, such as LINE Camera, and PicsArt.
This app features a Magic Mode which can erase similar pixels altogether; to do this, objects can be selected and erased accurately via blue & red markers. And if that doesn't sound like it will work well enough, there is also an "Auto" or "Color" mode. Whichever way you choose to erase the backgrounds of your pictures, this app makes it easy and (relatively) stress-free!
Change Photo background is a useful app that lets you change the background of your photos with ease. With your creativity and imagination, you can have fun removing objects, changing backgrounds, and erasing unwanted portions of your photos.
This app also comes with 10 HD wallpapers for users to implement into their own photos and images. The app makes it easy to delete the background of your photos- simply select the object you want to remove, and the app does the rest. You can also put in a new background with ease.
Do you have any old photos that you want to spruce up? Maybe there's a background that you're not too fond of, or maybe you want to cut out a certain person from the photo. Whatever the reason, Background Eraser can help you erase the background of your photos and save the transparent result.
It features some advanced erasing tools like Target Area, Target Color, and Brush Tool. With these tools, you can easily remove any unwanted elements from your photo with just a few clicks.
Have your worst days always seemed to end up on Facebook or Instagram? It's left you feeling that there is nothing you can do. TouchRetouch might be the solution for when your phone has been hacked, and all your photos now have something extra in them that makes them 10 times worse.
Want to remove a power line from ruining your perfect landscape shot? Don't worry because you won't believe how easy it is with TouchRetouch! This magical app will turn any frown upside down and give life back into even the most dismal of images.
TouchRetouch is an award-winning photo editor app on Android that allows users to remove unwanted regions or objects from any photo. You just need to mark the unwanted items and then hit "Go".
Looking to remove the background from an image online? You can try remove.bg. This online tool can quickly and easily remove the background from any image, 100% automatically and free of charge. Just upload your photo and let the tool do its magic.
In just a few seconds, remove.bg will erase the background from your image, leaving you with a clean, transparent background. And thanks to the AI technology behind it, this tool can handle even the most challenging cases, like hair and other tricky conditions.