Smartphones have included excellent features that will entice any customer, most importantly a high-end camera that one can use to click pictures on the go. The use of mobile phone cameras has increased so much that reports say more than 2 billion images are clicked per day. Well, that's quite a lot.
And to help make these images all the more interesting and better, loads of photo editors have been launched in the market. These offer pro settings and effects and are usually available for free. Here's a list of the top 6 free photo editors for the Android platform that you just can't ignore: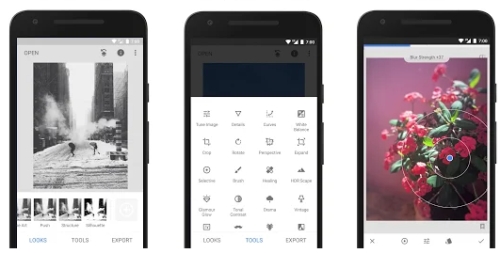 This app packs in the power of a desktop version and allows you to contrast, color balance, brightness, image perspective, clarity, and what not!
Making the world of photography your canvas doesn't have to be a daunting task. Bringing all the tools and filters together in one simple app, Snapseed is here to help you perfect any photo with just a few clicks. From removing unwanted parts of any image to applying vibrant colors and textures, there are plenty of different options to choose from for making quality photographs into masterpieces.
With an extensive list of 29 tools and filters including Healing, Brush Structure, HDR Perspective (and more), there's no end to how much creativity you can bring out from within your pictures. And don't worry about mixing pieces from different styles—all of them can be tweaked with precision control so that no stroke misses its mark.
While a number of photo editors are available for free, what makes Pixlr a hit is that it comes with an easy-to-use interface and no unnecessary advertisements that waste time and effort.
Pixlr lets you quickly and easily make all the adjustments you need to take your photos from good to great. Whether you're looking to remove blemishes, red-eye, or smoothen skin, Pixlr has the tools you need.
It is also a great way to easily create photo collages. With a variety of preset collages, grid styles, customized ratios, and backgrounds, you can create a collage that's perfect for any occasion. You can also use Double Exposure to create an array of effects easily with layers and adjustable transparency.
And if you want to add text to your photos, there's a variety of fonts to choose from. Plus, you can adjust the tone of the photo with overlays – amplifying the tone, cooling it down, or adding surreal shades.
Lightroom is a free photo application that's fast and flexible enough for both experts and amateurs. It offers a variety of preset filters and editing tools to make quick and easy edits to your photos.
You can also create your own custom filters and save them for easy future use. The photo enhancer tool lets you change up your photos' colors, contrast, and exposure to create eye-popping edits. The camera feature also allows you to take high-quality photos directly within the app.
Adobe Lightroom, which was originally just a photo editing software, has now expanded into a video editing app as well. This move makes a lot of sense given that Adobe is already a leading name in video editing software with products like Adobe Premiere Pro and After Effects. The Lightroom video editor includes all of the popular photo editing features that users are familiar with but applied to videos.
This makes it easy to edit videos with the same precision and attention to detail that you would put into editing photos. In addition to the basic features, you can also apply presets, trim and retouch videos, and fine-tune contrast, highlights, and other settings.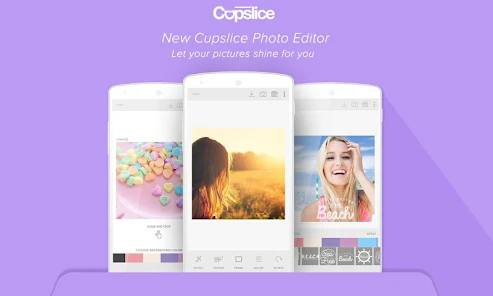 This is the best tool for you if you are new to photo editing. It's an extremely simple yet powerful platform that allows you to do exactly what you want. From interesting photo effects to efficient editing, this editor does it all in a breeze.
Cupslice is a fun and creative photo editor that does more than just give you the opportunity to edit photos. Our app will allow you to turn your favorite memories into beautiful pictures with lots of filters, frames, and badges with the added basic editing tool. Plus add up-to-date stickers and text bubbles that are cute enough for any occasion!
When it comes to taking the perfect selfie, there are a few key things you need: perfect skin, bright eyes, and a dazzling smile. With our airbrush app, you can get all of that and more! The blemish remover takes care of any unwanted pimples or spots with just a tap of a finger. Then, add a swipe of blush for some extra radiance and charm.
You can also whiten your teeth and brighten your eyes for that perfect finishing touch. And if you want to take it one step further, you can even retouch your skin to achieve perfect, glowing perfection. So next time you're taking a selfie, make sure you've got our airbrush app on hand for picture-perfect results!
Another powerful tool from Adobe, Photoshop Express allows you to use advanced features like direct editing of RAW images on Android devices along with a plethora of editing features, and filters as well as access to the image rendering tool from Adobe.
Photoshop Express delivers the best of what you love about Photoshop on your phone. It has all the tools and features you need to animate photos, adjust color images, edit videos, make collages from your favorite pictures, and even turn text into a beautiful tattoo design! Have fun while turning ordinary moments in life into something magical with this app.