Smartphones have included excellent features that will entice any customer, most importantly a high-end camera that one can use to click pictures on the go. The use of mobile phone cameras have increased so much that reports say more than 2 billion images are clicked per day. Well, that's quite a lot.
And to help make these images all the more interesting and better, loads of photo editors have been launched in the market. These offer pro settings and effects and are usually available for free. Here's a list of the top 7 free photo editors for Android platform that you just can't ignore: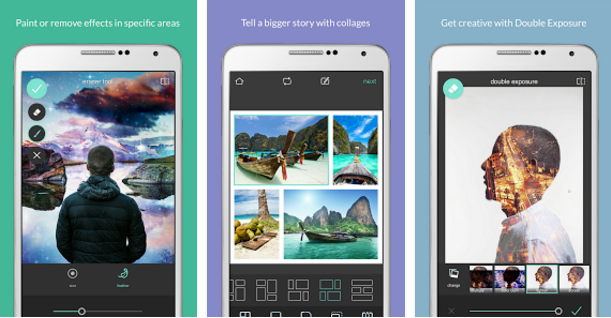 While a number of photo editors are available for free, what makes the Pixlr a hit is that it comes with a easy to user interface and no unnecessary advertisements that waste time and effort. It does exactly what it is meant to do – help people seamlessly and easily edit images, add effects and create collages with total freedom and also save preferred settings for later use.
Here is another powerful tool that is known for its ease of use and powerful functionalities. This app packs in the power of a desktop version and allows you to contrast, color balance, brightness, image perspective, clarity and what not!
This is the best tool for you if you are new to photo editing. It's extremely simple yet powerful platform allows you to do exactly what you want. From interesting photo effects to efficient editing, this editor does it all in a breeze.
Ever since Adobe took over Aviary, things changed for the better and you can now do a lot more with Aviary than you could early. Nevertheless, Adobe has retained the excellent Aviary Photo editor and it takes just a click to choose from its wide range of effects, filters, stickers, etc.
From newbies to pros, the Lightroom can satisfy the needs of one and all. Its powerful tools are amongst the best in the market and editing and adding effects via the Lightroom is as professional and easy as you want it to be.
This is the best app for you if you are crazy for selfies. Its best for quick fixes and edits that you would want In a selfie, like making your eyes look brighter, whitening your teeth, removing blemishes, etc. along with loads of filters that make your selfies worth an award!
Another powerful tool from Adobe, the Photoshop Express allows you to use advanced featured like direct editing of RAW images on Android devices along with a plethora of editing features, filters as well as access to the image rendering tool from Adobe.