Gone are the days when you would an expensive video camera to shoot good videos and the task was mainly confined to professional videographers. Not anymore! Nowadays, most mobile phones come with an excellent rear camera that is quite capable of good quality videography and it has become a very common trend in video shooting. From parties to concerts, from birthday celebrations to seeing your child walk for the first time, videography has become much more popular than it ever was.
And this has urged developers to flood the market with video editor apps that can be of assistance to you. No longer do you need to use your PC to edit your videos before you upload them to social media or video-sharing platforms. With these 7 free video editor apps for Android, video editing is now a piece of cake.
7 Best Android Video Editor Apps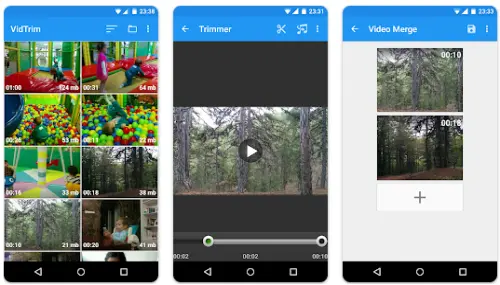 If you're looking for a very basic video editor, VidTrim might be the app for you. It offers trimming, merging, and converting features, as well as the ability to grab frames from videos and add visual effects.
You can also share your edited videos with others directly from the app. One nice thing about VidTrim is that it supports both ARM and x86 processors, so it should work on a variety of devices.
Another plus is that it's relatively lightweight and shouldn't take up too much space on your device. However, keep in mind that the app is fairly basic and doesn't offer a lot of bells and whistles.
Magisto's simple yet magic editor allows you to turn very simple videos into wonderful, stunning films in just a couple of minutes. You can choose a number of clips, add music or soundtracks and the editor will do the rest, intelligently splicing and adding beautiful graphics, effects, filters, and music to create a professional-looking video that tells a story.
You can also create beautiful moving photo slideshows or video collages even if you don't have any video clips. Magisto is perfect for social media stardom or for creating ready-made templates for any occasion.
With just a few clicks, you can edit your clips, trim them, merge them, and reorder them. You can also customize your video by adding text, choosing fonts, changing orientation, and using different colors.
And if you want to add some fun to your videos, there are hundreds of colorful stickers at your disposal. Once you're done editing, you can easily share your videos on social media, via messaging apps, email, or anywhere else.
AndroVid is a powerful video editing tool that offers a wide range of features for both casual and power users. The app includes a video trimmer and cutter, allowing you to quickly remove unwanted parts from your videos. For more precise editing, the app also offers a frame-accurate cutter. Additionally, the app can split videos into two pieces or delete middle parts.
The app also includes a video merger and joiner, allowing you to combine multiple videos into one. With the video joiner, you can also add music to your videos. The music mixer lets you trim and cut music, add multiple music parts, and adjust the original video and music volume separately. You can also mute the sound if desired.
Overall, AndroVid is a comprehensive and easy-to-use video editing tool that has everything you need to create amazing videos.
FxGuru has much more than most other free video editors if you are looking for dramatic, movie-like effects. FxGuru allows you to unleash your creativity by giving you longer effects and cinematic filters to choose from. You can also add realistic effects like rain, missiles, aliens, cars, bombs, etc. to your videos without having to worry about the quality.
With HD recording and enhanced soundtracks, your videos will look and sound better than ever before. Plus, with over 90 different video special effects available, you'll be able to find the perfect one for your needs.
VivaVideo is one of the best video editor apps with a lot of features that help everyone create incredible videos. It has high-quality video templates with magic effects and transitions. You can also easily add photos to make 10 seconds cool-short music videos.
This app also provides a variety of video editing features, such as cutting, merging, copying, pasting, splitting, dragging, and deleting video clips. You can also edit videos with transitions, edit videos with music, combine video clips, and make videos longer. In addition, this app supports 0.1 – 10x video speed change so you can make your videos faster or slower.
You can also crop and rotate the video area arbitrarily. It also has a huge selection of music and stickers that you can use in your videos.
PowerDirector is a great tool for video editing if you're looking for something with a lot of features and an easy interface. It's perfect for making movies, editing footage, and adding in green screen effects.
Additionally, the video stabilizer is incredibly useful if you want to fix shaky cam footage. You can also edit and export videos in up to 4K resolution*, which is perfect for high-quality videos.
The built-in stock library also has 4300+ customizable video templates that you can use to add photos, music, sound effects, and intro/outro videos to your montage videos.
PowerDirector is a powerful yet easy-to-use video editor that is perfect for anyone who wants to create high-quality videos.
Video editing used to be a complicated and time-consuming process, requiring expensive software and hours of work. But Viddy has changed all that, making it possible to create beautiful, professional-looking videos with just a few taps on your smartphone.
With its easy-to-use interface and wide range of filters and editing options, Viddy lets you unleash your creativity and make incredible videos that will impress your friends and followers. And with its built-in sharing options, you can upload your videos to social media sites like Facebook, Twitter, and Tumblr with just a few clicks.