Android is a mobile operating system. It's an open-source software built by Google and supported with the Android Open Source Project (AOSP). The first version of Android was released in 2008, but it has been constantly updated since then.
Android Version Names
To check your device's Android version, read this post first.
| | |
| --- | --- |
| Name | Version |
| Cupcake | 1.5 |
| Donut | 1.6 |
| Eclair | 2.0–2.1 |
| Froyo | 2.2–2.2.3 |
| Gingerbread | 2.3–2.3.7 |
| Honeycomb | 3.0–3.2.6 |
| Ice Cream Sandwich | 4.0–4.0.4 |
| Jelly Bean | 4.1–4.3.1 |
| KitKat | 4.4–4.4.4, 4.4W–4.4W.2 |
| Lollipop | 5.0–5.1.1 |
| Marshmallow | 6.0–6.0.1 |
| Nougat | 7 |
| Oreo | 8 |
| Pie | 9 |
| 10 | 10 |
| 11 | 11 |
Starting from Android 10, Google won't use food name for version anymore.
Best Features of Each Android Version
Top Android 11 Features
New position for media controls – Android 11 places the media playback controls below the Quick Settings section to allow for more space in the notification panel.
Conversations and Bubbles – Conversations now can also be turned into Bubbles. Bubbles are floating circular buttons that make the chat a floating window when you tap it.
Built-in screen recorder – The new screen recorder function in the Quick Settings can be accessed by tapping 'Screen Record'.
More to Power button menu – This menu now includes emergency, power, restart buttons, a control panel for smart home devices and a digital wallet.
New Emoji – This version offers 117 new emoji, all from the Unicode Emoji 13.0 set.
Temporary permissions – Android 11 lets you give permissions to certain apps. When you sign out of an app, it will lose the permissions that you have given it.
Top Android 10 Features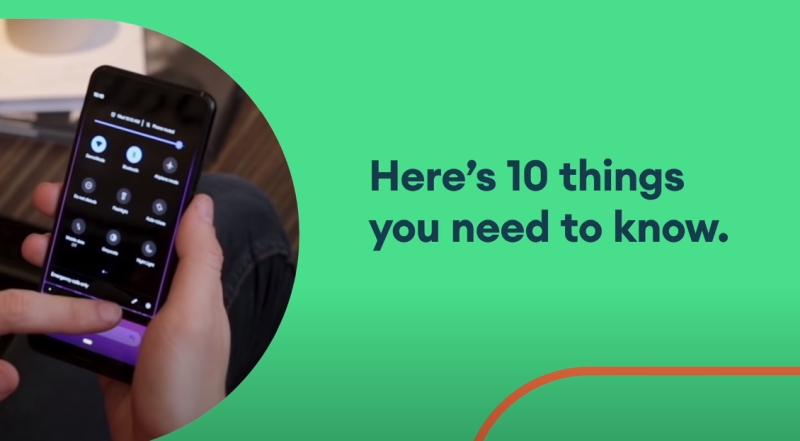 Dark theme (mode)
The first and probably the best Android feature we all love is dark mode. In the lack of a better word, this mode will make the settings, menus and the user interface will be dark in color. This is also available in the battery setting (the main menu) where you can activate battery saving mode and enjoy.
Smart reply
This feature is available for the Google-developed apps at the moment, but we can see the slow integration to all other apps. It learns the answers you may use and it displays them. Now you don't have to type ordinary answers. All you have to do is to choose one of the offered ones and the app will respond perfectly.
Advanced sharing
There is no need to add that this feature is more than just useful. The new feature allows you to share image, video or anything else with all the contacts, using different apps and so much more. It is the best feature for advanced users.
Focus mode
Focus mode is an extension of the Digital Wellbeing. A user can find and isolate the apps that are not commonly used. Once he chooses this, those apps will become gray in color and their notifications will be hidden all the time.
Quick phone setting
The feature in questions helps you summon a specific app or setting from another app. For instance, you can summon the Wi-Fi settings while in airplane mode. Basically, this is a smart feature that helps you reach the desired setting within seconds.
Dynamic Depth Format
Now you can use the Dynamic Depth Format feature which affects JPEG images, third-party apps and more. This is used when a camera takes a photo when a messaging app needs a specific picture and more.
Better file app
There is no need to explain this feature in detail. It means that the file app has been completely changed. Now you get a much better search bar, you get the redesigned user interface and you can access all the files and all the apps within seconds. It is definitely one of the most important features you will actually use.
Advanced permissions
Advanced permissions refer to the apps and their requests to access a specific feature of the phone. For example, a text messaging app will require and gain access to send and receive text messages, access contacts and more. Users can approve all of the permission requests and more easily.
QR code sharing
Use Wi-Fi sharing and authorize sharing. Then let another person scan the QR code and you too can share any file. This is available for Huawei and Xiaomi smartphones at the moment, but soon we will see it in other smartphones as well.
Google Assistant activation
Now you can use side swipe, from the corners of your smartphone to activate Google Assistant. This also means that you cannot use the home button to launch the app in question. You can see handles in the screen corners on most devices!
Top 10 Features of Android Pie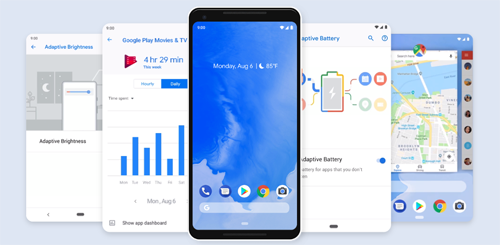 Adaptive Battery
A feature prominent in other Android system is the Doze mode, which hibernates all apps you aren't using at the moment. An improvement of this app is the adaptive battery feature that runs on Android 9 by default.
App Timer
In Android 9, you can set a time limit on your applications. With the App Timer feature, the app's icon will automatically grey out if you have used your time spending on that app. It hints that you should now use your time for other things besides that app.
Slices
With Android 9, you can see informative data when searching for apps using the Google Search app. It is possible through the Slices feature, which also lets you skip to performing the actions that are listed on the information you found.
Accessibility Menu
You can activate the Accessibility Menu when you go to Settings > Accessibility > Accessibility Menu > Use service. When you enable this feature, you will be able to see an icon that you can tap for actions such as recent apps, quick settings, volume, and more.
Better Screenshot Shortcut
In older Android versions, you can take a screenshot with the Power + Volume down button combination. In Android 9 Pie, there is a new screenshot shortcut that is much easier to use. All you need to do is tap the Power menu and choose the icon for a screenshot from the choices.
New Gesture Navigation
Navigation in Android Pie has improved. There are no longer the usual home and recent button icons. Instead, Android 9 has a single bar supporting gesture navigation. Compared to the typical way, it is so much easier to use.
Dashboard
Android 9 features a Dashboard where you can view the time you spent using your device as well as a usage data breakdown. What's great about the Dashboard display is it lists everything comprehensively from the time spent on each app every day to the number of hours you use your device.
Indoor Navigation through Wi-Fi RTT
Android 9 supports RTT or Round-Trip-Time, a Wi-Fi protocol enabling users to navigate buildings. With this, you can have indoor navigation using your phone with Android pie as the Wi-Fi RTT provides turn-by-turn directions via indoor FPs-style tracking.
Enhanced DND Mode
The Do Not Disturb, or DND Mode of Android 9 is much improved. Now, it can prevent visual distractions such as background notifications as well as pop-ups. With the Shush mode, you can even silence the alerts of your phone completely.
Lockdown Mode
A new option available on the Power menu is the Lockdown Mode. If you activate this mode, you can disable your device's fingerprint unlock. In place of it, you will have to enter a pin for unlocking your phone. It helps to protect your device from anyone trying to open it forcefully.
Top 10 Features of Android Oreo
Revamped Settings Menu
In terms of appearance, the newly redesigned Settings menu is the most obvious. It has an all-white background with subtle dark gray text. It lost the side navigation menu with the other ones having been reorganized that makes it as simple as possible.
Battery-Saving Background Restrictions
Android 8 Oreo seems to fix the standby battery drain issues it has with the Doze Mode feature. In Oreo, the restrictions on background apps are even more tightened thanks to Background Execution Limits and location restrictions that apply to all your apps.
Fingerprint Scanner Gestures
Google takes the Fingerprint Scanner Gestures feature to a whole new level. With Android 8, third-party developers can use an Accessibility service, which allows your favorite apps to use the fingerprint functionality by requesting permission.
Turning on Wi-Fi Automatically
When you are outside at work or school, you can turn off your Wi-Fi to save on battery and stay away from distractions. A nice feature that Android 8 comes with is the ability to turn on Wi-Fi automatically when you are in your home Wi-Fi spot, saving you the trouble of turning it back on.
Granular Storage Controls
Older Android phones have basic categories in the Settings when viewing where all your storage went. With Android 8, the groups are more specific by listing it as "Movies & TV App" or "Games." With that, the apps that are taking your storage space is well-organized, which makes it easier to clear the junk files and cache away.
Snooze Individual Notifications
A favorite by Android 8 users is the ability to snooze each notification. You can swipe any message that comes through to the right then tap the clock to snooze it if you don't have time for it. When you snooze the message, you can keep it away for 15 minutes. It also allows you to change the settings.
Rescue Party
It is an unfortunate fact that all software has bugs. However, Android 8 is fantastic because before a fatal bug causes your device to crash, it automatically tries to fix the problem through the Rescue Party feature.
Hi-Fi Bluetooth Codecs
The lower audio quality is one of the disadvantages of Bluetooth compared to using wired headphones. It's a great thing that Android 8 features higher quality Bluetooth codecs such as Sony's LDAC. With this, Android Oreo is expected to have a much improved audio quality.
Improved Pixel Launcher App Drawers
One of the features of Android 8 that is refined is the Pixel Launcher. In Android Oreo, the launcher now lets you swipe in just about anywhere on the home screen for opening the app drawer. It makes navigation so much easier.
Wi-Fi Aware
One of the fantastic features of Android 8 is the Wi-Fi Aware. Devices that run on Android Oreo can discover one another and create a private network between each other. With that, sharing data among the devices is possible even when they aren't on the same Wi-Fi network.
Top 10 Features of Android Nougat
Daydreams as Screen Savers
In Android 7, the Daydream is repurposed as Screen Saver. Google named its VR platform as Daydream, and with that, there's a need for a new name for the previous Daydream feature. On that note, Android 7 introduced it as Screen Saver with the screen savers working the same way as before.
Multi-Window Support
One of Android 7's top features is the multi-window support. You can activate the multi-window mode on any device that runs Android 7 by long-pressing the recent apps button. The app you are using goes at the top or side, then the recent apps list will be along the button. Just pick the second app and use the divider for resizing the app windows.
Split-Screen Tab
Along with Multi-Window tab, Android 7 also has the Split-Screen Tab feature. When in multi-window mode and using Chrome, tap Menu then choose the "Move to another window" option to move to another tab.
Drag and Drop Images and Text
When you use the Multi-Window mode, you can just drag and drop any text or images from one window to the other. All you need to do is highlight which text you want to move and long-press until it starts to float. Drag the text to the other window then let it go. It works the same way with images.
Emoji Genders and Skin Tones
A standard included in Android 7 is the new Emoji with various genders and skin tones available. Before, phones only have male and female representation. Now, however, you can choose the appropriate gender and even select the skin tone perfect for you.
Quick Adjust Notification Settings
With Android 7, it is easy to adjust the notifications you receive per app. All you need to do is slide the notification a bit to the right so that the gear icon appears. Then, you can adjust it the way you wanted to be notified.
Lock Screen with its own Wallpaper
It took years, but now, you can set up different wallpaper to use on your lock screen with Android 7. The process is just as simple as setting the wallpaper for your home screen. Select the image you want to be your wallpaper, and then a prompt shows the options where you want it to live.
Clearing All of Your Recent Apps
Closing all recent apps is also an excellent feature that Android 7 has, but it's hidden a bit. Unlike other Android phones, it isn't located at the lowest part of the screen. You have to scroll towards the beginning of the list where you can see the 'Clear All' text. Just tap on the text, and it will clear all apps.
Quick App Switching
With users often hopping from one app to another then back again, Android 7 made it easier. With its Quick App Switching, you can just double-tap the recent button to show you the recent apps, and the latest app that you used. Double tap again to pop back.
Bundled Notifications
In Android 7, you can choose to have all notifications bundled in a single alert. It makes it simpler, and you won't feel so annoyed to have so many notifications come one by one. You can slide down on the single notification to see all the other alerts for that specific app.
Top 10 Features of Android Marshmallow
New App Drawer
The new app drawer is one of the most noticeable new features of Android 6's UI. Android 6's new app drawer no longer uses horizontal scrolling. Instead, it scrolls vertically which helps to speed up the navigation and lets you access apps faster.
Google Now on Tap
Google Now on Tap is Android 6's most important feature but often overlooked. This feature is crucial for Google search. You can use it find related information when you are within an app by just pressing and holding the home button then the Now on Tap does its work.
"OK Google"
You probably don't notice this, but in Android 6, you can find the Google search bar on every home screen. It isn't just located on the main one, which means as long as you have an active phone screen, you can use the "Ok Google" feature to search or ask a question for anything.
Lock Screen Message
Other Androids do show a lock screen message like a famous quote or something. However, don't you think it is more useful if your lock screen if it shows your contact information instead? You can put your email address, phone number or a physical address on your lock screen for a higher chance of getting it back if it's lost.
Customize Quick Settings and Status Bar
Android 6 comes with the System UI Tuner. It is a fantastic feature because it unlocks experimental features for customizing Android UI. You can enable the System UI by swiping down the status bar using your two fingers, which will open the Quick Settings. Tap and hold on the Settings gear icon then let go after a few seconds. A pop-up message shows, scroll down and tap the System UI Tuner to get access in making a lot of tweaks.
Smarter Volume Controls
If you didn't like the volume controls in Lollipop, Marshmallow has so much better and smarter controls for volume. Press the volume up and down buttons to show individual gliders to adjust the size of music, alarm, time, and notifications.
Doze Feature and Battery Saver
Android 6 is much more battery efficient as it comes with a built-in Doze feature designed to improve battery life by disabling some settings and background processes. Even better, you can save battery if you turn on the Battery Saver feature, but it reduces vibrations, background data, performance, and location services.
Memory Manager
The memory manager is an excellent feature for those who like to know the resources used by their apps. In Android 6, you'll find a whole new section of settings for 'Memory' that lets you see how much RAM an app uses.
Fingerprint Scanner
With Android 6, you will find the fingerprint scanner is a standard feature. While this feature has been seen in other Android phones before, the difference is the scanner is in the hardware natively unlike before where it's only in the software of the phone.
Permissions on Lock Down
In Android 6, managing app permissions is a lot easier. When you don't want an app to have access to your location or microphone, you can easily revoke access. Unlike with other Android phones, Marshmallow gives permission per app so you can specify which ones have access to the camera, location, etc.
Android Lollipop
| Name | OS version | Release date | API level |
| --- | --- | --- | --- |
| Lollipop | 5.0–5.1.1 | November 12, 2014 | 21–22 |
Lollipop 5.1–5.1.1:
Revamped screen pinning
Polished Quick Settings. Wifi and Bluetooth settings included in quick settings.
Official support for multiple SIM cars
Better device protection.
HD voice calls
Native Wifi calling support
Lollipop 5.0–5.0.2:
Implementation of Material design
Android Runtime (ART) replaces Dalvik.
64-bit CPU support
Nav Soft Keys has new design.
Increase WebViews security by launching it as an independant app on Google Play Store.
Expanded notifications
Notifications can be displayed on the lock screen.
Recent Apps display recent apps in 3D cascade of app tiles.
Direct links to apps from Google searches
OpenGL ES 3.1 and Android Extension Pack on supported GPU configurations
Tap and Go allows users to quickly migrate to a new Android device.
Battery efficiency optimisation
Bluetooth 4.1 support
Audio input and output through USB devices
Android Kitkat
| Name | OS version | Release date | API level |
| --- | --- | --- | --- |
| Kitkat | 4.4–4.4.4, 4.4W–4.4W.2 | October 31, 2013 | 19–20 |
Some UI tweaks
Improved Google Now
Better memory management, including zRAM support and "low RAM" device API
Smarter Caller ID
Immersive Mode keeps the navigation and status bars hidden from app and game user is using.
Allow integration with Cloud Storage directly without downloading files to memory first
Support Wireless Print such as Google Cloud Print
Introduce Android Runtime (ART)
WebViews now based on Chromium engine
Built-in screen recording feature for developer (ADB is still required)
Built-In Sensors with step detector and counter API
Initial release of Android Wear platform for smartwatches
Jelly Bean
| Name | OS version | Release date | API level |
| --- | --- | --- | --- |
| Jelly Bean | 4.1–4.3.1 | July 9, 2012 | 16–18 |
Android 4.3
Restricted profiles for tablets
Dial pad autocomplete
Better graphic rendering with OpenGL ES 3.0
Simplified setup wizard
Right-to-left languages support
Improvements to Photo Sphere app
4K resolution support
Improvement for tap-typing recognition makes text input easier.
Bluetooth Smart support
Android 4.2
Lock screen improvements
New clock app with built-in world clock, stop watch and timer
New screensaver mode, "Daydream"
All devices now use the same interface layout
Multiple user accounts on tablets
Photo Sphere for 360-degree panoramuc photo capture
Android 4.1
Smoother user interface (Project Butter)
Introduce Google Now app
Notifications are expandable and more detailed.
Voice search available offline
Improved camera application with more gestures
Shortcuts and widgets are automatically re-sized to fit on home screens.
Ice Cream Sandwich
| Name | OS version | Release date | API level |
| --- | --- | --- | --- |
| Ice Cream Sandwich | 4.0–4.0.4 | October 18, 2011 | 14–15 |
Implement of Android's own font, "Roboto"
Add soft navigation buttons to phones
Easier-to-create folders
Newly-designed lock screen
Resizeable homescreen widgets
Improved copy and paste feature
Better voice integration
Add Face Unlock, a screen unlock mode
Wi-Fi Direct support
Native screenshot capture
Hardware acceleration of the UI
Android VPN Framework (AVF), and TUN (kernel module
New gallery layout
Improved error correction on the keyboard
All Google Apps updated
Mobile data usage metrics in system controls
1080p video recording for stock Android devices
Old Ones: From 1 to 3
| Name | OS version | Release date | API level |
| --- | --- | --- | --- |
| | 1.0 | September 23, 2008 | 1 |
| | 1.1 | February 9, 2009 | 2 |
| Cupcake | 1.5 | April 27, 2009 | 3 |
| Donut | 1.6 | September 15, 2009 | 4 |
| Eclair | 2.0–2.1 | October 26, 2009 | 5–7 |
| Froyo | 2.2–2.2.3 | May 20, 2010 | 8 |
| Gingerbread | 2.3–2.3.7 | December 6, 2010 | 9–10 |
| Honeycomb | 3.0–3.2.6 | February 22, 2011 | 11–13 |
FAQs
What is Android OS used for?
Android OS is used in smartphones and tablets initially. It's an operating system for mobile devices that includes a Linux kernel. After many upgrades, Android now runs almost anywhere including wearables like glasses or watches to automotive systems such as infotainment consoles and head units all the way down to home appliances like your fridge or washer/dryer (home automation).
The software platform consists of an SDK which allows developers to develop native applications using Java programming language and C++ programming languages with features from object-oriented languages; it also provides Google Play Services frameworks on top along with some other tools under its umbrella developer tool list.
Why should we upgrade to latest Android version?
New versions of Android typically include security updates and bug fixes for any bugs found in previous releases. Allowing your phone to update automatically will ensure that you always have the latest features from Google such as Adaptive Brightness, Gesture Navigation, Digital Wellbeing including Dashboard, enhanced notifications controls and changes to do not disturb mode so it won't interrupt your sleep or important activities.
Is Android app written in Java?
In the past, Android apps were written in Java. Nowadays, developers can use Kotlin or C++ for native development and there are many other options for non-native code such as React Native.
The SDK provides a lot of tools that let you build your app quickly with built-in themes and functionality like camera integration, push notifications (including Google Cloud Messaging), maps integration, gestural interfaces on touch screens among others.
If you want to develop something from scratch without any help from Google's templates then it is possible but takes more work and time than using their tools which they provide at no cost to individual developers; so while this might be attractive if budget isn't an issue because developing software costs money regardless of what types of the app is.
Which is better Android or iPhone?
If you're getting the question "which is better Android or iPhone?" then it's worth pointing out that there are many factors to consider before deciding on either.
For example, if your budget is a factor and you don't have much money then an iPhone may be more appealing because they typically cost less; but if having access to thousands of apps is important than Android might be best for you.
There also can be instances where iOS will not work with certain websites which in this case would mean that an Android phone would need to be used instead. One thing that people keep forgetting about is the hardware these phones use as well since each type has their own strengths so whichever one suits the user most should end up being picked.
Is Google killing Android for Fuchsia?
Questions about the future of Android are as common as they are difficult to answer. Every so often, Google updates its mobile operating system and users wonder if this is going to be the one that kills off their beloved platform.
A lot of speculation has been made in recent years on whether or not there will ever be a solid release for Fuchsia but nothing concrete has come out just yet; we're still waiting for an engineer at Google to make it official. The best thing people can do when wondering what's happening with Fuchsia is keep track of any major developments from Googlers themselves, who may accidentally leak some information along the way. For now, all anyone knows is that development on Fuchsia continues apace with the necessary of a newer OS to support new technologies, such as augmented reality and to remove fragmentation of Android OS.
What is the disadvantages of rooting Android?
Rooting your Android device is a process that bypasses the system partition and allows for privileged control of the operating system. In order to do this, you need root access which means that any app can overwrite files on SuperSU's directory and even replace it with malware or ransomware software. This makes rooting incompatible with banking apps, payment apps, etc.
A rooted phone, if not managed properly, is a home to many viruses and malwares.