A laptop is a compact computer that is designed to be easily transported and used in a variety of settings. It is equipped with a screen, keyboard, and mouse, and can be placed on your lap without causing discomfort as it is small and lightweight. Laptops are highly efficient and offer nearly the same processing power as desktop computers. They have evolved over the years to become more convenient and user-friendly. 
Initially, portable computers were developed, but they were larger and less convenient to carry around. Over time, laptop technology improved, and manufacturers started making them smaller, lighter, and more portable. Intel, for example, developed the Ultrabook, a line of ultra-thin laptops.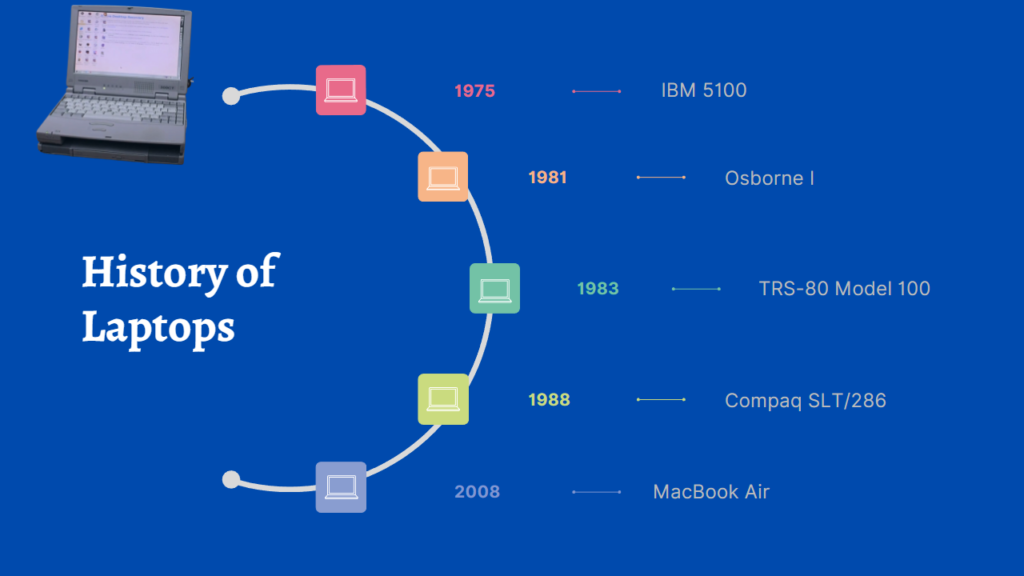 To understand the evolution of laptops, it's important to look at their history. The term "portable computer" is often used when discussing early laptop technology. These devices were larger than modern laptops and couldn't be comfortably used on your lap. The image below showcases the earliest true laptop computer.
The history of laptops is a fascinating journey that began more than four decades ago. The story of laptops is one of innovation, perseverance, and ingenuity. From the first portable computer to the sleek and powerful machines we use today, the history of laptops is a testament to human creativity and technological progress.
History of Laptop in Timeline
1975: IBM 5100
In September 1975, IBM released the first-ever portable computer called the IBM 5100. What made it a game changer was its weight, which was only 55 pounds at the time. Compared to other computers of the era, this was a major breakthrough as it made the computer far more portable. Although it was not as compact as today's laptops, it laid the foundation for the development of truly portable computers. This paved the way for the creation of laptops that we use today.
1976: Dynabook
Alan Kay conceptualized the laptop, which he named the Dynabook. While employed at Xerox PARC, he collaborated on the development of a prototype for this device, which was later named the Xerox Note Taker. It was also known as a slate computer or tablet PC because of its flat shape. The main purpose of creating the Dynabook was to provide children with access to digital media. 
1979: GRiD Compass
The first laptop was invented in 1979 by a British computer scientist named Bill Moggridge. The device was called the GRiD Compass which was the first portable computer to feature a clamshell design, a feature that is still a hallmark of modern laptops. The GRiD Compass also featured a backlit LCD screen and a built-in modem, making it one of the most advanced computers of its time. During the early 1980s, NASA incorporated the GRiD Compass into its space shuttle program. The GRiD Compass was not a commercial success, largely due to its high price tag of $8,150, which made it unaffordable for most people.
1981: Osborne I and HX-20
In 1981, a computer engineer named Adam Osborne created the Osborne I, a groundbreaking device that is considered to be the first-ever portable computer or true laptop. Despite weighing in at a hefty 24 ½ pounds, it was a massive leap forward in terms of technological portability. The Osborne I boasted a 5-inch display that could be carried around, bringing the power of a computer to many new locations. The same year, Epson introduced the HX-20. This device was the first portable computer to include a built-in printer, which was a major innovation at the time. This allowed people to print documents from anywhere, without needing to return to a traditional desktop computer.
1983: TRS-80 Model 100
In 1983, Radio Shack introduced the TRS-80 Model 100, a portable computer that was ahead of its time. One of its standout features was the LCD display, which was a rarity at the time. The Model 100 was also sold in Japan, where it was produced by Kyocera.
1984: Commodore SX-64
The Commodore SX-64, a portable computer, was introduced by Commodore in 1984. This computer was groundbreaking, as it boasted a full-color display screen. It weighed approximately 20 pounds, making it lightweight and easy to carry around. It was initially sold at a price of $995.
1986: PC Convertible
In 1986, IBM introduced the PC Convertible, which was the company's first-ever laptop. This device weighed only 12 pounds, making it the lightest laptop available at that time. Prior to the release of the PC Convertible, laptops weighed over 15 pounds.
1987: Vectra Portable CS
In response to a request for proposal (RFP) by the U.S. Air Force, Zenith Data Systems was awarded a contract for the manufacturing and purchase of more than 200,000 laptops. This significant purchase by the Air Force played a crucial role in the widespread adoption of laptops.
The Vectra Portable CS laptop, manufactured by Hewlett-Packard, hit the market in the same year. It was among the pioneers of laptops to come with a 3 ½" floppy disk drive that could use 1.44 MB diskettes. This feature was a technological breakthrough at the time, allowing users to carry more data on fewer disks.
1988: Compaq SLT/286
Compaq, a computer company, introduced its very first laptop computer called the Compaq SLT/286. This laptop was the first of its kind to have VGA graphics and an internal hard drive that could be powered by a battery, which means it could display better-quality images and store data inside the computer itself. This innovation allowed users to take their work with them, without being tethered to a power source. The Compaq SLT/286 was a game-changer for the industry, paving the way for future advancements in portable computing.
1989: Macintosh Portable
In September 1989, Apple made a big move by releasing their first-ever laptop, called the Macintosh Portable. However, despite its high price tag of $6500, it didn't do well in the market and failed to become a popular choice among laptop users.
Around the same time, NEC came out with its own laptop called the NEC UltraLite. This was the first laptop to have a notebook-style design and weighed less than 5 pounds. It was a significant innovation in the world of laptops and set the standard for future models.
1991: PowerBook
Apple had a major setback with its Macintosh Portable laptop. However, they didn't give up instead, they went back to the drawing board and came up with a new and improved laptop concept. This led to the release of the PowerBook line of laptops in October 1991.
1992: ThinkPad
IBM introduced its first line of ThinkPad laptops, which included the 300, 700, and 700C models. These laptops were a big deal at the time because they were one of the first portable computers that were easy to carry around.
Around the same time, Microsoft and Intel teamed up to create a new power management system for laptops called APM (advanced power management). This system helped laptops use less power when they weren't being used, which made them last longer on a single battery charge.
Olivetti came out with the first laptops that had touchpads. These touchpads replaced the old trackballs that were common on early laptops, making it easier for people to control their computers without needing a separate mouse.
1993: Compaq Concerto
A revolutionary piece of technology hit the market: the Compaq Concerto. This laptop was the first of its kind, offering both a detachable keyboard and a stylus. The Compaq Concerto set the standard for future 2-in-1 laptops and remains a defining moment in the history of portable computing.
1994: ThinkPad 775CD
IBM made a significant breakthrough in the world of laptops by launching the ThinkPad 775CD. This laptop became the first of its kind to have a built-in CD-ROM drive, allowing users to read and write data on CDs without the need for external devices.
1996: Gateway Solo 2100 and RS/6000 860
Two groundbreaking laptops were released into the market, each with impressive features. The Gateway Solo 2100 was the first of its kind to feature an Intel Pentium processor, making it one of the fastest laptops available at that time. Meanwhile, IBM's RS/6000 860 laptop introduced a new level of advanced technology to the market with its built-in webcam, a feature that was previously only available on desktop computers. However, this laptop came with a steep price tag of $12,000. Both of these laptops revolutionized the tech industry and paved the way for future advancements in portable computing.
1997: Portege 300CT
Toshiba introduced the first laptop in its Portege series in 1997. This laptop was called the Portege 300CT and marked the beginning of a new era in portable computing. The device was a hit among consumers due to its lightweight design, making it easy to carry around. It was a significant achievement for Toshiba as they managed to pack advanced technology into a compact and portable device, providing users with the ability to work on the go.
2002: Toshiba Portege 2000
Back in 2002, Toshiba unveiled their latest groundbreaking technology – the Toshiba Portege 2000 which was the world's thinnest laptop at the time. This device measured just ¾ of an inch at its thickest point, which made it extremely portable and sleek. The Toshiba Portege 2000 also boasted the first-ever 1.8-inch hard drive, which was an innovative milestone in the tech industry.
2003: PowerBook G4 and Toshiba Portege M100
Apple made an exciting announcement about their latest product, the PowerBook G4 laptop. This was the first-ever laptop to have a massive 17-inch screen, making it perfect for anyone who needs to work on larger projects or watch movies on the go. The PowerBook G4 also featured 802.11g Wi-Fi and a backlit keyboard.
Around the same time, Toshiba also released their latest laptop, the Toshiba Portege M100. This was the first laptop to feature a slim DVD-ROM drive, which allowed users to watch DVDs on their laptops, which was a huge convenience for those who were always on the go.
2006: Macbook Pro
In 2006, Apple made a big change by switching to Intel processors for their laptops. In January of that year, they released their first MacBook Pro, which had a 15-inch screen.
2007: Eee PC 701
In October 2007, ASUS launched the Eee PC 701, which was the first netbook model. The laptop boasted a 7-inch display and an Intel Celeron-M processor. It also came with a 4 GB SDHC storage disk.
2008: Macbook Air
In January 2008, Apple introduced the MacBook Air, which they claimed to be the thinnest laptop available at the time. With its sleek design and impressive specs, the MacBook Air quickly became a popular choice among tech enthusiasts and professionals alike.
2011: Chromebook
In May 2011, Acer and Samsung unveiled their first Chromebook models. These devices were designed to run on the Chrome operating system, which is based on the cloud and emphasizes web-based applications over traditional software. The release of these Chromebooks marked a significant shift in the computing industry, as they offered a new way of thinking about how people use computers.
Today, laptops continue to evolve, with new models featuring even more powerful processors, better graphics, and longer battery life. The rise of mobile computing has also led to the development of new types of laptops, such as 2-in-1 devices that can be used as both laptops and tablets.