A selfie is a modern portrait, and you want yours to look the best. There are apps that are specifically designed to help you take that perfect front camera portrait. While taking a selfie may seem like a no-brainer, getting a great shot with your camera needs a bit more work than average. These apps help you take a better selfie with enhanced software and even some editing tools to enhance lighting. If you ever have a bad hair day, then these 7 camera apps can still help you take a perfect selfie.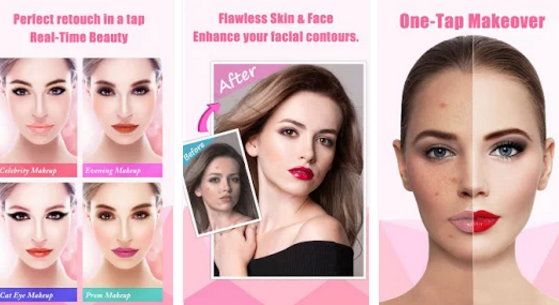 Probably the most popular selfie enhancing app out there, Retrica has a bevy of powerful features that are more refined than its counterparts. Aside from selfie editing, you can even use this app as a photo editing one, because of all the powerful features it packs. Like all photo editing app, it lets you add effects, frames, and filters.
LINE Camera: Animated Stickers
LINE is a widely-used messenger app that popular in Asia. Along with the messaging features, it also has a camera tool that is great at snapping selfies. Taking selfies using LINE enables you to quickly share your face with your LINE friends, and people you know on other social media.
For those wanting a makeover when they take selfies, this app is a perfect choice. Pefect365 has powerful editing tools that allow you to give your selfie image a makeover! The editing features are so very easy to use; it will be like you are using a real life makeup brush. There is a makeup palette; wherein you can select the tools. Conceal any blemishes; add a bit of colour, and more on this app.
Looking to take an attractive shot of your face? YouCam Perfect can accomplish that task quite easily. It has loads of automated tools, such as trimming and lighting, that instantaneously creates beautiful versions of your selfie.
A selfie camera app that is widely used for selfie shots. After taking your selfie portrait, Selfie Camera enables you to edit your photo inside the app. You can lighten your face with various colours and even use pre-made filters, all without having to leave the app. The app also features lots of makeup style for you to choose.
Camera for Facebook
Need a little something to brighten your selfie smile? Use Camera for Facebook; it has tons of effects, frames and editing tools, which you can use. These effects range from being able to adjust lighting, to adding more to your selfie pictures. You can also add filters that give a more colourful or retro look to your images. The tools available let your remove blemishes and even add a few touch ups to your face.
Frontback
When one picture is not enough, try using two images to take a selfie. Frontback first lets you take a selfie using the front camera and then lets you take another selfie with the back camera. It uses the two images taken and merges them into one picture perfect selfie.