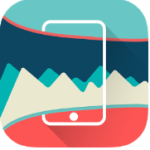 Panorama 360 Photos is the best panorama camera app letting you create stunning 360-degree panoramas for free. This appattracts the worlds largest online community of over 4 million users who love rtaking and sharing panoramas and photospheres.
TeliportMe allows its users to share quick and easy high resolution panoramas on many social networks such as Facebook, Twitter and Tumblr. Users can discover new photos through its real-time panorama feed.
Photospheres can be viewed and shared as 3D viewer or as flat images. The app also provides 3D filter to make captured photos even more stunning.
Photo 360°, developed by Sfera, is the first app on Google Play Store which lets users take fantastic 360-degree panoramic photos. Users can record the environment with both the image and sound into one photo.
There are 3 types of 360° pictures which can be taken turning clockwise.
1) 360 degree Panorama. Holding the device to capture.
2) 360 degree object/person photo. Get a 360°view of an object (or person) simply by turning around.
3) "Behind you" photo. This technique requires front-facing camera. it lets you to take a beautiful picture that shows the world behind you.
This app also integrate social sharing. Photos can be shared easily to Facebook and Twitter with a simple tap. However, sharing requires in-app purchase. It only offers free sharing for the first 5 photos.
Google Camera is a basic camera app. It has creative picture modes like Photo Sphere and Panorama. That's where the 360-degree photos come from.
Your Android phone needs to have at least 1 gigabyte of memory to use Panorama and Photo Sphere modes.
Photaf can take beautiful and seamless 360 panoramic photos easily by taking advantage of the camera and the orientation sensor to know the exact angle each picture was taken.
User can use the phone's compass or the touch screen to see the complete panoramic view.
Photaf  is also perfect for real estate agents who can take and share the panoramic photos of the properties and show it online to their customers.
Sphere 360 Camera allows user to view beautiful and immersive spheres from around the world. Anyone with this app can publish his own sphere via TourWrist.com.
There is not better app to immerse yourself in 360º experiences. Sphere offers a new kind of travelling. With this app, your Android devices become movable windows, allowing you to see farawat places.