The past five years have brought in a series of trends. Most of them were related to the Internet in one way or another. For example, the ice bucket challenge was so common that it became annoying at some point. But then, there is one trend that does not seem to go away too soon – the selfie. It looks like the selfie trend plans to stay around for much more. Therefore, the Sony engineers have decided to come up with an interesting smartphone for this activity. Sure, the smartphone will come with plenty of extra features and capabilities. There are no doubts about it. But then, Sony has announced that it will exceed in taking selfies. This is how Sony Xperia C4, the best phone for selfies was announced.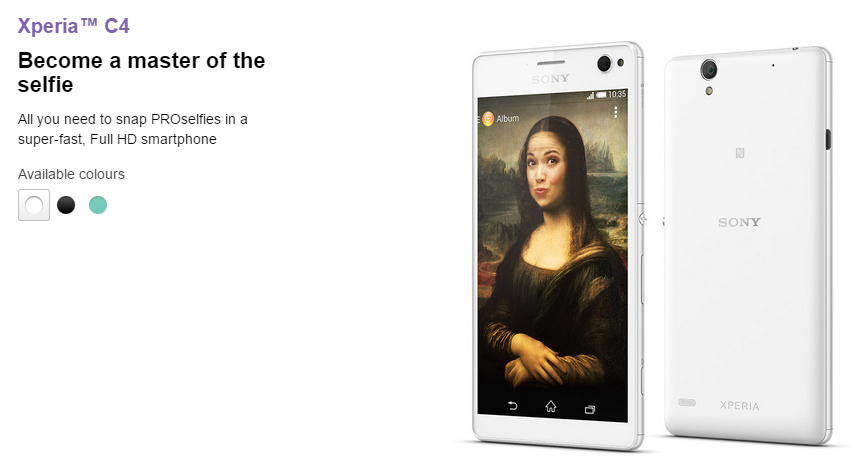 Sony Xperia C4 Specs & Features
Sony Xperia C4 will not battle other smartphones in hardware and technical specifications. Of course, it will not feel like an ancient mobile phone either. It will most likely be able to offer a pretty nice experience, especially if you are not the picky type. At the same time, it will probably come with a good front camera. When it comes to the design, fans will enjoy a 5.5-inch wide screen, as well as a decent resolution – 1920×1080. Two cameras will enhance the gadget – one on the back and one on the front. As for the external appearance, buyers will have three options – black, mint and white.
The front camera is identical to the one available in the previous C3 generation, which was released in 2014 – not less than 5MP. It also has a wide lens. As for the upgrades, the new gadget comes with a full HD panel, which is different from the old HD one. Technical specifications go even further. Sony's smartphone comes with a speedy octa-core processor from MediaTek. It is rated at 1.7GHz. It has 2GB of RAM, as well as an internal memory of 16GB. It does allow microSD cards of up to 128GB though. As for the main camera, it come with 13MP. Despite the processor speed, the 2600mAh battery will not drain as fast as you might think.
Connectivity elements include Bluetooth, wireless, microUSB and an audio jack. The smartphone can be used as a wireless hotspot as well.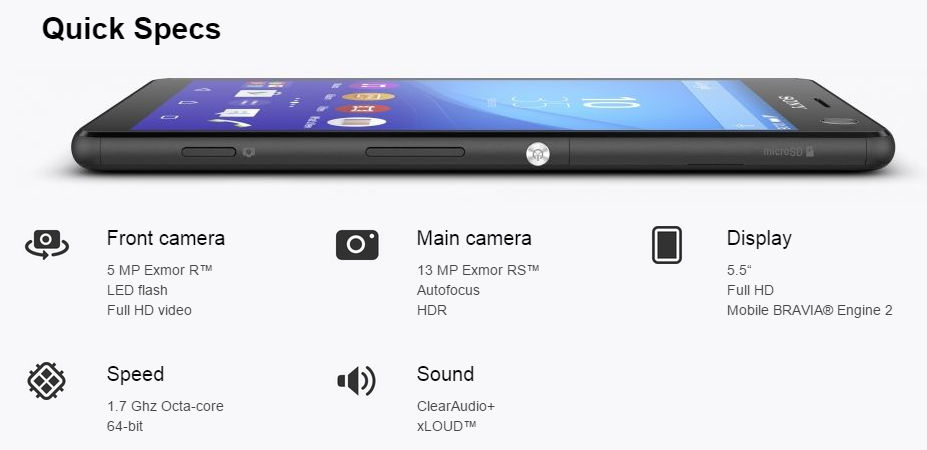 Pros
Powerful front and rear cameras
Wide lens in the front camera
Full HD
Comes with a second dual SIM version
5-inch wide display
Speedy 1.7GHz octa-core processor with 2GB of RAM
Internal 16GB memory can be enhanced with a microSD card
Multiple connectivity possibilities
Ideal for selfies
Three different case designs
Solid technical specifications, despite the primary purpose of capturing selfies
Cons
Conclusion
In conclusion, the new Sony Xperia C4 brings in some significant updates when compared to the past generation – C3. Some of them are related to the technical specifications, but the original purpose to take selfies is not to be overlooked either. The smartphone has not been released yet, but plenty of fans are barely waiting for it.