Do you live and breathe in songs? Do you wish to know the name of the song that you once listened to? Or the one whose tune you cannot get out of your head? If so, you need an app that helps you recognize songs.
Here are 5 best android apps to identify songs. Download them and say that nagging feeling goodbye.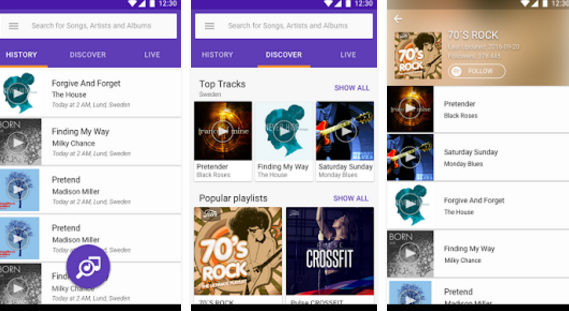 Most of us like to hum songs as we go on with our everyday routine. But it is annoying when you do not get the words right. This app allows you to search out lyrics through Spotify, Youtube, Pandora etc. You can search a song via its lyrics, the title, or the name of the artist.
Do you like the music on the radio? Do you wish to know the name of the song? Use this app for immediate identification of the song. You can use the app even when you are not connected. Join Adele and Demi Lovato. Use the app to discover music.
Sound Search for Google Play is multifunctional in nature. Not only does it allow you to identify songs around you, but also gives you an option to download the concerned music from Google Play instantly. You can add the widget of the app to your lock screen to further enhance the app's ability to recognize songs.
You can use SoundHound Music Search not only to identify songs but also to access your search history and playlist through voice commands. Moreover, it features new songs and emerging artists each week, so you are well-aware of the new-found talent in the music industry.
TrackID can operate in more than 60 languages making it accessible to the masses. It succeeds in identifying songs within seconds of being exposed to them. The offline mode allows you to enjoy songs even when not connected to the internet.