Trendy or not, retro photos have a special place in the hearts of photography lovers. For some, it's the nostalgia factor; for others, it's the unique aesthetic of old-school photos. Whatever the reason, if you're looking to add a vintage feel to your photos, there are a few Android apps that can help.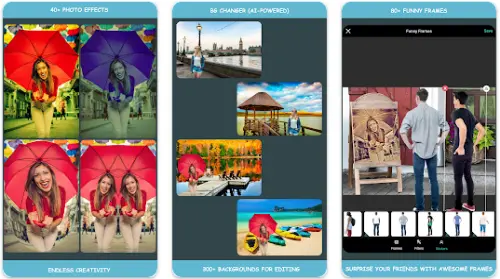 Photo Effects Pro is a robust photo editor in your hand. It can make your photos beautiful with easy and powerful editing tools. The app supports a lot of filters and effects for easy photo editing, and social network sharing for boasting your artist side. It takes no time at all to make good photos look great.
Vintage effects aren't the focus of this app but it is nice to have an all-in-one tool in case you want to apply more filters to your photos. Furthermore, it supports adding text, fun stickers finger paint on photos, and many other necessary features.
It helps to enhance your personal photos with 30 deep effects, 40 special photo effects, 50 super photo frames, and 300+ cool backgrounds. You can also add 100+ funny stickers, use the photo collage feature, or apply a picture-in-picture effect.
Once you've perfected your photo, save it on your device and then post it to social media or your website, send it via email, or print it to share and enjoy.
The 1998 Camera app is a trendy way to add the precious retro feel of the analog film to your beautiful photos and videos. With over 100+ filters to choose from, you can find the perfect look for any occasion.
The app also features an instant preview so you can see how your photo will look before you even take it. And with the realistic 3D effect, it's like you're right there in the moment! Plus, the classic date time stamp adds a touch of nostalgia to your photos.
And with the film dust, grainy filters, and random light leak filters, you can really give your photos that vintage feel. The portrait and landscape mode is perfect for any situation, and the self-timer is great for getting that perfect shot.
And if you want to edit your photos after taking them, no problem! The photo editor lets you change filters, effects, and intensity in real-time. You can also crop, skew, or straighten the image in the editor.
FIMO is a great app for anyone who loves vintage images. It captures the beauty and magic of old-school vintage images right through your viewfinder. Dust and scratches, retro colors, flickering, light leaks, and even frame shakes, all can be instantly added with a single tap of the finger.
With FIMO, you'll make photographs that look and sound like real film rolls pulled out of storage 30 years ago. The app includes over 7 signature presets which replicate the look of old-school camera films. Some of the featured preset include Aesthetic 400, Pan 100, EK80, LM Color 100, Business 400, HK 200, Yummy 100, X-Red 50, EPR 64, Joey 100T, Tokyo 500, Morandi 200, KDchrome 64, Natura 1600, Portra 160NC, DE 200, X-Mas 25T, New Year 2020, Super HR 100, Tri-X 400, TS-E 50.
Adobe Photoshop Lightroom is a powerful photo and video editor that offers easy-to-use editing tools. With Lightroom, you can quickly and easily edit your pictures with preset filters, fine-tune backgrounds, and use transformative presets to make your photos pop.
Additionally, Lightroom offers a variety of Premium Presets created by professional photographers that you can use to upgrade your aesthetic. And if you're not sure which preset to use, AI Suggested Presets can give you recommendations based on your photo. You can create your own custom preset filters and save them for easy access later.
The app's auto editor instantly improves photos with a single tap, while the precision sliders allow users to adjust all light settings like contrast, exposure, highlights, and shadows. The color mixer and color grading tools make it easy to create eye-popping edits, while the photo enhancer lets users change the look and feel of their photos with clarity, texture, dehaze, and grain sliders.
The video editor provides access to premium video editing features, allowing users to edit captivating videos with ease. Users can apply presets, trim and retouch videos with precision sliders to fine-tune contrast, highlights, vibrance, and more.
OldRoll is the best camera app to use if you want to get that perfect, realistic shot without having to edit or retouch the photo afterward. All you have to do is click the shutter button and the app takes care of the rest, automatically applying a film frame and retro scratch effect.
It's perfect for sharing on Instagram or any other social media platform. You can also use the post office function to send photos straight to your friends' home screens. And if you're in a low-light situation, no problem! Just activate the flash and you'll be able to take some amazing shots.
With its custom fun date stamp watermark, you can tell your friends when the photo was taken, even if it was taken 20 years ago! You can also flip the lens to take a retro selfie. OldRoll provides trendy effects like light leaks of 1888 or 1998 style, and you can also enjoy the VHS and glitch effect with retro grain.
The retro texture rarevision is different from digital cameras, and the photo shooting timer allows you to free your hands to pose. Plus, the excellent photo mirror effect lets you rotate and flip the photos to create a great mirror image.