Korean is a fascinating language that is spoken by over 80 million people worldwide. It is the official language of both South and North Korea and is also one of the two official languages in the Yanbian Korean autonomous prefecture of China.
There are a variety of different ways to learn Korean, depending on your needs and budget. If you want to study Korean on your own, there are a number of great online resources available, such as Talk To Me In Korean and KoreanClass101. If you prefer a more structured learning environment, there are plenty of excellent Korean language courses available both in-person and online.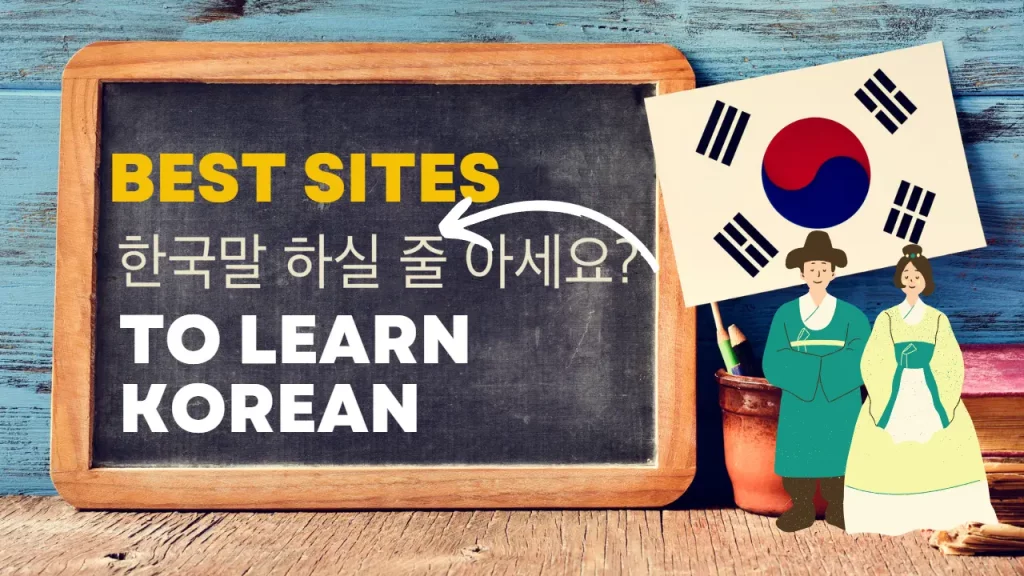 Why Learn Korean?
A person studying a different language is not that hard to find nowadays, it's because learning a new language can give you many benefits like a wide variety of jobs or when you're traveling to an unfamiliar place or a country, knowing the country's dialect can be very useful.
Whether you're interested in Korean culture, planning a trip to Korea, or simply want to learn a new language, there are many reasons why you should learn Korean. Here are 5 reasons why you should start learning Korean today!
Understand more about Korea's culture
Often, the reason many people want to learn Korean is that they already know songs, TV shows, or movies. Maybe you've watched Gong Yoo's film "Goblin," and it made you interested in Korean cinema.
Perhaps you've stumbled upon a k-pop song that made you want to know the lyrics that the song holds. Or maybe one of your friends recommended a Korean TV series, and it made you obsessed with it ever since.
Fans of famous Korean idols use translations or subtitles, but learning Korean can make it easier and can make you explore Korea more.
One of the most widely spoken languages in the world
With over 80 million speakers worldwide, Korean is the 23rd most widely spoken language in the world. Its official status in both North and South Korea makes it an important language to know if you're doing business in or traveling to either country.
And since South Korea is such a popular tourist destination, knowing some Korean will definitely come in handy when you're trying to navigate your way around the country.
It's not as difficult as you may think
Apart from having different letters (Hangeul), grammar rules, and vocabulary words, Korean is actually not that difficult to learn for English speakers. In fact, according to the ranking of languages by difficulty for English speakers put out by the U.S. Department of State, Koreans were ranked as one of the easiest languages for English speakers to learn. So if you've been putting off learning Korean because you thought it would be too difficult, now is the time to give it a try!
Great for travel
Planning to visit Korea? If you are, you should probably learn a bit about their language to make sure. It will not matter if you're staying just for a week or even a month, learning how to talk in Korean can be handy and for sure you won't get lost around Seoul.
You can also have better communication with your tour guides, owners of businesses, and even locals. This will allow you to have a great and memorable experience in Korea. It is much more fun and comfortable visiting a foreign country when you know how to speak their language.
Increase brainpower
When you learn a new language, there are benefits. Being Bilingual can vitalize your mental growth. Studying a new language can refresh your mind and can keep your mind healthy and active.
You should consider learning Korean if you want to be bilingual. Often, people are quick to learn Hangul. Once you learn this, you will be able to understand Korean vocabulary.
5 Best Websites to Learn Korean
Many websites offer courses and resources for learning Korean. These websites offer a variety of different learning options, from self-study courses to more structured classroom environments. So whether you're a beginner just starting out, or a more experienced learner looking to refine your skills, there's sure to be a course or resource to suit your needs.
Talk To Me In Korean is great for anyone wanting to learn the Korean language. With more than 1,000 levels of lessons, there is something for everyone no matter what your level is. The lessons are sorted into eight levels, depending on how advanced you are.
The courses cover a variety of topics including grammar, vocabulary, pronunciation, and so on. There are also video lessons and workbooks available. This makes Talk To Me In Korean a great resource for anyone wanting to learn Korean.
90 Day Korean is a language-learning program that promises to help you become fluent in Korean within 90 days. The program is divided into four different modules, each of which covers a different aspect of the language.
The first module focuses on basic phrases and vocabulary, while the second module introduces more advanced concepts. The third module focuses on grammar and sentence structure, and the fourth module covers cultural aspects of the language. Each module is designed to be completed over the course of 90 days, with new lessons being released each day.
In addition to the daily lessons, participants also have access to a personal coach who can provide guidance and support. Although the program does not guarantee that you will become fluent in Korean within 90 days, it does provide a comprehensive overview of the language that can help you make great strides in your learning.
If you have tried Duolingo already, you are probably aware of its limitations. LingoDeer is a bit different – you get vocabulary and grammar lessons. You should have no problems reaching Korean TOPIK 1 – ideal for beginners and those who already know the basics. However, if your goal is to reach a higher level, LingoDeer might not be the best solution.
The app focuses mostly on beginners and doesn't provide enough challenges for intermediate or advanced learners. Additionally, the games can be repetitive and sometimes feel more like busy work than actual learning. Nevertheless, if you are starting from scratch, LingoDeer is a great way to get started with Korean. Just be aware that you will need to supplement your learning with other resources as you progress.
Pimsleur is excellent if you want to speak Korean at a conversational level. You will listen, imitate, and talk through your lesson – for around half an hour. You will not get specific grammatical rules, but you will learn the basics and you will be able to carry on a basic conversation. There are courses for both beginner and intermediate users.
KoreanClass101 is a great way to learn Korean. It covers all the basics you need to know, from grammar to pronunciation, and it's packed with evaluation tests to help you measure your progress.
The process is a bit old-fashioned, but it's proven to work, and there are some interactive elements too, like flashcards. Plus, the community forums are a great place to ask questions and get advice from other learners.