If you want to take your music with you when you're on the go, you should consider downloading a music streaming app for your Android device.
A music streaming app is a type of app that allows users to listen to music on their smartphones or other devices. There are many different music streaming apps available, and many of them are free to use.
There are a lot of such Android apps and here are some of the top ones: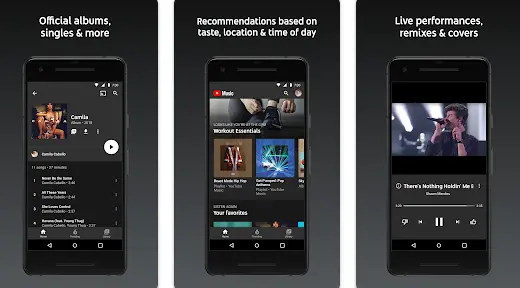 YouTube is most famous for its video-sharing service, but it also offers the music-streaming app YouTube Music. It is an app developed just for music, a big library of music. The free version includes ads, while the paid one removes the ads and lets you save your favorite music offline so you can listen to them anytime.
The main Youtube app doesn't allow you to listen to music for hours because it will automatically close the screen after a while. However, this app will keep playing even when your screen is off. It is a good choice for music.
Spotify is a popular audio streaming site with a wide variety of songs and artists to choose from. You can create your own playlists or listen to existing ones, and the site also offers a free version for Android users. One of the best things about Spotify is that you can download songs to listen to offline, which is great for long car rides or flights.
Additionally, the site allows you to share your listening activity with friends on Facebook and Last.fm. Whether you're looking for new music to explore or just want an easy way to access your favorite artists, Spotify is a great option.
Here's another music-streaming mobile app for Android that you should consider. It features more than 100,000 radio stations, which is the largest free selection of sports, news, music, and talk radio from around the world. It has a free and a premium version. The Pro one is available if you want more features, including:
Access live play-by-play from every NFL, MLB, and BPL game.
Access to a library of over 40,000 audiobooks.
Access to over 600 commercial-free music stations.
Of course, no ads.
The app is available on both mobile and desktop platforms, and it offers a great way to discover new music and stay up-to-date on the latest news and sports.
Jango Radio is a great way to listen to the music you love without commercials or ads. You can create custom radio stations with your favorite artists, and Jango Radio will play similar artists that you love.
You can also tune in to hundreds of expertly curated stations in dozens of genres, from dance and country to holiday music and hits by decade. If you want to extend your playlist even further, you can shuffle your stations. And if you want to fine-tune your stations, you can add or ban artists as you please.
You can share stations with your friends on Facebook. The best part is that Jango Radio is available for any device!
SoundCloud is a great option if you're looking for something a little bit different from the mainstream music streaming services out there. That's because SoundCloud focuses on giving independent artists a platform to share their music with the world.
With over 200 million tracks, you're sure to find something you like. Once you find an artist or playlist you enjoy, follow them and start connecting with other fans directly. You can also like, repost, and comment on any track right in the music player.
If you want to share your new discoveries with your friends, you can do so easily by sharing songs and trending playlists on the app or through social media. Plus, if you're a musician yourself, you can upload your own tracks directly onto the app to tap into a global fanbase of millions and start trending. And because SOUNDCLOUD is fan-powered, every stream puts money in the pockets of the artists YOU want to support.