If you want to take your music with you when you're on-the-go, you should consider downloading a music streaming app for your Android device. There are a lot of such Android apps and here are some of the top ones: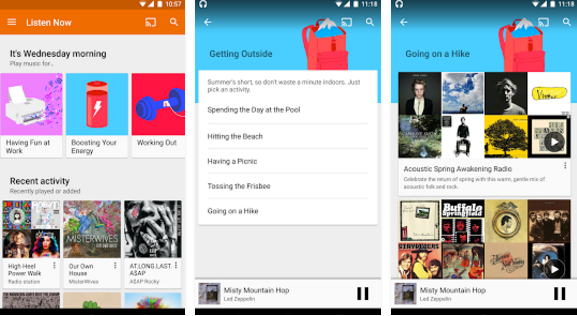 Google Play Music allows you to listen to and share your favorite music whether you're at home, in the office, or in the gym.
The app chooses radio stations based on songs, artists, albums, mood, activity, and more.
You can upload up to 50,000 songs to your account.
Recommended songs are curated based on your taste in music.
You can subscribe to podcasts.
At a subscription fee, you can unlock premium features.
Ad is removed from the app.
It includes Youtube Red membership.
35 million songs are ready to be listened and downloaded to your Android device.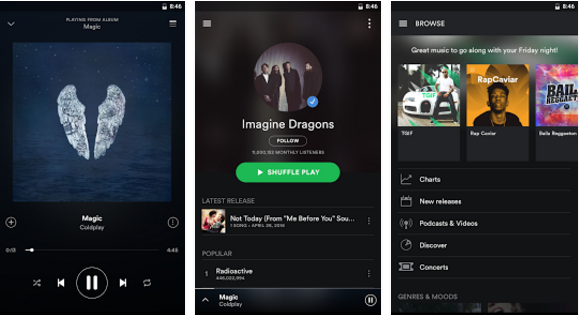 Spotify has become one of the most popular audio streaming sites over the years. There's also a version for Android, which lets you stream music for free.
There are many ready-made playlists which were created based on your moods or favorites.
You can play songs from any artist, album on shuffle mode.
You can download music to listen to them offline.
It allows network sharing such as posting songs you're listening to Facebook and Last.fm.
Here's another music-streaming mobile app for Android that you should consider. It features more than 100,000 radio stations, which is the largest free selection of sports, news, music and talk radio from around the world. It has a free and a premium version. The Pro one is available at 10, if you want more features, including:
Access live play-by-play from every NFL, MLB and BPL game.
Access to a library of over 40,000 audiobooks.
Access to over 600 commercial-free music stations.
Of course, no ads.
YouTube is most famous for its video-sharing service, but it also offers the music-streaming app YouTube Music. It is an app developed just for music, a big library of music. The free version includes ads, while the paid one removes the ads and lets you save favorite music offline so you can listen to them anytime. The main Youtube app don't allow you to listen for music for hours because it will automatically close the screen after a while. Howeverm, this app will keep playing even when your screen is off. It is a good choice for music.
This is an excellent way to discover/play/share millions of songs. One key benefit is that it's 100% free! You can play over 35 million songs and subscribe to ready-made playlists. You can listen to musics on your phone, tablet, computer, and other devices such as Sonos and Chromecast. Songs can be downloaded to played offline.