Do you love the sound of waves crashing against the shoreline? Or the ebb and flow of the tides as they move in and out? If so, then you'll love these Android apps that allow you to enjoy the sounds of the ocean anytime, anywhere. Whether you're looking for a relaxing audio experience or simply want to hear some natural ambiance while you work, these apps have you covered. So check them out and add a little bit of coastal charm to your day!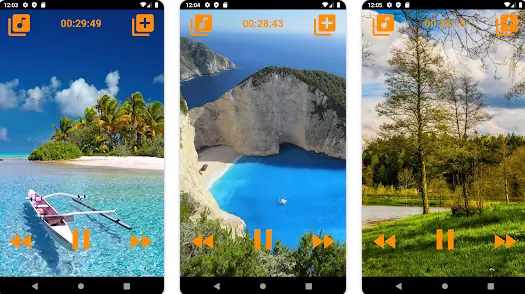 If you're looking for a way to relax and fall asleep, this app is for you. Piano with ocean waves contains beautiful piano songs with the sound of the sea in the background. Simply put on your headphones, choose one of the songs, and let the relaxing music transport you to a calm and peaceful place.
You can also choose the length of time you want the music to play, so you can drift off to sleep without worrying about it turning off. The sound quality is excellent, and the best part is that it's free!
This app provides a soothing collection of sea-inspired sounds, perfect for helping you wind down or drift off to sleep. Whether you're looking to relax, meditate, or concentrate, the looped sounds of Relax Ocean will provide the perfect background noise.
And if you have trouble with tinnitus, the white noise of these calming ocean sounds can help to mask the ringing in your ears. From gentle waves lapping at the shore to dolphins playing in the distance, Relax Ocean has a soundscape to suit any mood.
With a timer system that slowly fades audio out and the ability to auto-pause sounds on incoming calls, you can customize your listening experience however you like.
Ambience It's a great app that can help you mix relaxing sounds to create your ideal relaxed ambience. With high-quality nature sounds and the ability to upload your own sounds, you can use this app for power naps, meditation, concentration, reading, or just relaxing.
Plus, the sound mixer can help minimize anxiety, insomnia, and tinnitus symptoms by masking annoying sounds. With a variety of sounds to choose from, including rain, ocean, and waterfalls, you're sure to find the perfect soundscape to help you relax and unwind.
The sounds of nature have long been known to have a calming effect on the human mind. In today's fast-paced world, it can be difficult to find time to relax and unwind. Thankfully, there are now apps that can help us to reconnect with the natural world, even when we're stuck indoors.
Nature Sounds is one such app, offering high-quality recordings of thirteen different natural sounds. There's something about nature sounds that just have a way of putting you at ease. Whether it's the sound of rain on the windows, a thunderstorm in the distance, or a waterfall crashing down, there's something incredibly calming about listening to the sounds of nature. And with thirteen different customizable nature sounds to choose from, you're sure to find the perfect soundscape to help you relax and unwind.
Whether you're looking to relax after a long day or ease yourself into a good night's sleep, Nature Sounds app is sure to offer the perfect soundscape. And with its customizable atmospheres and timer function, you can tailor the app to your needs.
Sleep is essential for our health, yet it can be elusive at times. When we can't seem to catch those much-needed Z's, it can have a serious impact on our physical and mental well-being. That's where sleep sounds can help. By creating a calming and relaxing environment, sleep sounds can ease us into a slumber so we can get the rest we need.
With the ability to create your own mixes of sound, adjust the volume for each sound, and play the sound in the background, Sleep Sounds makes it easy to get the rest you need. And with the built-in sleep timer, you can automatically stop the sound after a set period of time.
Plus, with a beautiful and simple design, high-quality soothing sounds, and no need for an internet connection, Sleep Sounds is the perfect companion for meditation and relaxation.