An office suite is a collection of software programs that are designed to be used together. The most common office suite is Microsoft Office, which includes programs such as Word, Excel, and PowerPoint. However, there are many other office suites available, such as Google Docs and OpenOffice.
Each office suite includes a variety of different programs, but they all share some common features. For example, most office suites include a word processor, a spreadsheet application, and a presentation program. These programs can be used to create documents, spreadsheets, and presentations. In addition, most office suites also include email and calendar applications. These applications can be used to keep track of tasks and appointments.
Office suites are very powerful tools that can be used to increase productivity in the workplace. Furthermore, modifying documents on phones and tablets has become the norm these days so it is important to choose a proper office suite. There are many to choose from and here are the best office suites for Android devices:
5 Best Office Suites for Android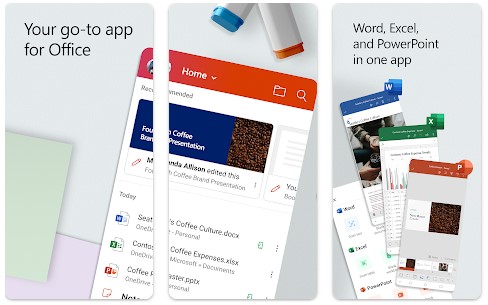 The most popular office suite now comes to mobile. You can use Microsoft Word, Excel, as well as PowerPoint on Android like you, do on PC and for free. They allow you to create, edit, and share your file with others quickly and easily. Users can also use Microsoft OneDrive to sync files between PCs/mobile.
Microsoft Office Suite comes with a variety of features that can be used to increase productivity in the workplace. The recent trend of combining Word, Excel, and PowerPoint into a single application has made it even more accessible and useful for users.
Cover letters and resumes can be created and edited using the professional templates available in the app. The shared view makes it easy to access and collaborate on documents with others via Outlook and Teams.
Excel worksheets can be created using one of the many templates available in-app, or instantly edited. Resumes and cover letters can be easily edited by others for seamless collaboration. The go-to docs app for productivity, Microsoft Office, continues to trend upward with its recent feature additions.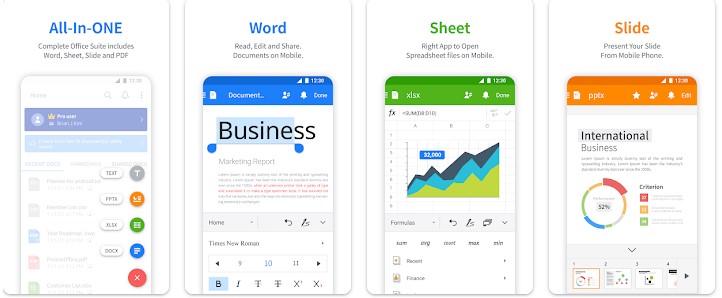 Polaris Office provides an all-in-one solution to work on documents on both desktops and mobiles. Polaris Office has many features such as document searching and note-taking.
The suit also supports many different document formats such as Microsoft's and PDF. With Polaris Office, you can open all types of documents, including Microsoft Word, Microsoft Excel, Spreadsheet, Microsoft PowerPoint, Slide, and Google Docs. You can also view PDFs right from your Android phone and save them as PDF files from other types of documents.
Polaris Drive allows cloud sync via the built-in service but is also available to other cloud services such as Google Drive, Dropbox, Box, and OneDrive. It is compatible with 18 global languages including English, French, Arabic, Japanese, Russian, German, Italian, Spanish, etc.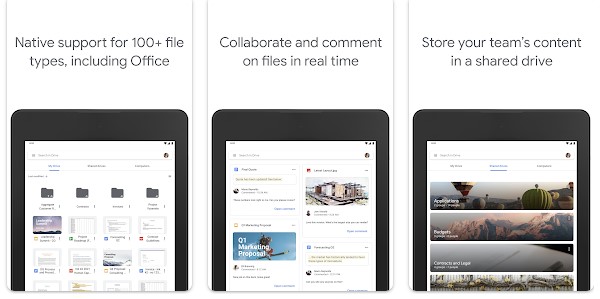 Google Drive is the most popular office suite for Android devices as it is pre-installed on many devices and developed by Google. It is free but you'll have to pay more money for extra storage.
Drive provides a safe and convenient way to store files, as well as quick access to recently used and important files. In addition, users can search for files by name and content, share and set permissions for files and folders, receive notifications about important activity on shared files, and use their device's camera to scan paper documents.
The main purpose of Googe Drive is to store files but it comes with 3 apps for composing documents. They are Google Docs, Google Sheets, and Google Slides. When you open a document in Google Drive, it will open a respective app to view and edit it.
For subscribers of Google Workspace, Drive also offers easy management of users and file sharing to help meet data compliance needs, direct file sharing with groups or teams within an organization, and the ability to create a shared drive to store all team content. Consequently, Drive is an indispensable tool for today's users who need safe storage and easy access to their files.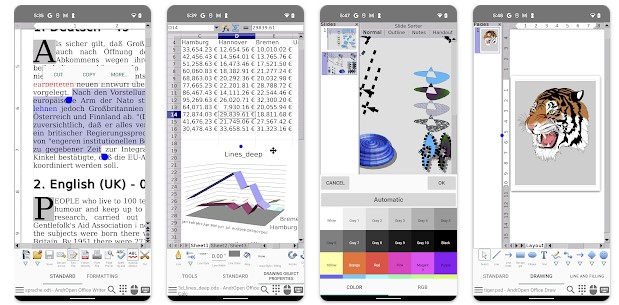 AndrOpen Office is a robust and flexible office suite for OpenOffice/LibreOffice files. It can view, edit, import and export PDF, Word, Excel & PowerPoint documents.
AndroPen Office is a versatile software with five components that office users can find useful for a variety of needs. These components are Writer, Calc, Impress, Draw, and Math.
Writer can be used for anything from writing a quick letter to producing an entire book.
Calc is a powerful spreadsheet with all the tools necessary to calculate, analyze, and present data in numerical reports or graphics.
Impress is the fastest and most powerful way to create multimedia presentations.
Draw lets users produce everything from simple diagrams to dynamic 3D illustrations.
Math lets users create mathematical equations with a graphic user interface or by directly typing formulas into the equation.
Consequently, this software provides users with a versatile set of options for their document needs.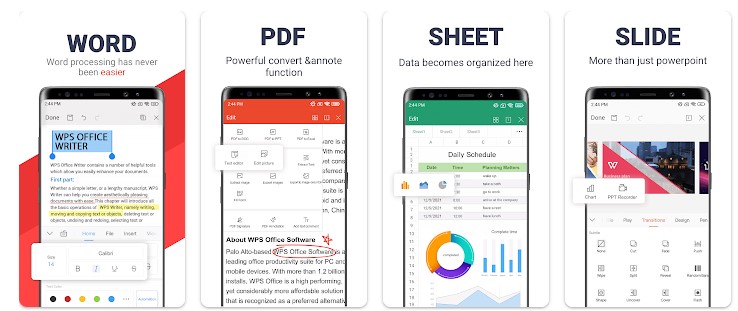 WPS Office is a comprehensive office suite that integrates Word docs, PDFs, Excel spreadsheets, PowerPoint slides, forms, and more. The suite also offers an all-in-one office solution for users who want to create, view, and edit their documents on the go.
The Android app includes all the features you would expect from an office suite, including templates for budgeting, Presentations, Excel, resumes, documents, and other files. You can also use tools to convert and process documents, PDFs, and images.
With WPS Office, users can easily manage their office files and collaborate with others in real time. The suite's integrated features allow users to work more efficiently and productively while on the go.