Modifying documents on phones and tablets has become the norm these days so it is important to choose a proper office suites. There are many to choose from and here are the best office suites for Android devices: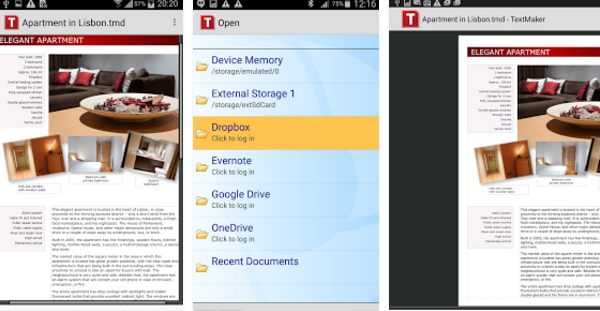 FREE Office is free to download and use as its name suggests. The suite consists of 3 apps: TextMaker, PlanMaker,and Presentations. Each app is used for different type of documents. TextMaker can open and edit Microsoft's document format up to 2013's version seamlessly, PlanMaker can do the same for excel format, and Presentations works well with .ppt and .pptx files. All apps in this suite supports online storage such as Drive, Dropbox.
Docs To Go, now in its 15th year, is currently a built-in app on millions of devices and has been downloaded over 40 million times on Android. The app has been around for a long time and has been constantly updated. The user interface is modernized to be more user-friendly, including a refined file explorer. It consists of basic tools for word processing, spreadsheets, and presentations.
This office suite has premium version at around $15. This version offers better features, including cloud storage, syncing files with PCs, etc.
The most popular office suite now comes to mobile. It uses free app model but requires users to pay for a $7/$10-per month subscription if they want to upgrade. You can use Microsoft's Word, Excel, as well as PowerPoint on Android like you do on PC and for free. They allow you to create, edit, and share your file with others quickly and easily. Users can also use Microsoft OneDrive to sync files between PCs/mobile.
Polaris Office provides an all-in-one solution to work on documents on both desktops and mobiles. Polaris Office has many features such as document searching, and note-taking. They also support many different document formats such as Microsoft's and PDF.
Polaris Office offers 3 plans for different types of users – FREE, Smart, and Pro. The premium version provides extra features, including the ability to use the office suite on 3+ devices, and extra cloud storage. The free version is good enough to use if you only need the ability to compose documents in 3 basic formats.
Google Drive is the most popular office suites for Android devices as it is pre-installed in many devices and developed by Google. It is free but you'll have to pay more money for extra storage.
The main purpose of Googe Drive is to storage files but it comes with 3 apps for composing documents. They are Google Docs, Google Sheets, and Google Slides. When you open an document in Google Drive, it will open a respective app to view and edit it.
If you want to have a PC-like experience when using the business software on your mobile device, this is a good choice. As the name suggests, it allows you to remotely access your CPU and use it like you typically would.
This option usually works best with tablet computers and Bluetooth keyboards. What's great about this option is that you don't have to use an office suite. It's just like using your PC.