You can enjoy audiobooks through various platforms, including Android apps. There are tons of different applications for Android smartphones and tablets to choose from, and here are some of the top ones: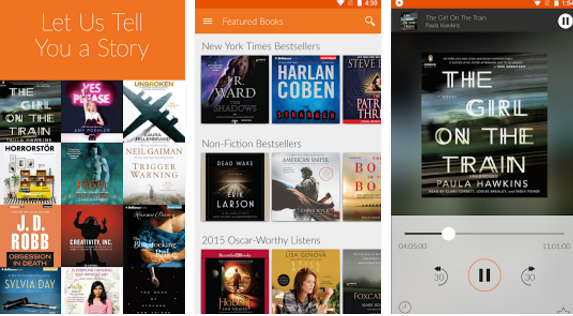 As its name suggests, this is a mobile app for audiobooks. The app's library includes over 100,000 audio books. Not only that but 25,000 of the books are 100% free! The mobile app also includes books from just about every genre you can imagine.
You can download the books from the site or stream them via the web. Another pro is that you can switch between PC/mobile without losing your bookmark. That's one of the best features. There are also features such as automatic bookmarks and variable navigation speed.
LibriVox offers a library of free audio books. The mobile app for Android includes more than 15,000 free audio books that include various genres including short stories, history, novels, poetry, and biography. You can also enjoy fiction/non-fiction books that are 100% free.
The books are free whether you stream or download them. You app allows you to view popular books. You can also search via title, author, or genre. You can also just search via keywords. There are different narrators for each book. This allows you to enjoy listening to your favorite narrator.
The app also includes many controlling features including variable speed, sleep timer, and bookmarks. You can also listen to multiple books at one time.
Here's another Android mobile app that allows you to enjoy audio books. In fact, you can choose from over 21,000 titles in the database. Not only that but the books are 100% free.
The collection includes many classics including Jane Austen, Edgar Allen Poe, Leo Tolstoy, Mark Twain, and William Shakespeare. There are also some children's books to listen to.
There's also a chart of the 10 most popular audio books. This allows you to see the app's most popular audio books. You can download this feature for free.
This is the world's leading app for audio books. It's a free app that you can download from Google Play Store. It's also available on other platforms including iOS, Windows 8, and Windows Phone.
Audible's app includes several controlling features including chapter navigation, variable speed, sleep mode, process meter, and bookmarks. All of these features will help to provide you with a better experience listening to books.
Another plus with the mobile app is that it includes many famous narrators. This helps to make the user's experience even better. While the app is free, you'll have to pay a small price for them.