If you're one of the 29 million Americans living with diabetes, it's important to keep track of your blood sugar levels at all times. Luckily, there are a number of great Android apps that can help make managing your diabetes a breeze. While curing hasn't been an option yet, we can count on these apps to keep diabetes under control.
Top-Rated Android Apps for Control Diabetes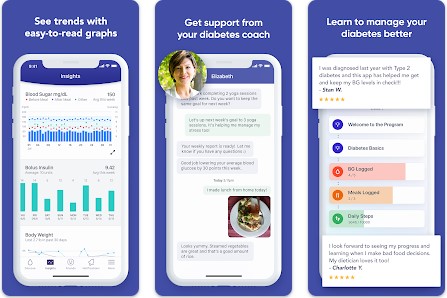 Glucose Buddy is an app that helps users to log their blood sugar levels, carbs, medication, activities, A1C, blood pressure, and weight. These items of data are tracked and displayed visually and can be filtered by date for quick viewing. New data can be added easily with a single form.
Additionally, users can add notes to their entries for future reference. Glucose Buddy's hourly basis reporting also allows users to see changes in their blood sugar and carb intake. Our extensive food database also makes logging meals a breeze. The app supports glucose units mg/dL and mmol/L.
Glucose Buddy has been featured in many famous magazines such as American Diabetes Association's Diabetes Forecast Magazine, NYTimes, Diabetes Health Magazine, JDRF Newsletters, and more. An app is a useful tool for keeping track of one's diabetes-related information and can help to improve diabetes management.
Living with diabetes can be a difficult and complicated process, but Diabetes:M makes it easier by providing a comprehensive app to track all aspects of your treatment. You can use the app to send detailed reports, charts, and statistics to your supervising physician, which can help them provide better care.
The app tracks almost all aspects of diabetes treatment, including detailed reports which can be shared via email with the supervising physician. Furthermore, the app can analyze imported data from various glucometers and insulin pumps, making it a comprehensive tool for managing diabetes.
The app also includes various tools to help you find trends in blood glucose levels and get an insight into normal and prolonged insulin boluses. The Bolus Advisor is particularly useful for making sure you're getting the right amount of insulin.
The app is also Android Wear-friendly, meaning that it can be used on smartwatches and other wearable devices. By using Diabetes:M, diabetics can have a better understanding of their condition and how to best manage it.
mySugr Logbook is a diabetes manager app that focuses on making users' diabetes data useful in daily life. It is designed to track both type 1 and type 2 diabetes with simple data logging, neat graph, and data analysis.
Logged data is automatically synchronized with mySugr. The app is changing how people live with diabetes by offering features such as intelligent search results, BG reminders, additional report formats (PDF & XLS), and many more.
With one app you'll have an easy and personalized dashboard (diet, meds, carb intake, blood glucose levels, and more). The Bolus Calculator gives precise insulin dose recommendations. You can see clear blood sugar level graphs and estimated HbA1c at a glance. There are also daily, weekly, and monthly reports, that you can share directly with your doctor. The data is also secure with backup.
The PRO version offers even more handy features to make managing diabetes easier than ever. With mySugr Logbook, people with diabetes can finally take control of their disease and start living their lives to the fullest.
Social Diabetes is an app that served as a self-management system for both type 1 and type 2 diabetes. It provides a list of 11,000+ foods and their nutritional properties, and it can give intelligent and personalized advice to prevent nocturnal hypoglycemia.
You can learn from others' experiences to improve your own daily lifesstyle. Social Diabetesapps has many features includingViewing your glycemic and insulin on board, seeing your diabetes progress and all the factors that might affect your glycemic, having a better comprehension of your diabetes from New Log register among others.
With the bolus calculator, users can input their insulin-to-carb ratio, insulin sensitivity factor, and glycemic targets to receive insulin dose recommendations. The carb calculator allows users to select different foods from a nutritional database and calculate the number of carbs they will consume by grams or rations.
Additionally, the app provides information on different foods and their carb counts, as well as the ability to add new foods to the database. The app also connects to compatible devices to automatically log glycemic data, generate reports, and share information with healthcare providers.
By simplifying the process of tracking and managing diabetes, Social Diabetes provides a valuable tool for those living with this chronic condition.
Each day, people with diabetes must make choices about the food they eat. What to eat, and how much of it, can have a big impact on blood sugar levels. That's why it's important to carefully select ingredients and meals that will help keep diabetes under control.
The Diabetic Recipes app is a great resource for finding healthy dinner ideas. With recipes ranging from easy to difficult to make, there's something for everyone. And the app's shopping list feature makes it easy to add healthy groceries to your cart.
With this app, you can choose your favorite recipes from diabetic recipe collections, a daily recipe planner for diabetics, and diabetic recipes for free. You can also make a shopping list for diabetic-friendly grocery shopping. In addition, the app allows you to send the diabetic recipe shopping list to your partner and friends.
The best part is that you can get diabetic recipes offline without the internet. With the diabetic recipe finder by ingredients, you can easily search for recipes that fit your dietary needs and preferences. And if you're looking for something specific, you can use the diabetic recipe search by ingredients, occasions, dietary preferences, cooking difficulty, etc. to find exactly what you're looking for.
Keeping track of your diabetes can be a daunting task. But with the help of a diabetes diary, you can easily monitor your glucose levels, hemoglobin, pressure, and insulin intake. Plus, you can add tags, medications, conditions, and weight to each record. This will become an indispensable glucose buddy for anyone with gestational diabetes, type 1 or type 2. The glucose diary will allow you to track regular sugar levels and help you manage your condition better.
The app is very easy to use and has a lot of features that make it essential for anyone with diabetes. One of the features of the app is the ability to add in one-touch blood glucose monitoring, hemoglobin levels, weight, as well as taken drugs.
Another feature is that it makes the glucose tracker more informational by allowing you to log insulin calculator data, BU taken, mood level, and attach comments. Additionally, you can use and set different blood glucose level units – mg/dl or mmol/l.
Another feature is the ability to calculate the insulin index which is very useful for managing diabetes. Overall, this app is essential for anyone with diabetes and will help them manage their condition better.