Listening to music is an indispensable part of our daily lives. From the time we wake up till bed time, there is hardly any person who doesn't listen to music some time or the other. Everyone just loves to listen to their favorite songs as well new music that hits the market every day. While some people may just choose to use streaming services like offered by Google, Apple, Pandora, etc. most people still love to listen to songs from their personalized playlists on their Android devices which is why, music player apps are a must have.
How to listen to music without wifi
Since the stock apps aren't really appealing, people often look for newer apps that can offer better features and user experience. To listen to music without WiFi or Data connection, you need to download them to your device first. Some of the apps below allow online music browsing and downloading.
The top 7 music player apps
Here is a list of the top 7 music player apps that you can use on your Android device.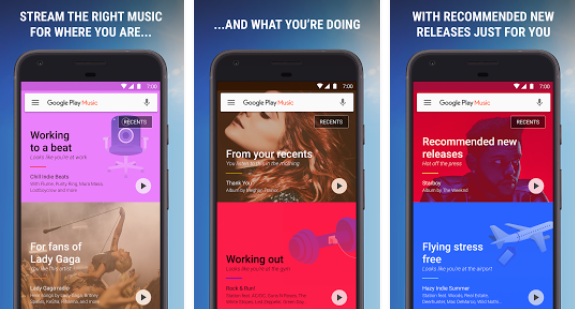 If you thought that this Google service allows you to only stream, then you are quite wrong. It serves as a music player as well. You can either choose to upload your favorite tracks to Google Play Music and listen to them via the cloud or the app can play music directly from the device.
It is totally free and never asks for a dime, even to access the best of its features. You get to use features like gapless playback, tag editing, sleep timer, scrobbling, smart playlists along with a Chromecast support.
Simple to use yet quite powerful is what makes this music player a favorite amongst the Android users. Equipped with features like equalizer, bass boost, MIDI playback, widgets as well as audio enhancement plugins, this music player is what you will need for the best music experience.
This is a very simple, yet well-organized music player that makes it easier for you to play your best music. You get to customize how the various tabs appear and it allows you various other facilities like equalizer, ID3 tag editor, interesting themes, scrobbling, widgets, etc. that enhance the experience of listening to music on your device.
This happens to be a unique sort of a music player as, along with several other standard features, it offers the facility of syncing your phone's music library with your PC via Wifi and vice-versa. This isn't something that you usually get with other music players.
This app has been in the market for quite some time now and is often liked for its themed interface. You may need some time to get the hang of it, but once you are comfortable with it, there is a lot that you can do with it.
For those who look for something unique, yet useful in their music player app, the n7player is the best choice as it offers a collage-like view of all your music files instead of the regular formats. Additionally, it offers a variety of simple features like scrobbling, tag editor, volume normalization, etc.