Keeping track of the number of hours you give to your job is an excellent way to manage time as well as to analyze your lifestyle. For those of you who own an Android device, here are the 5 best work log apps you can choose from.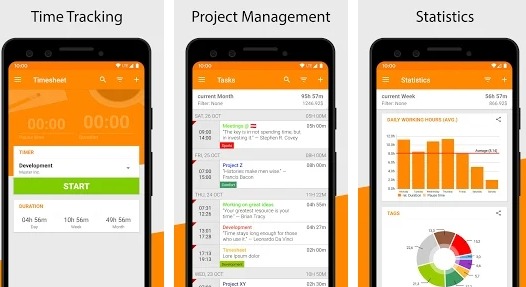 All you need to do is tap on a button, and you will be able to record your working hours. Moreover, you can use the app to manage and backup your work by exporting as Excel files. The fact that you can access the app on multiple devices makes it highly convenient. It supports Time Tracking, Project Management, Track Expenses, Notes and Coffee Breaks, Excel Export (XLS, CSV), Dropbox/Drive Backup, and more.
Timesheet is a simple, intuitive time tracking app. With Timesheet, you can: -View your working hours in real-time on all devices and always know when to go home; -Track project hours with advanced reminder management; -Predict the cost of work before submitting invoices for approval. Employee and project managers alike will be able to manage projects more effectively thanks to our features like location-based tracking or expense records … not that it would be a problem without that!
Whether it be your expenses or your wages, this app keeps track of it all. It is equipped with options like break deduction which means you don't need to interact too much with the app to track your work and you can customize it to your liking. You can track as many details as you want with many options like Expenses, Tips, Sales, Mileage, Holiday Pay and more.
Work Log is a simple app designed to simplify the process of tracking your hours on a work log. With an intuitive interface, this app can help you easily track your hours and other related information, like mileage or tips. Improve efficiency by setting up automatic break deductions and customizing how the app looks with options like date formatting, day of week formatting or dark versus light themes.
Track your hours in whatever way suits your needs: by pay period for organizational purposes, by month-to-date to analyze payrolls or all at once to see what days you need punches before sailing off into retirement one day!
Timesheet is an app that's perfect for freelancers, self-employed workers, and hourly employees to use as a time card. It automatically calculates earnings, and tells you how many hours you've been working. Use the calendar view to keep track of your work hours! You can also round down the number of minutes in your hour with a quick touch up on this handy timer app. Never worry about getting paid incorrectly or not enough—Timesheet supports tax deduction like mileage costs or expense receipts to make sure it's all out of order.
Not only can you use this app to calculate your salary and working hours, but you can also send the timesheet to your manager or client. You can do so by exporting the concerned files in Excel, HTML or CSV format.
An easy-to-understand interface marks this app. This feature means that you can get all the daily and monthly statistics you need by spending a few minutes interacting with this app. Manage your time and control your activities effectively with the help of aTimeLogger.
aTimeLogger is a time management app that people can use to control their daily activities and get automatic statistics. The main goal of this application that allows for controlling one's time is the analysis of our reports. This enables managers with limited experience of working on computers in making these sorts of decisions about how they prioritize their day, what goals they intend to reach and when stopping work done at a certain moment should take place.
Easy intuitive interface makes it very simple to create groups, pause or resume an activity.
Automatic tracking through tasker or locale.
Huge number of icons that are classified according the type activity (e.g., school).
Android wear support enabled so users can receive incoming call.
Time Meter Time Sheet app is a time management, productivity and reporting tool for both businesses and individuals. It features quick time tracking and recording of any activity with widgets, timesheet reports automatic export to Google Calendar using the extension app. The alarm function allows reminders and notifications be custom configured to your preference so you never miss something important! Download now on our website or click "Install" in iTunes.
With the help of a few clicks, you can control this app's time tracker and, hence, manage your work life precisely. Time Meter Time Sheet also features reminders to ensure that you never miss an appointment while tracking your work hours. Besides, it also includes other apps' basic features.