Keeping track of the number of hours you give to your job is an excellent way to manage time as well as to analyze your lifestyle. For those of you who own an Android device, here are the 5  best work log apps you can choose from.
Work Log by AR Productions Inc.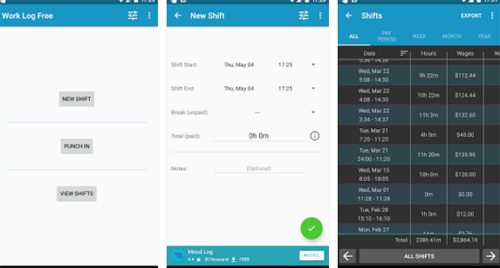 Whether it be your expenses or your wages, this app keeps track of it all. It is equipped with options like break deduction which means you don't need to interact too much with the app to track your work and you can customize it to your liking. You can track as many details as you want with many options like Expenses, Tips, Sales, Mileage, Holiday Pay and more.
All you need to do is tap on a button, and you will be able to record your working hours. Moreover, you can use the app to manage and backup your work by exporting as Excel files. The fact that you can access the app on multiple devices makes it highly convenient. It supports Time Tracking, Project Management, Track Expenses, Notes and Coffee Breaks, Excel Export (XLS, CSV), Dropbox/Drive Backup, and more.
Not only can you use this app to calculate your salary and working hours, but you can also send the timesheet to your manager or client. You can do so by exporting the concerned files in Excel, HTML or CSV format.
An easy-to-understand interface marks this app. This feature means that you can get all the daily and monthly statistics you need by spending a few minutes interacting with this app. Manage your time and control your activities effectively with the help of aTimeLogger.
Time Meter Time Sheet by KAPP Development
With the help of a few clicks, you can control this app's time tracker and, hence, manage your work life precisely. Time Meter Time Sheet also features reminders to ensure that you never miss an appointment while tracking your work hours. Besides, it also includes other apps' basic features.