It is a hassle when it comes to calculating how much you wish to tip or how to share the bill among people. Don't worry about how much you have to tip anymore. Just open these apps, and input bill info to get the final dollars. Following are the best tip calculator apps for Android:
Best Android Tip Calculators
A tip calculator is a handy app that helps you calculate the amount of a tip for a restaurant bill. Most tip calculators allow you to enter the total bill amount, the percentage of the tip you would like to leave, and the number of people at your party.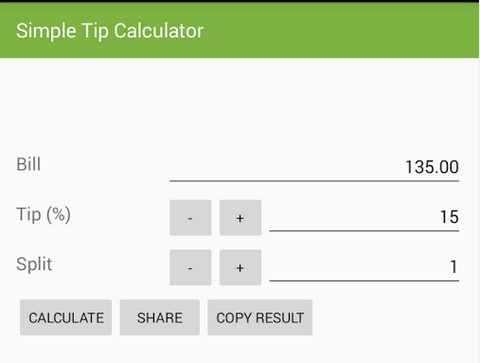 This is the most simple tip calculator. It is designed and programmed to be as simple and quick as possible. The only information that is displayed is what is necessary. You can share the calculated result via email or other chat applications. If you want to keep it private, simply don't share the result and it will remain on your device.
This tip calculator will help in busy restaurants where time is of the essence or if you're running late for an appointment. Quickly and easily calculate how much to tip without any complications. And now with the added ability to share, you can eliminate any confusion or disputes that may occur amongst your group.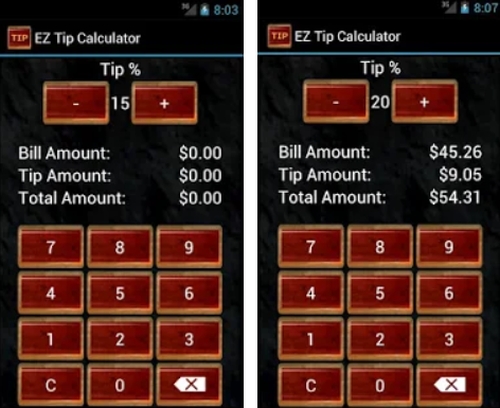 EZ Tip Calculator is another simple tip calculator that lets you enter the percent you wish to tip and the bill amount. The best feature of this app is a built-in number pad, which is designed to calculate the tip quickly.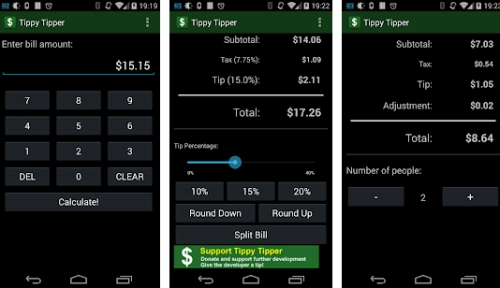 Tip Calculator is an open-source app that makes it easy to calculate tips. The app has a custom keypad that allows you to quickly input numbers, and you can set the tipping percentage via a slider or three configurable buttons.
The app also supports splitting the bill and excluding the tax rate. With Tip Calculator, you'll always know exactly how much to tip, whether you're dining alone or with friends.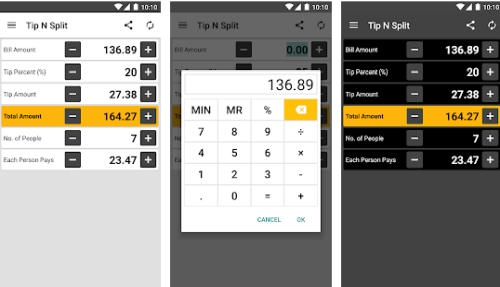 Calculating tips and splitting the bill can be a total pain, especially when you're out with a large group of people. But with Tip N Split – the ultimate tip calculator – you can do both quickly and easily.
Just enter the total amount of the bill, the tip percentage you want to leave, and the number of people you're splitting the bill with, and Tip N Split will do the rest. It will even round up or round down on any value, so you can see how that affects the tip percentage, tip amount, total amount, and amount payable per person.
And if you're ever unsure about how to tip in other countries, no worries – Tip N Split has handy tipping guides for the United States, Australia, The Bahamas, Canada, China, and more.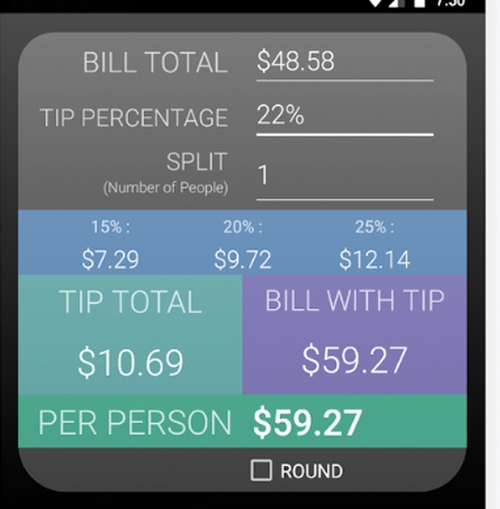 Split Around Tip Calculator helps you split the bill fast and accurately for dining and drinks with your friends. It is a new app with a unique design compared to others. You can use this tip calculator to calculate percentages for drinks, and food, and split the bill at a restaurant or at a bar. It will really save you time.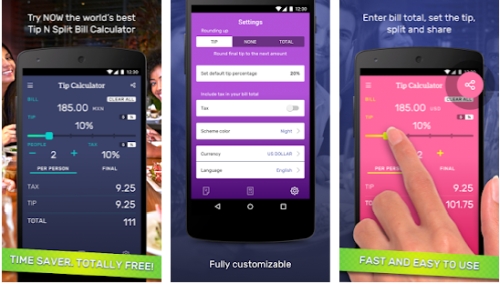 The app is free to use, and the directory provides a straightforward way to calculate the gratuity and taxes per person. You can also share the total bill with your friends through WhatsApp, Facebook, Mail, SMS, or any other social network.
The app is designed to be user-friendly, and the interface is clean and simple. In addition, the app allows you to switch between a percentage-based tip or a fixed tip amount, making it easy to customize your tip based on your level of service.