These days, it's easy to design just about anything on your phone. That includes things like home design and floor plans. Whether you're redecorating your home or designing it from scratch, having the right tools can make the process a lot easier. Here are five of our favorite Android apps for home design and floor planning. With these tools, you'll be able to create beautiful and functional designs that perfectly suit your needs. So what are you waiting for? Start designing!
Top Android Apps for Home Design and Floor Plan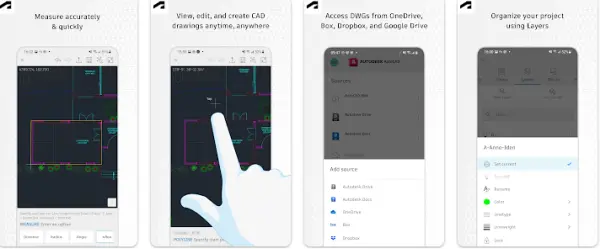 Autodesk's AutoCAD is one of the most popular drafting and design software programs on the market. It allows users to view, create, edit, and share 2D drawings. The software provides access to many of the core Autocad commands, making it perfect for light editing or generating basic designs.
One of its best features is that it can be used offline and changes will be synced once the user is back online. This is especially useful for people who work in areas with spotty internet connections or for those who want to save on data usage.
AutoCAD also makes it easy to insert blocks from other DWG drawings, which can be a huge time-saver. And if you need to collaborate with others on a project, AutoCAD has real-time collaboration capabilities so everyone is always on the same page.
Autodesk Drive, Autodesk Docs, Microsoft OneDrive, Box, Dropbox, and Google Drive are all compatible with AutoCAD, making it easy to open DWG files from any of these platforms.
Magic Plan is an app that allows you to measure and create a floor plan for your home, which can be exported to various formats. The paid version offers plan exportation to PDF, JPG, PNG, SVG, DXF, and CSV formats.
One of the main advantages of this app is that it allows you to measure and sketch interior plans in 2D & 3D. You can also add photos, 360° images, notes, customs forms, and markups to create structured reports. In addition, Magic Plan can be used to automatically calculate pricing for estimates. This makes it a valuable tool for anyone who wants to create a floor plan or estimate for their home.
Planner 5D is a home design app that allows users to create detailed interior and exterior designs in 2D, 3D, and virtual reality modes. The app provides a comprehensive catalog of furniture and décor items to choose from, with over 150 free items available in the free version and over 5000 items available in the paid version.
PLANNER 5D is a great app for those who want to design their homes or rooms in 3D. With this app, you can see what your house or room will look like in real life after you've modified it in the app.
The app also has a furniture catalog with lots of items to choose from so that you can add whatever you want to your design. You can also take realistic snapshots of your designs and see how they would look in real life. The app also has a big gallery where you can get ideas from other users' projects and images.
You can also see how other users have designed their homes, rooms, floor plans, interior decor, and landscapes.
Home Design 3D is an app that lets you design and remodels your house in 3D. With Home Design 3D, you can quickly and easily plan out your home's layout, draw rooms and dividers, and add doors and windows.
You can also customize the height and thickness of walls, create corners, and add furniture and accessories. Home Design 3D makes it easy to express your style with a wide range of furniture and accessories to choose from.
You can also edit any object in the app by changing its size, color, position, or altitude on the walls. Plus, you can duplicate your favorite items or use the undo/redo feature at any time.
Home Interior 3D is a room planner application that allows you to visualize your dream home and get a better idea of what it will really look like. With the home design and room plan application, you can change anything in the picture, from the color on the walls to the layout of the furniture.
You can also share your interior design ideas with your partner, roommate, or contractor – it's as easy as playing a game. The application can be used online and offline. Start from one of the existing plans made by industry professionals or create your own.
Change furniture, and decoration, add new items from famous brands, observe your home from different points, create realistic snapshots, and see how your image becomes reality.