Designing on phones is nothing impossible these days. It also applies to home design and floor plan. Following are the best apps to design the most attractive home so on  the go.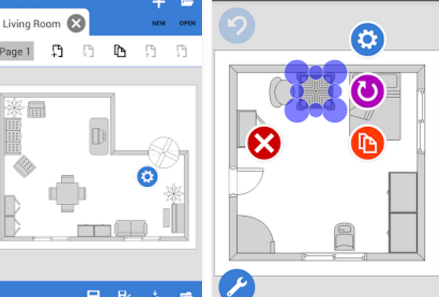 Grapholite Floor Plans is an excellent graphics editor which allows you can to edit the plan of the building easily. Anyone can create designs for their floors quickly on an Android phone or tablet. These designs are suitable for apartments, office and flat house, etc. so, you don't need to appoint any brokers for interior designing.
Using AutoCAD 360, you can easily to draw your home plan on the go. With the help of the drafting and drawing tool, you can view, create, and edit AutoCAD drawings. This app supports a large range of Android devices and offers FREE trial for new users.
At first, you just take the pictures of your home and it will automatically measure and create the plan for your floor, and then you can implement it. It is one of the main advantages of this app. The paid version offers plan exportation to PDF, JPG, PNG, SVG, DXF, and CSV formats.
Planner 5D allows its users to create interior and exterior in 2D, 3D and also virtual reality modes. You can use this app through both online and offline. The app provides a comprehensive catalog to pick from. Its catalog contains 150+ free items in FREE version and 3000+ in paid one.
You can easily design and remodel your home using this Home Design 3D. The app allows its users to design and decorate both the interior and outdoor of their houses with over a thousand of pieces of furniture and accessories.
Try these apps to make a perfect home design plan.