Google Drive is one among the best cloud storage solutions with over 800 million users, setting its mark far from Dropbox, another such popular cloud storage. With its easy accessibility and its 15GB free trial period for storing pictures, videos, files and folders, Google Drive has attracted many users to its service. Features like the flexibility of file transfer and syncing, expansive third-party apps, speed and security are other such areas where the Google Drive review will look up.
The first thing that any user will look up in cloud storage solution apps is that whether it is easily accessible or not. Google drive appears to be one among the favourites for users to download because it is readily available along with a free trial cloud storage of 15GB which is more than enough for a user to back up their files. Google Drive also allows a user to back up any file enabling them to free up spaces on their computers or mobile phones.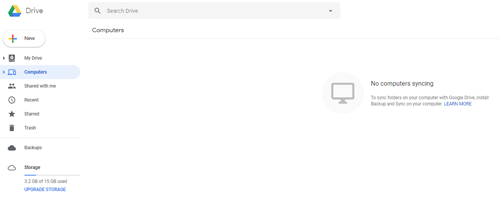 Google Drive review also brings out the fact that there are some strong points in using Google Drive as well as there are specific areas where Google Drive fall short. Storage does not find any issue with Google Drive as well as backing up files because there are no restrictions, users can upload any files and folders. Another great feature of Google Drive is the Google Docs considered as an open competitor to Microsoft Word. Google Docs is a collaborating feature of Google Drive which is browser-based in which software like a word processor, spreadsheet and presentation slides are included. Other such third-party apps are also readily available for free within Google Drive.
After Google created an improved version, file backing is made an option through the client "backup and sync" which allows the user to choose to back up files by just right clicking their files. Some setbacks occur because the speed and ease of use do not reach up to the mark of online backup tools. Google Drive also offers a flexible price ranging from $2 a month for entry-level which comes with 100GB space to 10TB account for heavy users which comes to a monthly charge of $100.
Another set back for Google Drive is that there is no Linux client, it is only available through third-party clients called Insync. Also, even though Google Drive allows syncing of file and sharing files, yet there are no features to link password to the shared data. It also affects the privacy issue concerned with Google Drive because this may lead to unauthorised access to files. Another security measure Google Drive has set up is that it is connected to the NASA PRISM project and Google Drive will always scan files which some users might find it to be a privacy invasion. To keep in check the privacy concern, Google Drive has initiated a two-factor identification through which an additional access code is required if the account is logged in from an unfamiliar machine.
As nothing comes with only good traits, Google Drive too has its pros and cons, but its positive features seem to have outdone its shortcomings; therefore, it remains one of the most popular among users.