Templates are documents that allow you to save time, energy and money when it comes to designing your own work. They are also a great way to ensure consistency in design among different projects or even just with people on the same team. This article is going to explore what templates are, when should you use them, and how they can help make your life easier!
What is a Template?
A template is form, pattern, a layout or a file that serves as a starting point for a new document or application. They are pre-formatted in a way that can be re-used in many projects.
A template document is a document that provides one or more pages with content formatting, styles and design. Templates are often used for creating documents like resumes, proposals, reports and letters, and coding projects like websites, applications, and games.
Templates can come in many different forms such as Microsoft Word templates (.docx), Excel spreadsheets (.xls), PowerPoint presentations (.pptx), or Website file (.html), a ruler, an overlay, a list of field, etc…
Types of Templates
There are many different types of templates. We focus on the following template types:
Following are best free templates for aforementioned different types of templates. You can download free templates for any types of projects, from web, mobile app templates to Google Docs, or business card themes!
Game Templates
Mobile App Templates
Web Templates
Graphics & Arts
13 UI/UX Design Trends in 2021
Glassmorphism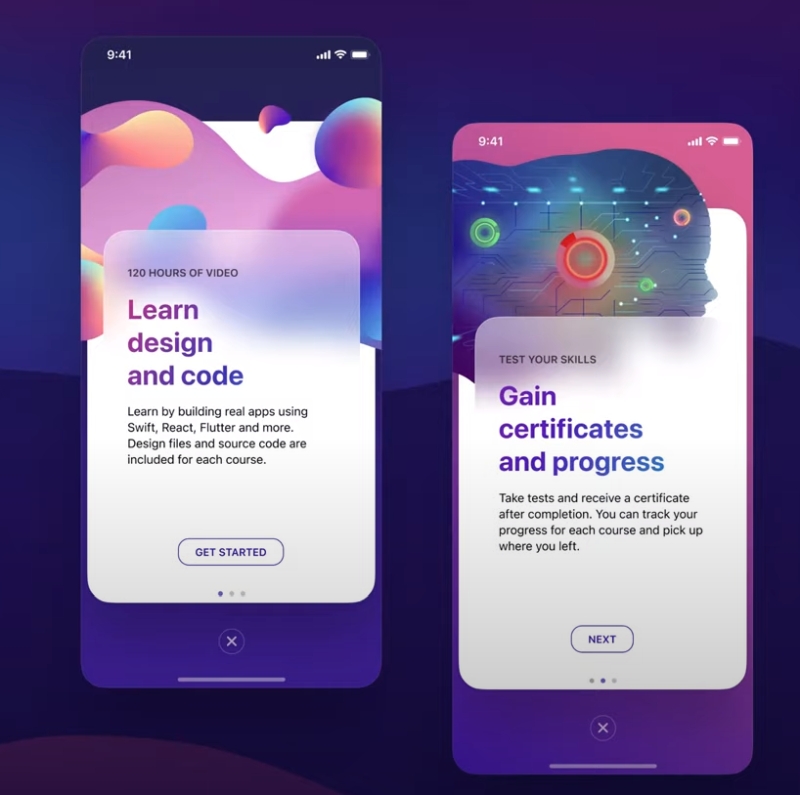 2021 has seen the reemergence of frosted glass like the ones we saw on Windows Vista and iOs 7. The trend is flourishing due to the inaccessibility of neomorphic elements that have remained on Dribbble.
Usability
Usability has become one of the most prominent UI designs of 2021, particularly regarding a website's loading speed, stability, and interactivity. The user-friendly design can be attributed to the Covid pandemic and accessibility by most people.
Augmented Reality
This is another popular UI trend of 2021 that involves thinking outside the box. UI is increasingly leaning towards interactions that give you the feel of a real-world experience. Tech giants like Google and Apple have already introduced Augmented reality on their platforms.
Illustration and Animation
With the increased uniqueness in the fields of illustration and animation, we are bound to see more complex motion designs in 2021. The whole purpose of this new development is to draw more attention from users.
Artificial intelligence
AI is a new UI trend of 2021 that is hard to miss. There is nearly no product that has not integrated AI in this modern era. AI makes work much easier by collecting and analyzing huge amounts of data at a go.
Virtual Meetings
Thanks to the pandemic, virtual communication tools have rapidly taken the center stage. Zoom and other virtual communication platforms are the new conference halls where multitudes of people can hold meetings in real-time.
Time for 3D
Although it has been around for a while now, 2021 looks like a year that will see 3D shining. From animated logos to various illustrations, 3D is going to see virtually every object get manipulated in a three-dimensional space.
Retro Aesthetic
New trends in website design are the new big thing to look out for this year. However, this will largely be determined by the website elements we want to navigate users to. It is all about amassing huge traffic and converting most to leads.
Very Similar Icons
Surprisingly similar icons are becoming a new sight on various website designs. If you look at former company logos, for example, you will notice that they're drifting from the trendy flat design of icons. But the huge similarity may make it difficult to distinguish icons.
Ink Trap Fonts
Ink Trap allows for small font typing but that seems to be changing in 2021. The purpose of the trendy oversized version of the fonts is probably to add some flavor to typography.
Virtual Reality
Virtual reality has become a darling to gamers and programmers since 2020, but it is shining even more in 2021. However, new platform designs should be considered for the sake of users without a VR headset.
Scroll-Triggered Animation
This is a new way of storytelling where text styling is employed to create an engaging narrative. The new trend makes users feel like they're part of the story and don't have to scan through the content.
Low code and No code platforms
You no longer need high programming skills to get your project rolling, all thanks to the existence of Low code and No code software. All you need in 2021 is an online visual editor to build and start running your website.
FAQs
What is the purpose of a template?
Templates are designed to standardize the layout of a document, presentation or project. For example, templates can come in various forms such as Microsoft Word (.docx) and PowerPoint presentations (.pptx). Templates are an easy way to make sure that your work projects will have a consistent design.
They also save you time because they include pre-set layouts with formatting tools for things like fonts, styles, colors and borders. This means you don't have to spend hours trying different combinations until it looks just right!
A template is something that provides a pattern from which other similar items may be copied (especially by fitting them together), typically used as part of computer software development. It's basically more than just saving some space on your project, it is there to save time to start any parts of your project.
One of the most important aspects of any project is consistency, and it's essential that your templates will provide a consistent design so you're not wasting time on formatting every single document.
Templates are great for laying out content like email campaigns in Mailchimp or presentations to go over with clients.
Best tools to create template design
There are three main types: those made specifically for professional layouts such as InDesign or Photoshop; ones which can be found online from sites like Canva or Template monster at very low prices (e.g., $0); and finally specific free templates created by Microsoft Word themselves. There are different ways to create a template.
Adobe Photoshop – This software is used for editing photos and other images. It's also a great tool if you want to create your own logo design or graphics.
Illustrator – Illustrator is a vector graphics editor, meaning that it is used to create and modify images on a vector-based foundation.
InDesign – InDesign is a desktop publishing software package from Adobe, which is often used to create layouts and print materials including brochures, magazines or newspapers.
Sketch – Sketch makes creating and prototyping your ideas easier than ever. There are over 1 million designers who work with Sketch to make their amazing designs come alive. Whether you're a freelancer or the designer for Apple, it is easy to get started on Sketch — no plug-ins needed!
Affinity Designer – With Affinity Designer, you can create amazing work with lightening fast performance. Now get the power and flexibility of a vector-based drawing application together with the convenience and immediacy of raster tools. Whether it's designing logos, icons, print projects or fantasy characters – this is an app for all creative tasks in your design toolbox. Creating fills on curves has never been easier thanks to our innovative new Live Fill feature which make sure no detail ever escapes edit-mode again!
Figma – Figma is the online tool that brings your team together to design better products from start to finish. You can use Figma for UX/UI design, graphic design, animation, illustration – anything! There's never been a quicker and easier way to come up with brilliant visual ideas and share them easily. Literally anyone who has an idea but no clue how it will look on paper can doodle in Figma any time of day or night. What would you draw?
Canva – With growing numbers turning to the internet for education, entertainment and communication, Canva's goal is to make design as accessible a skill as word processing or spreadsheets are today. So that anyone with an idea can turn it into reality no matter what their background. And so a billboard in Times Square isn't the only place we see great design.
How to design a template
If you are looking for a quick way to start designing your own templates, then try following these approaches.
Draw inspiration from existing designs and layouts. Go through the software program of your choice''s templates folder and look at any number of layouts that may be suitable for what you need. You could also use one as a starting point if it suits all or most of your needs fairly well but doesn't have some key elements such as an image gallery or logo – in this case, creating either by hand is no problem because once they're created they can be saved into the template document itself so they will always show up correctly when opened again next time. In fact, many commercial programs like Figma offer premium templates to help user start a project right away.
Alternatively, you can simply find someone else's annual report template online (like this one), load it into your software program of choice – Adobe InDesign CS-CSX – drag-and-drop photos or content as necessary, make any changes needed based on your own requirements such as adding logos or changing colors.
What is the difference between themes and templates?
Themes are files that change the look of a blog post, while templates help you draft your posts. Templates have boilerplate text and styles that can be edited or overridden as needed to create unique content in new articles.
In many cases, they are actually understood as one. A website theme can also be called a website template.
Is template design pattern a bad practice?
In general, we think template design pattern is a bad practice for many reasons. For one thing, it prevents us from thinking about the right solution to our problem and instead forces us into an arbitrary set of decisions that someone else has already made. It also encourages laziness in terms of not writing tests or documentation because we know how the code will flow if there are changes on other parts of the system.
However, many parts should have never needed to be written again and again. It's not the design pattern that causes this but, instead, it is what we know as "copy and paste". This is a very bad practice because if there are changes to one part of the code (let's say you update your company name), then all other parts with the same piece of information will need to be updated.
So in conclusion: template design patterns can be really good for some things like creating boilerplate content or standardizing library naming conventions. However, just because they have been proven successful doesn't mean everyone should use them! It's also important to consider how consistent these practices are internally within an organization before using them on more complex projects.