Flutter allows you to build beautiful apps on desktop, mobile, and web from a single codebase. If you are finding Flutter app templates to kickstart your project, this is the right place.
Flutter UI Snippets
This tool is a collection of UI components which are often used in a Flutter app, they can be whole screen pages (layout), or small widgets (block) like Button, Text, AppBar.
Note: This is an ongoing project, more templates will be added over time. You can download the Android app for this snippet section.
Free Flutter Templates & UI Kits
These templates and UI kits only contains UI part. There is no functional features.
Following are the best free flutter templates and UI kits:
Flutter App Templates
These apps contains both UI and functional features. Most are ready to be used in production.
Premium Flutter Templates & UI Kits
All premium templates – These can be Flutter UI kits which can be used in any apps or can be themes designed for a certain type of Flutter app such as travel, ecommerce.
Layout Cheat Sheets
Container

Container
Container(
  width: 100,
  height: 100,
  color: Colors.red,
)
SizedBox
SizedBox(
	width: 100,
	height: 100,
	child: Container(
	  color: Colors.red,
	),
)
ConstrainedBox
ConstrainedBox(
  constraints: BoxConstraints.expand(),
  child: Container(
    color: Colors.red,
))
Horizontal Layout

Row(
  mainAxisAlignment: MainAxisAlignment.center,
  children: [
    Container(
      width: 100,
      height: 100,
      color: Colors.red,
    ),
    Container(
      width: 100,
      height: 100,
      color: Colors.green,
    ),
    Container(
      width: 100,
      height: 100,
      color: Colors.blue,
    )
  ],
)
Vertical Layout

Column(
	mainAxisAlignment: MainAxisAlignment.center,
	crossAxisAlignment: CrossAxisAlignment.center,
	children: [
	  Container(
	      width: 100,
	      height: 100,
	      color: Colors.red,
	    ),
	    Container(
	      width: 100,
	      height: 100,
	      color: Colors.green,
	    ),
	    Container(
	      width: 100,
	      height: 100,
	      color: Colors.blue,
	    )
	],
)
Relative / Absolute Layout
Stack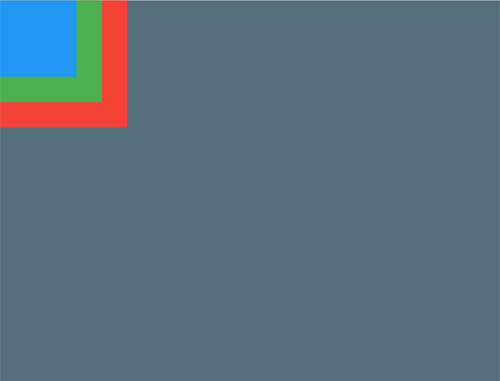 Stack(
    children: [
      Container(
        width: 100,
        height: 100,
        color: Colors.red,
      ),
      Container(
        width: 80,
        height: 80,
        color: Colors.green,
      ),
      Container(
        width: 60,
        height: 60,
        color: Colors.blue,
      )
    ],
)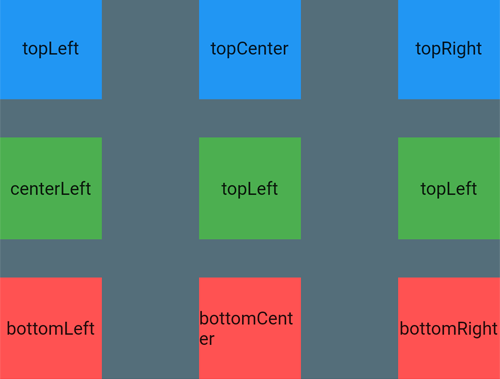 Align(
    alignment: Alignment.topLeft,
    child: Container(
      width: 80,
      height: 80,
      color: Colors.blue,
      child: Center(child: Text('topLeft')),
    ),
)
Positioned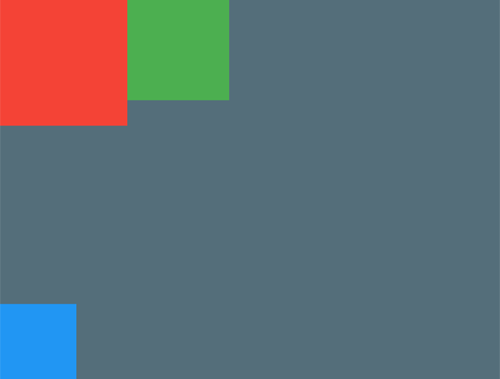 Stack(
    children: [
      Positioned(
        child: Container(
          width: 100,
          height: 100,
          color: Colors.red,
        ),
      ),
      Positioned(
        left: 100,
        child: Container(
          width: 80,
          height: 80,
          color: Colors.green,
        ),
      ),
      Positioned(
        bottom: 0,
        child: Container(
          width: 60,
          height: 60,
          color: Colors.blue,
        ),
      )
    ],
  )
Navigation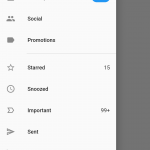 Scaffold(
      appBar: AppBar(title: Text('Drawer')),
      drawer: Drawer(),
    )

Scaffold(
  appBar: AppBar(title: Text('Bottom Navigation')),
  backgroundColor: Colors.blueGrey,
  bottomNavigationBar: BottomNavigationBar(
    items: [
      BottomNavigationBarItem(icon: Icon(Icons.home), label: 'Home'),
      BottomNavigationBarItem(icon: Icon(Icons.search), label: 'Search'),
      BottomNavigationBarItem(icon: Icon(Icons.settings), label: 'Settings'),
    ],
  ),
)
Item List
ListView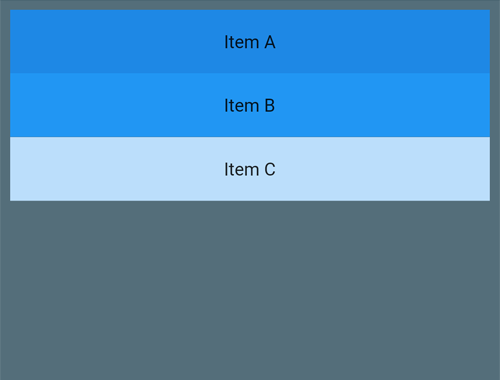 ListView(
    padding: const EdgeInsets.all(8),
    children: <Widget>[
      Container(
        height: 50,
        color: Colors.blue[600],
        child: const Center(child: Text('Item A')),
      ),
      Container(
        height: 50,
        color: Colors.blue[500],
        child: const Center(child: Text('Item B')),
      ),
      Container(
        height: 50,
        color: Colors.blue[100],
        child: const Center(child: Text('Item C')),
      ),
    ],
)
GridView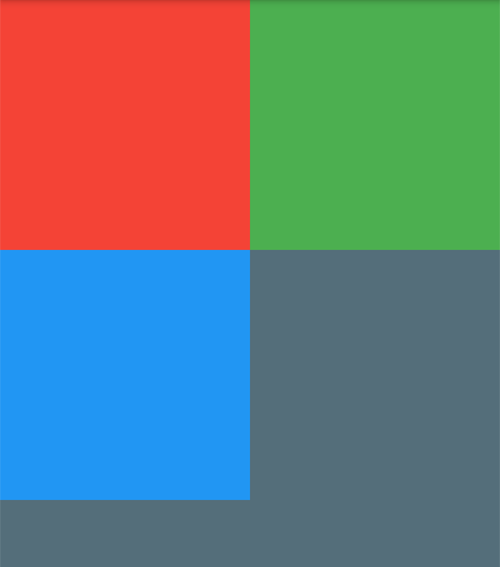 GridView.count(
    crossAxisCount: 2,
    children: <Widget>[
      Container(
        color: Colors.red,
      ),
      Container(
        color: Colors.green,
      ),
      Container(
        color: Colors.blue,
      ),
    ],
  )
SliverList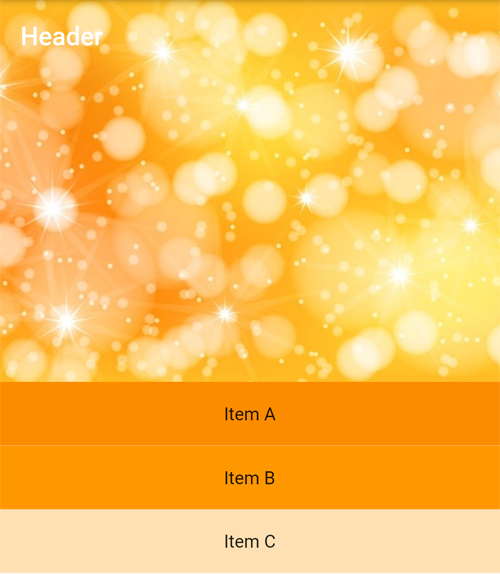 CustomScrollView(
  slivers: [
    SliverAppBar(
      title: Text('Header'),
      backgroundColor: Colors.blue,
      expandedHeight: 300.0,
      flexibleSpace: FlexibleSpaceBar(
        background: Image.network('https://cdn.pixabay.com/photo/2017/12/13/16/40/background-3017167_960_720.jpg', fit: BoxFit.cover),
      ),
    ),
    SliverList(
      delegate: SliverChildListDelegate(
        [
          Container(
            height: 50,
            color: Colors.orange[600],
            child: const Center(child: Text('Item A')),
          ),
          Container(
            height: 50,
            color: Colors.orange[500],
            child: const Center(child: Text('Item B')),
          ),
          Container(
            height: 50,
            color: Colors.orange[100],
            child: const Center(child: Text('Item C')),
          ),
        ],
      ),
    )
  ]
)
Flutter App Development