The growing popularity of YouTube has made it into a force to be reckoned with. It has also led to the rise of internet celebrities like Ryan Higa, Lilly Singh, and Zoe Sugg. Just like downloading sitcoms and shows, many YouTube watchers now wish to download their favorite videos or musics.
If you are among such people, you would know that downloading YouTube videos is not a straightforward task. This is because the app and Google do not approve of using other means of watching Youtube's content.
However, thanks to Tubemate, you don't need to rely on the speed of your internet to watch a video. Instead, you can download and watch it at your convenience.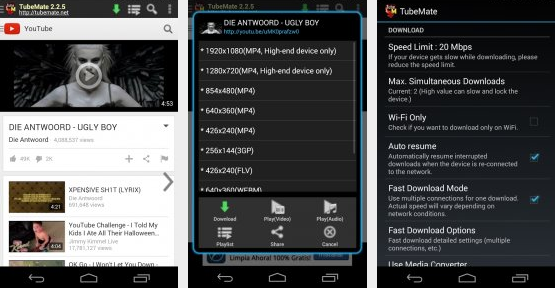 How to Use Tubemate?
You can use this free app to download the content of your liking. Here are the steps you need to take to use the app.
On your Android phone, click on the Security tab on the Settings menu.
Enable the option "Unknown sources" to be allowed to install apps with the help of a platform other than Play Store. Once you have downloaded Tubemate, make sure to disable this option for the protection of your phone and data.
After enabling this option, use your web browser to visit tubemate.net. You will be provided with various versions of the app. Pick the latest one from a verified source. Do not pick just any site since you might be at a risk of getting a virus if you do so.
Click on the source you wish to use and install the file.
Once the file has been installed, access it through the drop-down bar. You will be directed to the download file of your phone.
There will be a file by the name of youtube-tubemate. Click on it and install the app.
Once the app is installed, you can use it to download YouTube videos directly or use the YouTube app and click on "Share" and choose Tubemate to begin the downloading process.
One of the things that you should be wary of is the fact that this app may stop working from time to time. This may be because it needs updates.Since it was side-loaded, the app cannot automatically perform the updates it needs to stay functional. Hence, you will need to perform similar steps again to install updates when such a need arises.