Sometimes, one account cannot fulfill the needs of multi-tasking and it gets necessary to have multiple online accounts. You can keep different accounts for different purposes, such as one account for having fun with friends and family and another related to your work and business only. However, some apps and accounts like WhatsApp and Facebook don't understand the needs of the users, and it gets difficult to get different accounts on these platforms. A cloning app can make the task easier and let you run multiple accounts or instances of the same app or software. Following are the 5 best cloning apps on Android: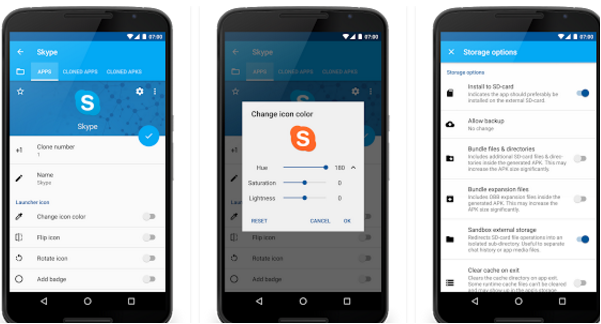 App Cloner creates duplicate apps that work independently from the original apps and run smoothly. Using this app, you can clone WhatsApp and Facebook Messenger and share or save the cloned apps. You can also replace the launcher icons.
You can easily create duplicate accounts and run them simultaneously. The good thing is that you can also use themes that add to the style. It also protects the user's privacy and makes the cloned apps invisible. With this app, you can switch quickly between the original and duplicate apps.
AppClone allows you to create multiple copies of games and apps so that you can keep some accounts private and others public. You can easily swipe between the original and duplicate app if you want to use them simultaneously. It supports almost all the apps on Android.
The 2 Accounts app creates multiple accounts so that you can work simultaneously on different apps on one device. You can open two accounts of any app or game and experience both at the same time. The app allows you to switch fast between the interfaces. You can also create a secret zone and lock your apps from being peeked.
EMUI's App Twin feature allows you to create a clone or duplicate application so that you can use two different accounts or apps at the same time. When you duplicate an app, a new icon of that app will be created with a little '2' card icon indicating that it is a duplicate. This cloning app exists only on Huawei's stock launcher. This App Twin feature of Huawei is restricted to some apps but can work for most of the famous ones.