Sometimes, one account cannot fulfill the needs of multi-tasking and it gets necessary to have multiple online accounts. You can keep different accounts for different purposes, such as one account for having fun with friends and family and another related to your work and business only. However, some apps and accounts like WhatsApp and Facebook don't understand the needs of the users, and it gets difficult to get different accounts on these platforms.
A cloning app can make the task easier and let you run multiple accounts or instances of the same app or software. Whether you want to use two different social media accounts, have multiple game profiles, or keep track of separate work and personal emails at the same time, there are plenty of cloning apps available for Android users.
Following are the best cloning apps on Android: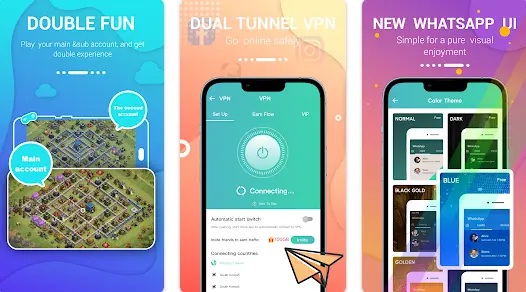 You can easily create duplicate accounts and run them simultaneously. The good thing is that you can also use themes that add to the style. It also protects the user's privacy and makes the cloned apps invisible. With this app, you can switch quickly between the original and duplicate apps.
With Parallel Space, you can now install two separate versions of popular social games and apps like WhatsApp, Instagram, LINE, and Messenger. This helps you easily maintain a balance between work and life by logging into different accounts with no effect on the existing one.
Now you can instantly switch multiple accounts for greater convenience and flexibility. Moreover, the cloned account's data is placed in a secure space dedicated to it with just one tap – assuring all your information is protected from any accidental exposure or leakage.
On top of that, you can customize icons and app names while having a private space that only you have access to through a dedicated and secure VPN.
The 2Accounts app creates multiple accounts so that you can work simultaneously on different apps on one device. It provides a secure, parallel environment that enables users to log into two accounts of the same app on one device.
You can open two accounts of any app or game and experience both at the same time. The app allows you to switch fast between the interfaces. You can also create a secret zone and lock your apps from being peeked.
With 2Accounts, you can easily clone popular social media and gaming apps like Facebook, Whatsapp, Instagram, Clash of Clans, Lords Mobile, FreeFire, and LOL. Swapping between two accounts within the same application is fast and hassle-free! Furthermore, all data remains stored separately to prevent interference between the two accounts.
For those looking for even more features, a VIP subscription unlocks access to a Secret Zone providing enhanced privacy with a special security lock as well as the ability to clone multiple accounts without limits!
For those who want an easy-to-use but powerful cloning app, Do Multiple Accounts is the way to go. This app offers all the standard features of other clones, such as creating multiple clones of any app and running them simultaneously. It also has a few extra handy features like being able to hide cloned apps from your home screen so they don't take up valuable space.
With easy login compatibility with the most messaging, game, and social apps, users can easily connect with Google Play Games or other services. Switching between dual accounts is streamlined with only one-tap necessary and data of both will remain separated once logged in, users can enjoy double the fun from having two accounts as well as ensure privacy with a built-in locker.
To maximize power and memory efficiency, Lite Mode is also available for your convenience. Furthermore, you won't have to worry about pesky notifications from the cloned account due to the specific notification settings for each account.
Managing multiple accounts can be a challenge when you don't have the right tools. Dual Space, the perfect app for anyone looking to clone popular apps or top games on their devices and access dual accounts simultaneously, provides an effective solution.
You can create different versions of popular apps like WhatsApp, Facebook, and Instagram so that your data from each account never interferes with the other. And with its VIP membership, you even get access to exclusive features such as unlimited accounts in the same app and online use!
Moreover, it's great for maintaining a good work-life balance as it allows you to easily switch between personal and professional accounts without any data merging or seeping through.
Super Clone is another great option for those looking for a powerful yet simple cloning solution for their Android devices. In addition to allowing users to create clones of their favorite apps and use multiple accounts simultaneously, Super Clone also provides a secure mode that encrypts all data stored within the cloned app and makes sure that no one else can access it without permission!
You can even play games with multiple accounts to get different experiences and quickly level up! Privacy and security are two key features of Super Clone that ensure the best user experience.
There is a private locker to hide and protect all cloned accounts as well as separate data for each one. Not to mention the customization options like being able to customize the app icons and labels according to your preference.
It's easy to use too; just one tap to switch between recently used accounts is enough! What more, it even supports Google login for multiple accounts and lite mode for low power consumption.