Price: FREE | Developer: Shiny Box | Download: App Store, Play Store
Chances are high that you have played the Dungeon Quest before. Chances are even higher that you will play it in the near future. Basically, the game is interesting, sophisticated, and appealing in the lack of better words.
There are a lot of new improvements in the game itself. First of all, there is an all-new Dynamic shadows feature, which improves the graphics, significantly. This feature has been implemented into all segments of the game. Players are able to control it from the main menu.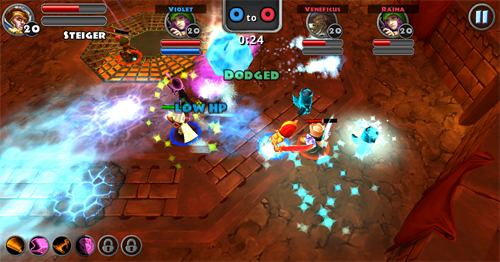 Creating legends from the LegendEx and creating eternal legends is sophisticated as well. Players have the possibility to customize and adapt their pets. The latest update brought several additional options, which are more than just interesting.
In this action RPG game, you will play as a Rogue, Wizard, or Warrior. Each character can be upgraded and improved, regarding its magic and weapons. This gives you literally countless advantages and even more possibilities. Your mission will be to defeat evil characters, so make sure your own character is powerful enough to meet these requirements. Anyway, you will be able to test your skills and the capabilities of a character with 4 bosses, which are a bit difficult to defeat.
Additionally, you will want to know that the latest upgrade brings 100 times more gold than ever before.
The good
One of the most important advantages of Dungeon Quest is its graphics. Thanks to the overall development and the recent update, the graphics are superb. If you're someone who enjoys playing visually appealing games, then this is definitely one that you should consider checking out.
Another great thing about Dungeon Quest is that it offers full compatibility with Bluetooth and HID. This is important for more advanced gamers who want to be able to use their preferred controllers. Being able to use Bluetooth or HID controllers can definitely give you an advantage over other players who are using the standard controls.
Additionally, the AI in Dungeon Quest is very well-managed. This allows you to create your own adventures, which literally means that the number of possibilities is huge. If you're someone who enjoys having a lot of control over your game experience, then you'll definitely appreciate this feature.
Ultimately, the number of possibilities in Dungeon Quest, regarding the improvements, characters, and adventures is limitless. This means that the game will stay interesting over a longer period of time. If you're looking for a dungeon game that you can really sink your teeth into, then this is definitely one that you should consider checking out.
The bad
In order to create a new character, you will need a new slot. In order to get it, you will have to purchase it. This is the biggest drawback of the game and most players are not happy with it.
The game obviously comes with ads. There are a lot of them, but they are on the limit of becoming annoying.
Last, but not least is the lack of in-game chat and the log-out option, which was removed after the latest update.