The use of technology has grown exponentially in recent years, leading to the emergence of cloud storage. With cloud storage, users can store, access, and share their data from any device with an internet connection. It offers a range of features, including secure storage, automatic backups, access from multiple devices, and attractive deals and discounts. It is also a great way to free up space on computers, laptops, and mobile phones, as all data is stored in the cloud.
Google Drive is a cloud-based storage service that provides users with a secure way to store, back up, and access their files. It also allows users to free up space on their computers by storing their files in the cloud. Google Drive offers a range of features, such as the ability to share files, collaborate with others, and access files from any device.
Due to a lot of competition in the market, there arises a need for the user to know how to get the most out of the cloud storage which they use. As Google Drive is quite famous among the crowd, a user should know the basic idea or rather follow sure tips to acquire maximum advantage out of this cloud storage.
Voice Typing
Google Docs has an amazing speech-to-text system that allows you to type using your voice. When I create a document in Google Docs, I often use this feature to do my voice typing. It is surprisingly accurate and is able to catch most of the words I say. Additionally, it also recognizes when I say commands like 'newline' or 'period' and performs the required action – creating a new line or inserting a period into the text.
Just speak into your microphone and watch as your words appear on the page. It's a great way to save time and effort when creating documents.
Use Keyboard Shortcuts
Using keyboard shortcuts is an efficient way to access the features of Google Drive. Whether you're a novice user or an experienced one, keyboard shortcuts can help you access and use the features of Google Drive quickly and easily. Keyboard shortcuts are a great way to save time and increase productivity. With just a few keystrokes, you can open files, create and share documents, organize folders, and many more tasks.
Google Drive provides a range of keyboard shortcuts to help you quickly access its features. For example, you can use the "Ctrl + O" shortcut to open a document, the "Ctrl + S" shortcut to save a file, and the "Ctrl + N" shortcut to create a new document. The "Ctrl + P" shortcut can be used to print a document, and the "Ctrl + F" shortcut can be used to search for text in a document. By becoming familiar with the keyboard shortcuts available in Google Drive, you can save time and become more productive.
Utilize Offline Access
Google Drive allows you to access, create, and edit documents even when you don't have an Internet connection. This is called Offline Access.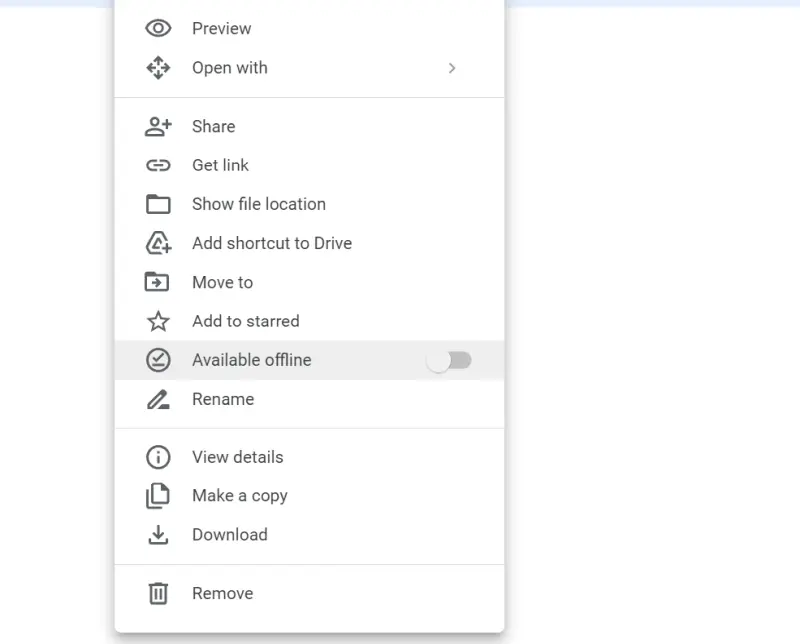 To take advantage of this feature, you must first enable it in your Google Drive settings. Once enabled, you can open, edit, and create documents even when you're not connected to the Internet.
All changes will be saved and will be uploaded to your Google Drive account the next time you're online.
Publish Files to the Web
Google Drive provides a great feature that completely bypasses the need to share links to documents with people: publishing your Docs files, Sheets, or Slides to the web. You can share your publications via a simple link or even embed them into websites.
It even gets better – if you make any changes to the original file, the published version will automatically be updated to reflect the changes. This way, you can rest assured that the version of your file that people see is always up to date.
Create Collaborative Documents
Google Drive allows for convenient collaboration with other individuals on various types of documents, such as word-processing files, spreadsheets, and presentations.
It provides a simple platform for people to connect and share ideas, allowing for real-time editing and feedback. This makes it easier than ever to work together on projects, allowing for quick and efficient collaboration from any location.
Create a Folder Structure
Constructing a hierarchical organization of folders is an excellent way to keep your Google Drive tidy and organized. It can help you quickly find the documents and files you need and make sure that your shared documents are placed in the correct folders.
By creating a folder structure, you will be able to keep your Google Drive neat and well-structured.
Take Advantage of Search
Use the search feature to quickly find documents and other items in your Google Drive. You can use the search bar at the top of your Google Drive page to easily search through your documents and other items such as spreadsheets, presentations, drawings, and photos. When you search through your Google Drive, you can type words or phrases in the search bar to quickly find the documents or items you are looking for.
You can also use various filters such as labels, file types, and dates to narrow down your search results. With the search feature of Google Drive, you can save time and quickly find the documents and items you need.
Use Google Drive for Backups
Google Drive is a great way to back up important documents and files. With cloud storage, your files are safely stored securely online, meaning you can access them from any device with an internet connection.
This is especially helpful if your device breaks down, gets lost, or is stolen because you won't have to worry about losing your data. You can also share files with friends or coworkers and work on the same document at the same time.  Google Drive also gives you 15GB of free storage, so you can back up all of your files for free.
Utilize Version History
Google Drive keeps a version history of all the documents you create, so you can go back and view previous versions. This is incredibly helpful for making sure you never lose any of the important changes that you have made to a document.
To make sure you get the most out of this feature, start having the habit of making versions of your documents as you work on them. This will allow you to easily track the progress of your work and keep a backup of all the changes that you have made.
This can also be useful in case you accidentally make a wrong change or delete something important. All you have to do is go back to the version history and view the previous version that you were working on.
Take Advantage of Google's OCR Technology
This is made possible by Google's Optical Character Recognition (OCR) technology. OCR technology can detect and recognize text in images and PDFs, allowing users to search for and edit the text within these files. This makes it easier to locate and update important information quickly and efficiently.
Additionally, OCR can be used to extract text from images and PDFs, allowing users to quickly copy and paste text from these files. With Google's OCR technology, you can make the most of your scanned images and PDFs.
Use Google Forms for Surveys and Data Collection
Google Forms is a quick and easy way to create and share surveys, quizzes, and data collection forms. Whether it's for a small business, a school project, or just for fun, you can quickly and easily set up and send out forms to gather useful information from people.
With Google Forms, you can design questions with a range of options, such as checkboxes, radio buttons, and drop-down menus, and receive responses in real-time. There are also extra features and customization options so you can create the exact survey you need.
And, once your forms are complete, they can be shared via email or social media. Using Google Forms is an efficient way to get the answers that you need quickly and easily.
Use the "Suggested Edits" Feature
Have you ever been working on a document with someone else and wished there was an easier way to suggest edits? Well, look no further than Google Drive's "Suggested Edits" feature. This powerful feature allows users to not only view each other's edits but to suggest changes that can easily be accepted and implemented into the shared document.
Not only does this make collaboration a breeze, but it also streamlines the editing process by taking a lot of the back-and-forth out of the equation. So the next time you're collaborating with someone, be sure to make use of this great feature!