The best thing about USB charging stations is that they don't take up a lot of space, and they are perfect for the office. It's hard to get anything done when you're constantly running back and forth between your desk and the wall outlet. Save yourself some time with this list of 5 best USB charging stations!
What to Look For in an USB Charging Station?
When you're looking for an USB charging station, there are a few features that can make your life easier.
The first thing to look at is the power output on each charger in the unit- it should be consistent and high enough so all of your devices get charged as quickly as possible. Next, think about where you'll use this device – will it stay at one spot in the home or office?
Some people find they need more than two ports! And finally- think about how many devices charge via USB cable, like tablets or smartphones. If most of yours do, then you know which number to go with when deciding between models with varying numbers of ports.
5 Best USB Charging Stations
veebon Multiple USB Charger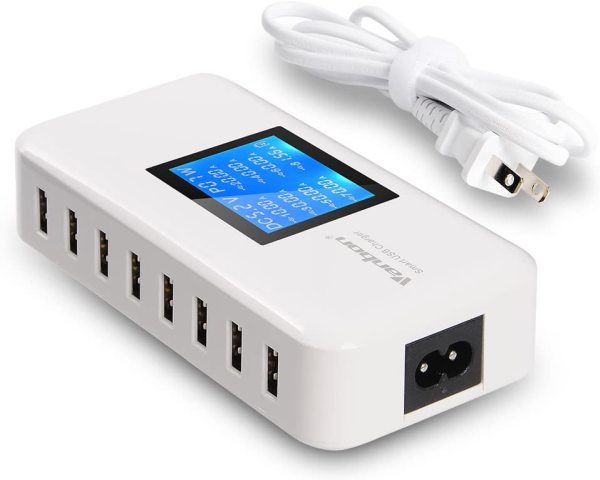 Veebon's Multiple USB Charger can charge everything from smart phones to tablets, at up to 12 amps and 2.4 amps per port or port with a fast-charging capability for Qualcomm devices.
This compact desk top charger not only shows the current battery state of each charging device but also has built-in protection so you'll never have an overheated, overcharged or overcurrent device plugged in. Say goodbye to those bulky chargers that take up most of your nightstand!
The veebon Multiple USB Charger is a fast charger that features 2.4A Smart USB Charging Ports and intelligent LCD Display for each port, meaning accurate charging speeds for every device.
Simicore Charging Station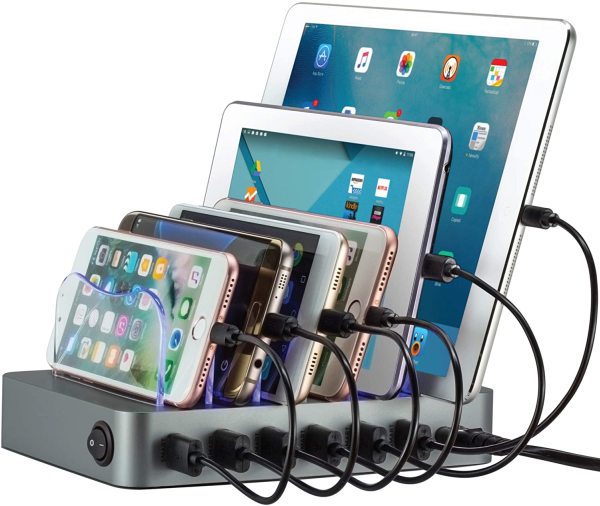 The Simicore Charging Station is the ultimate multifunctional charging station for all your mobile devices. Get 6 USB ports and space to charge up to 6 phones, tablets, cameras, speakers and e-readers with just one plug!
When you're on the go or at work but have a ton of power-hogging gadgets that need juicing up, this cell phone docking station will help you stay connected throughout your busy day. Whether you're searching through online reviews during lunch break or taking notes during a meeting when plugged in you'll be back in action quickly with no second chances.
The 6 charging slots on this USB charger have a rubberized base that has a strong grip for holding all devices securely in place while they charge and prevents slipping. This device charging station also recognizes the voltage of connected devices and will adjust power output if needed for quick safe charging- think about how often we had to find phone chargers that either don't fit or end up breaking your cables – with Simicore Charging Station you no longer need those worries!
GE Ultra Pro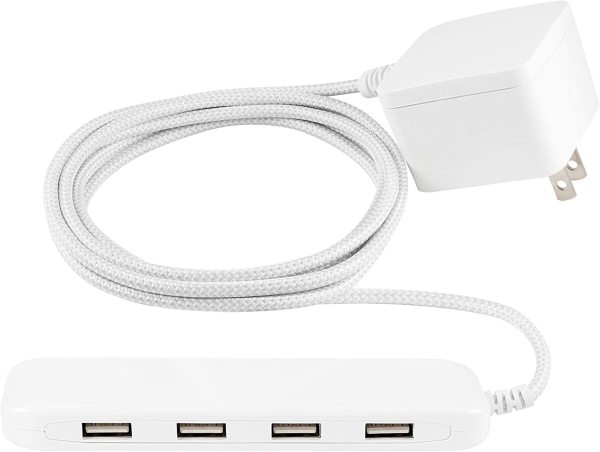 The GE Ultra Pro is not just one charger – it is 4 chargers rolled into one! Featuring powerful 24W and 4.8A total power, this sleek charger also allows for usage of up to four devices at once with its four USB ports (which will work overtime as needed). The 6-foot long cable provides perfect reach without compromising on compactness while the easy-to-read LED light notifies you of your devices' charging status. This is one charger that will never let you down!
With 24W of power and 4.8A total, the GE Ultra Pro is perfect for charging smartphones, tablets and electronic devices fast. With its sleek white design that compliments all colors of iPhones, Samsung Galaxy Ss, Google Pixels, iPads and more– this charger will stand out in any space while still being able to charge it all with 6-foot long braided power cable. This versatile device can be mounted on a desk or even the back of your television.
Aduro 40W 6-Port USB Desktop Charging Station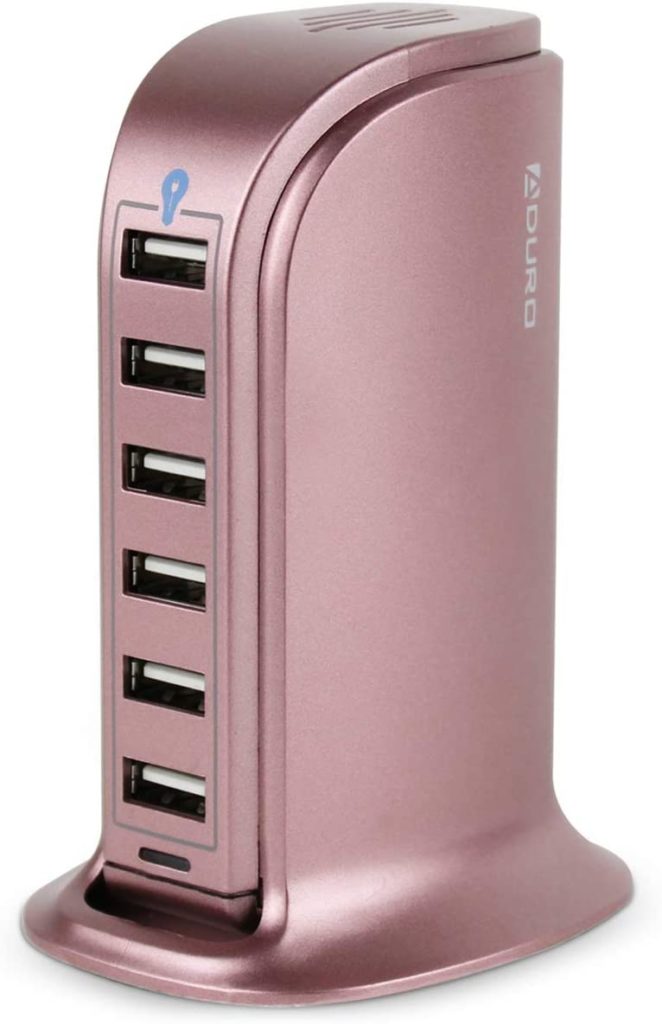 With Aduro's 40W 6-Port USB Desktop Charging Station you'll be able to charge up to six devices all in one place – giving you ultimate convenience wherever life takes you.
The smart IC ports automatically adjust power output for your Apple iOS devices, Android Devices and more. The powerful USB charging station ensures that it will always meet the task at hand – delivering an impressive 40 Watts of total power output!
But beyond high powered, the Aduro also has long lasting benefits like lifetime warranty and friendly customer service just in case anything comes up (don't worry about a thing when it comes to this handy dandy product). So what are you waiting on? Charge up everything you need with Aduro's 40 Watt USB Desktop Charging Station.
Vogek 50W Charging Station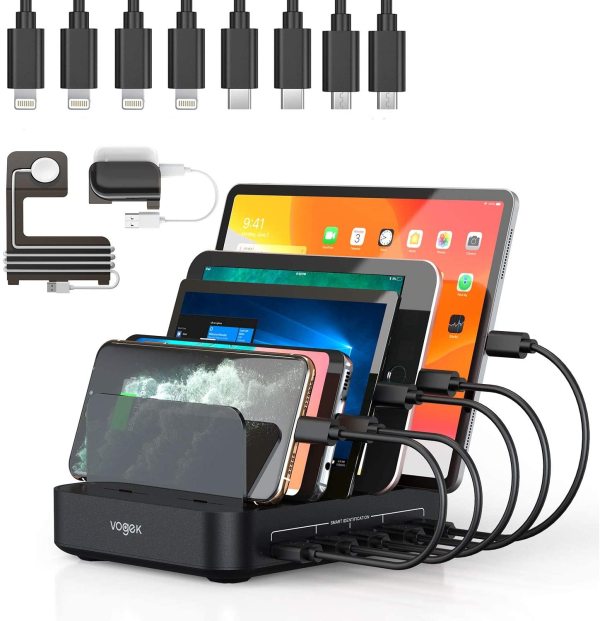 We know with all the devices you're constantly on the go, it can be difficult to manage what needs charging or not. That's where Vogek chargers come in! With 5 different port variations, and a 50W input with 10A of power output per each charger, no device will be left behind.
Whether you need an adapter for your iPad Pro 12″ tablet or iPhone XS Max – every type of plug is covered! And if it still isn't enough for your desires, how about 2 USB C (think Macbooks)? 1 Micro USB? 1 Lightning cable? All at once? Yes please! You won't have worry about over-currents or over-voltages which is always a relief when it comes to charging.
Conclusion: USB charging stations are a great way to make sure you never run out of battery power for your devices. They're perfect for travel or when you need to charge multiple electronics, and they can be left plugged in continuously without draining the plug's life as quickly as other chargers. With this list of 5 best USB charging stations at your disposal, you'll have no excuse not to keep all your gadgets charged up all day long!