Martial arts are codified systems and combat traditions that trace their roots to East Asia. These are practiced for several reasons, such as military and law enforcement, self-defense, and entertainment. In martial arts, you can choose from Karate, Aikido, Jujitsu, Tai Chi, and of course, Mixed Martial arts, to name a few. With all of this information, you can easily find yourself unsure of which website to trust. Take a look below and know which website is best for you!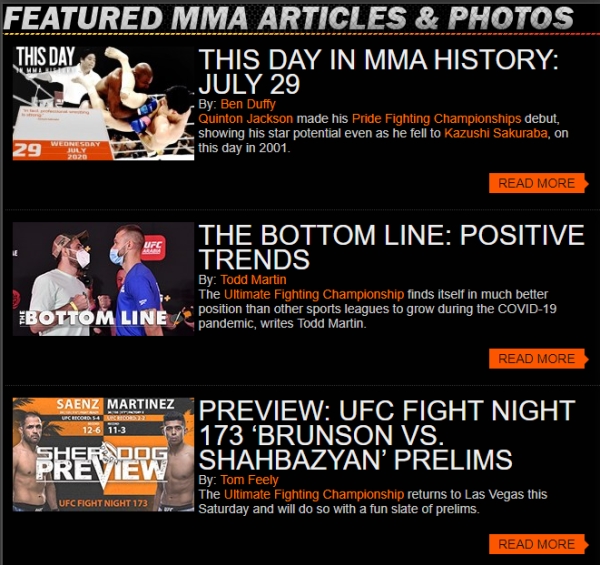 Sherdog is currently ranked first as the top martial arts website. You can mostly find MMA videos, stories, and news on their website. Another feature that visitors love is the premium access and forum where martial art and MMA fans can discuss anything that catches their interest.
The official website for the Ultimate Fighting Championship- this website keeps UFC fans well-informed of the fight announcements, information, and news straight from the source- the largest professional MMA fighting organization.
In Bloody Elbow, a section is dedicated to posts and articles about Martial Arts written by fans. There is also a section called "Fanshots," where fans can share images, quotes, links, and videos giving visitors a different experience. They also offer news and commentaries.
FOX SPORTS/UFC (Foxsports.com/ufc)
This website is a little different as it does not cover the Mixed Martial Arts arena. Handled by Fox, a large organization, you can find the latest news on UFC alone.
The largest 'non-MMA focused' site; is the official website of a magazine. Here is a good place to find videos and articles on self-defense, training, techniques, and famous martial artists as well as fresh updates and news on the different styles of Martial Arts.
Bullshido makes it to the list not just because of its massive information and news but also because of its strong community. You can find also find forums here along with its Martial Arts Encyclopedia.
Fight Network's coverage of news and announcements does not only focus on MMA but also other combative sports such as kickboxing, boxing, judo, and BJJ. It is then a good site to visit to keep up with the Martial Arts World.
Among all the websites, Middle Easy is the best website to visit if you want a good laugh along with your news. The updates and news are all delivered with a humorous tone. They also have "Street MMA," which shows MMA outside the octagon/cage and street fights.