We all know the importance of breadcrumbs on a website. They are used to provide users with a sense of navigation, and make it easier for them to find what they're looking for. For this blog post, we will take you through how to add breadcrumbs to any WordPress page so that your users can easily navigate around your site.
The funny name does not represent the true power of this tool. Breadcrumbs can work wonders when it comes to your website's navigation, especially if you have a lot of content with multiple levels and layers that need navigating through.
When it comes to modern web design, a breadcrumb trail is an important part of the site. Breadcrumbs not only enhance user experience but also help improve your SEO by providing users with context and navigation information.
WordPress's breadcrumbs are located in the "Home" tab, which can be found at the top of your content. When you click on the Breadcrumb link, a window will pop up with links to different pages already set as live destinations.
2 Ways to Add Breadcrumb to WordPress blog
Add via Themes
The WordPress themes enhanced with breadcrumb navigation are perfect for giving your business website a professional feel.
Most WordPress themes come with a built-in breadcrumb feature. If yours is not default, you can enable it via the theme options.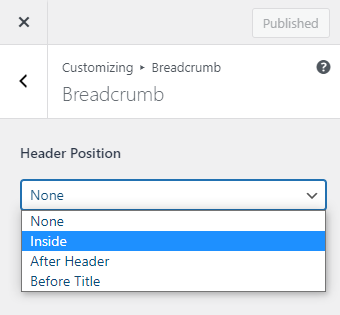 Add Via Plugins
If your theme does not come with a breadcrumbs feature or if you need to customize its appearance, then there are plugins that will allow for this customization.
Breadcrumbs are supported by different tpes of plugin, breadcrumb-specific one and SEO one.
There are two good breadcrumb plugins. Each plugin has its own unique features but all have one thing in common – they make navigating content on your site much easier!
Breadcrumb NavXT – Breadcrumb NavXT is a plugin that generates locational breadcrumb trails for your WordPress powered blog or website. This plugin makes it easy to customize your breadcrumb trails to suit the needs of just about any type of site running WordPress. The Administrative interface makes setting options simple, while direct access through themes and theme developers will be a great fit for more adventurous users.
Flexy Breadcrumb – This plugin allows you to style and format the text, links and separators of breadcrumbs according to your own taste. The plugin includes features such as changing breadcrumb's separator, setting the word or character limit for navigation menu, font-awesome icon picker for home link's logo options and color options for text, link, header and background through global settings. You can set font size of breadcrumb page.
Most SEO plugins offers a separated feature to enable breadcrumb. They provides both shortcode and a PHP script to allow you to add it to any part of your website.
RankMath – RankMath SEO Optimized Breadcrumbs is the perfect solution when your favorite theme doesn't incorporate Schema.org tags for navigation and breadcrumbs, or if you just want an easy way to improve your search engine rankings with clear keyword-rich navigational keywords!
Yoast SEO – Yoast SEO gives you complete control over the breadcrumbs on your site, so search engines and website users always know where they are.