Mobile gaming has come a long way in recent years, with a plethora of games available for iOS devices that cater to all kinds of different interests. One of the most popular genres in mobile gaming is the multiplayer online battle arena (MOBA). In a MOBA game, each player controls a single character on a team of several players, with the goal of destroying the enemy base. These games are highly competitive and require quick reflexes and strategic thinking. MOBA is even more suitable to play on mobile than MMORPG.
There are many different MOBA games available for iOS devices, ranging from cartoon-styled games to more realistic ones. Here are ten of the best MOBA games currently available for iPhone and iPad: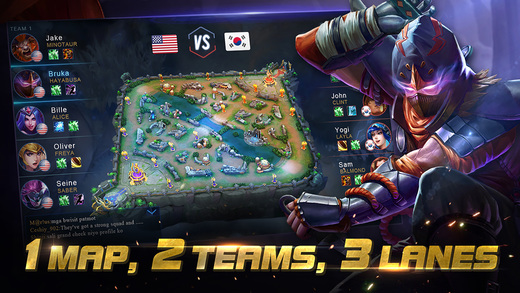 Mobile Legends: Bang Bang is the perfect game for anyone who loves classic MOBA gameplay. With real-time 5v5 battles against real players, Mobile Legends offers everything that any MOBA fan could want. From the three lanes to the four jungle areas, Mobile Legends has it all. And with eighteen defense towers and two bosses, Mobile Legends is sure to keep you coming back for more. But that's not all.
Mobile Legends also offers a fair and balanced platform where skill and strategy are all you need to win. It is for anyone who wants to jump right into intense battles without waiting around. The matchmaking system only takes 10 seconds and matches only last 10 minutes. This means you don't have to spend time leveling up your character or farming for resources. You can just pick up your phone and start playing.
And if you get disconnected from the game, our AI system will take over your character so you don't have to worry about your team is at a disadvantage. With Mobile Legends: Bang Bang, you can have fast-paced, thrilling MOBA action at any time, anywhere.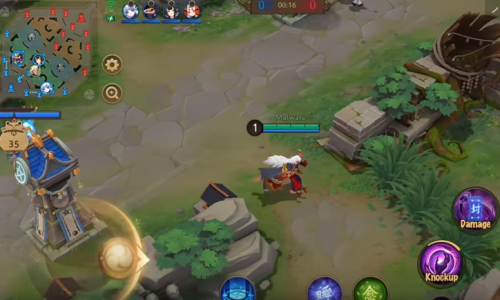 Do you have what it takes to be the last team standing? Onmyoji Arena is a fast-paced, innovative battle royale game that pits three teams of three players against each other in a race to the death.
Onmyoji Arena is a MOBA spin-off of the Onmyoji series, developed by NetEase. It uses characters from the original work to create a new MOBA experience. The game retains elegant Japanese aesthetics and original voice talents to faithfully recreate Kyoto in the Heian era.
Shikigami, the spirit familiars of Onmyoji, are your weapons in this fight for survival. Each Shikigami has its own unique skills and abilities, making them incredibly powerful allies in battle. But beware – your enemies will have access to the same Shikigami, so you'll need to use strategy and cunning to come out on top.
The Battle Royale mode is a brand new way to experience Onmyoji Arena, and it's sure to bring out the competitive spirit in everyone who plays.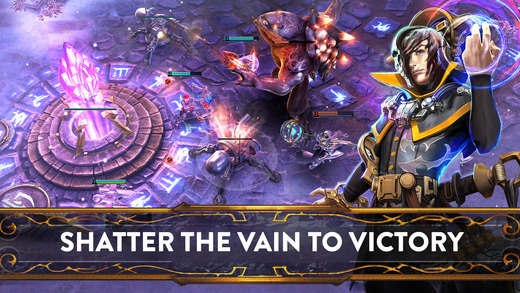 In the heat of battle, there is no time for hesitance. No room for second-guessing. You must make your moves with the utmost confidence, or risk being crushed by those who would take advantage of your every mistake. This is the world of Vainglory, a new generation MOBA where victory is decided not by reflexes alone, but by strategic mastery and the ability to outplay your opponents in a game of visceral, heart-pounding action.
It features 3v3 battles set in a fantasy world, with lush graphics and an expansive roster of characters to choose from. Vainglory is also one of the few MOBA games that offer a smoothly-functioning in-game chat system, making it easy to communicate with teammates.
With a unique set of 48+ heroes, each with its own unique combo systems and playstyles, Vainglory offers something for everyone. Whether you prefer to go it solo with a lone wolf hero like Glaive, or play as part of a team with a support hero like Lyra, you can achieve strategic mastery through macro play, objectives, team comps, and vision control. And if you want to really get an edge on your opponents, the ability overdrive system provides powerful bonuses for selected fully maxed abilities.
But Vainglory is more than just another MOBA. It's a next-generation MOBA designed for true competitive play. With multiple competitively viable playstyles for each hero, 120 FPS support, real line-of-sight Fog of War, and objective-rich maps, Vainglory provides everything you need to rise to the top of the competitive scene.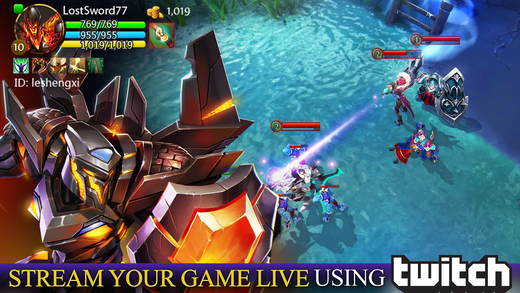 Heroes of Order & Chaos is another excellent option for those looking for a mobile MOBA game. It features 3v3 or 5v5 battles set in a fantasy world, with a large roster of heroes to choose from.
In Heroes of Order and Chaos, players can control one of 57 unique and varied heroes. Each hero has their own skills and equipment, which can be upgraded as the player develops their skills. The game is played in real-time, with players scouting out the map and luring opponents into ambushes in the fog of war.
The game can be played solo or in multiplayer mode on three different maps. The game blends cooperation with buddies and competition against enemies for an addictive experience. The goal of the game is to develop teamwork and cunning strategies to rule the world of Haradon. Once all the characters are mastered, players can prove it in Fun Mode, where anything can happen!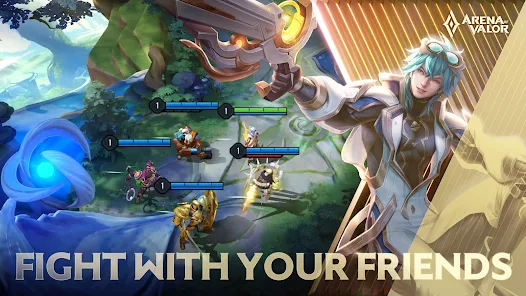 Arena of Valor is one of the newest entries into the world of mobile MOBAs. Developed by Tencent Games, it boasts high-quality graphics and smooth gameplay. Arena of Valor features 5v5 battles set in various locations with different objectives.
Players can choose from a variety of game modes, including quick matches that can be completed in 15 minutes or less. There are also opportunities to team up with friends and guildmates to create strategies that let you work together and achieve the ultimate victory.
With over 100 heroes to choose from, there is a character for everyone. And as you master your heroes and their powers, you'll be able to successfully defeat your opponents and climb the ladder to reach the top of the seasonal rankings.