Price: FREE | Developer: Moonton | Download: App Store, Play Store
The game we have here is a member of Multiplayer online battle arena or MOBA. If you don't know what does it means, remember of LOL and Dota. Those games are based on the same principle. In MOBA games, especially in Mobile Legends: Bang Bang, you have a hero who you should make as strong and powerful as possible and defeat all your opponents. But, others have heroes as well, so this isn't an easy task.
The Mobile Legends: Bang Bang brings a lot of cool stuff. For example, there are matchmaking in 10 seconds and battles which last 10 minutes. In essence, you can expect to win or lose within 10-20 minutes. One of the interesting differences with other games is the lack of a need to go back to a fountain to purchase an equipment or improvement. You can do it anywhere you want. In addition, you don't need specific spells, due to the fact you have a spell called Regen, allowing you to restore health for some period of time.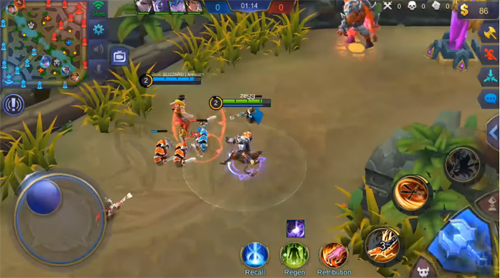 Additional things you should know about the game is that it features one of the best reconnecting systems we have seen. Then, the controls are so easy to master, so with your two fingers, possibilities are endless.
The good
One of the biggest advantages of the game is the online world where you will actually play with other players. You get 3 lanes, 2 bosses, 18 defense towers and a lot of other elements which simply make the game especially good. Then we have a real battle system which will decide who is the best based on the skills and technique but also on the power of the hero. The Mobile Legends: Bang Bang is designed not to be used as a freemium game.
Another thing we liked is the fact there are so many heroes. All of them are original, powerful in their own way and appealing. But, the even better fact is that new heroes are released all the time, so the overall number is increasing as we speak.
Definitely a good side of the game is fast-paced gameplay. You can complete a game within 10 minutes, which is impressive no less.
The bad
One of the biggest drawbacks is the issue which occurs when you try to share a battle victory on Facebook. It is slow and it may show an error. Another drawbackis the matching mechanics of the game. It should be a bit more realistic and accurate.