Do you want to buy portable speakers and you're not sure which ones are the best and loudest? We've done some research to compile a list of the best and loudest bluetooth speakers to inform you so that you can make the best purchase.
Size and Decibel Matter
When it comes to comparing the loudness of portable speakers, it's important to understand that there is more than one size, or else the argument is rendered useless. The size of the speaker matters a lot because the larger-sized speakers are obviously going to be louder, so if you're looking to buy portable speakers, you should first decide on a size.
Normally, there are three distinct sizes: Ultra-Portable, Portable, and Large Portable. Ultra-Portable is the smallest size and it's the one you should get if you prefer portability over loudness. Portable is the size that is larger than Ultra-Portable but still small enough. Ideally, this provides the perfect balance between loudness and portability, but for some, the loudness may still not be enough. This is where the Large Portable speakers come in. They are not as portable as others, but when it comes to loudness, they are pretty impressive.
Another important factor that you should consider while purchasing portable speakers is the decibel count. The loudness of speakers is determined by the decibels generated. Decibels can make a huge difference, especially when it comes to portable speakers. Even just a 10 decibels' increase will double the perceived loudness. This is something you should keep in mind when purchasing portable speakers.
In terms of size, we'll be discussing the best portable speakers that you can purchase, and ultra-portable and large portable categories aren't part of the discussion. These portable speakers are the ultimate workhorse speakers and the best have been picked after reviewing 50+ speakers available in this category.
11 of the best loudest portable speakers
The New SOUNDBOKS (3rd Gen)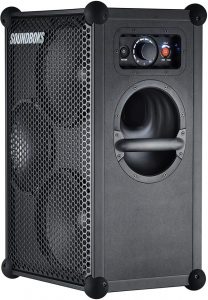 The new SOUNDBOKS (3rd Gen) is the loudest portable Bluetooth speaker on the market. It can deliver a peak volume of 126dB. Inside the speaker, there are 3 separate amps that drive the device with a whopping 216 watts, that's a lot of power for a lot of volume. The 2 built-in military-grade batteries can provide 80-hours of non-stop music streaming.
126 dB of Amazing Sound – Crisp treble and perfect bass
40 hr Battery – The only swappable battery in the game, average 40 hr life
Durable Design – Splashproof, dirt resistant, built to last
Connectivity – Connect devices via Bluetooth, XLR or ⅛" AUX input
Fully Wireless – Take it anywhere, set up in seconds
AOMAIS GO 30W Bluetooth Speaker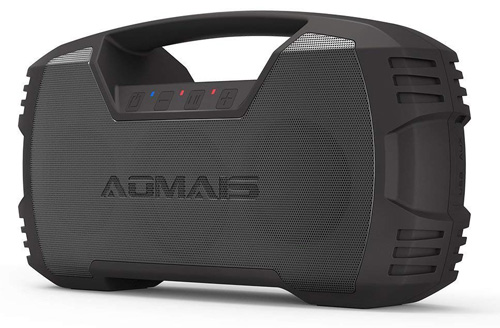 This Bluetooth speaker is phenomenal. It will deliver 30W of sound at any given moment. To do so, it uses 2x15W drivers and it is paired with two, bass radiators. You can even connect two of them and get 60W of surround sound. If this isn't enough, we must add that the speaker comes with 7200mAh battery which can last up to 8 hours at 60% volume. Yes, you can also charge your smartphone using a USB port.
OontZ Angle 3XL Ultra Bluetooth Speaker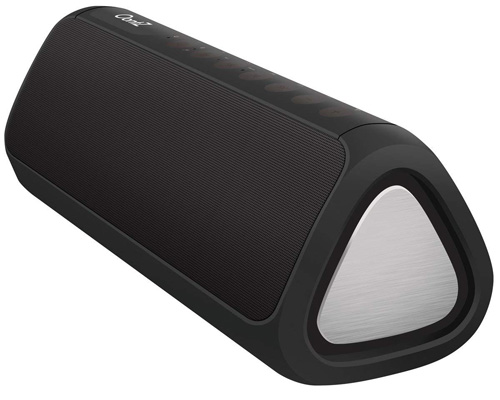 Now we present you a model that is very appealing at the moment. We liked the fact you get 2 tweeters, 3 passive bass radiators, and 2×2.75 inch drivers. The result is 24W of pure sound you will love. The battery can last 8 hours on a single charge and it takes just a few hours to be fully recharged. The main advantage is the Bluetooth 4.2, which is the latest technology. It will make sure you are connected up to 100 feet away from the speaker.
Aiwa Exos-9 Bluetooth Speaker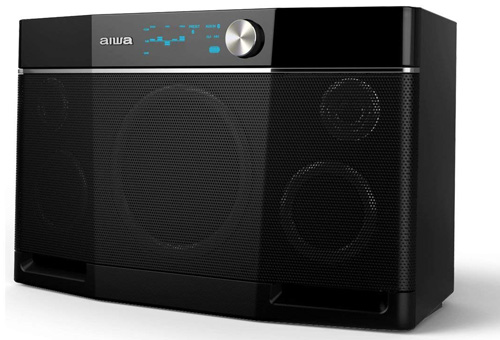 The Aiwa Exos-9 is a remarkable speaker that will impress you every single time you use it. The total power is 200W of sound, so there is no need to explain anything else. Of course, we should add that it uses 5 well-made drivers and a 6.5-inch subwoofer. The batter can last 9 hours, you can connect using Bluetooth, obviously or 3.5mm jack for older devices. It also supports NFC feature which is highly desirable for Android users.
JBL Xtreme Loudest Bluetooth Speaker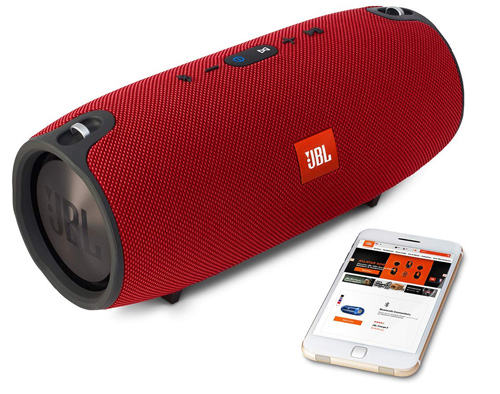 Some of you will simply adore this speaker. The main advantage is the battery life which is 15 hours. There are two, bass radiators that are external and you can connect up to 3 smartphones with the speaker. In addition, the unit can be used as a power source for recharging your devices. An interesting fact is that it is rain and water splash resistant.
JBL Boombox Bluetooth Speaker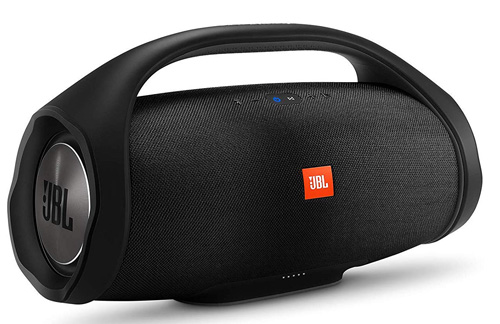 The JBL Boombox Bluetooth Speaker comes with 40W of raw sound power, the battery life of 24 hours and it can be used as a power bank. We also liked the 4 transducers and 2 bass radiators that are specifically made for this model by JBL. Keep in mind that this is a tough unit which is IPX7 rated, so it is extremely waterproof. It has been one of the most desirable Bluetooth speakers for users with an active lifestyle.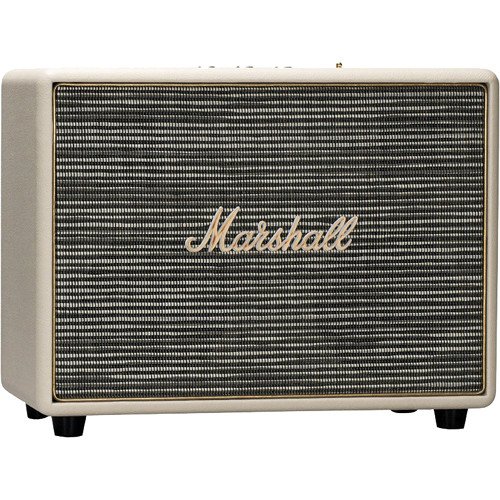 Marshall Woburn is the speaker you want if you don't want any compromise on the sound quality. Designed to be loud, this Bluetooth speaker by Marshall is one of the best speakers around. It will hit high trebles cleanly and handle low bass easily, and its clear and lifelike mid-range makes it one of the best portable loudspeakers that there are. The speaker features analog volume, bass and treble knobs that give this speaker an old-school feel as well as give you custom control of the sound.
The speaker's quality components and unique design help it deliver an accurate response throughout the entire frequency range. Marshall Woburn's classic design with the vintage-looking front fret and the gold metal details shouldn't fool you into thinking that it's 'old age.' This design may not be for everyone, but for some, it's the perfect speaker that'll take them back to the Rock n Roll era.
The Woburn is a classic speaker that is made for modern listening as you can easily hook it up to your TV, hard disk players or any other digital device with an optical cable. For those who want sound and want it loud, this is the speaker to get.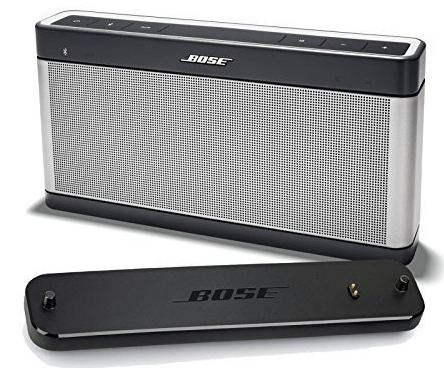 The name of Bose needs no introduction and it comes as no surprise that the Bose SoundLink III is a part of the lineup for the best and loudest portable speakers to choose from. Bose has been making audio equipment that is equivalent to the highest quality since 1964. If you've ever owned a Bose speaker or pair of headphones, you'll understand that Bose isn't the one to compromise quality.
This SoundLink III portable speaker is one of the new additions to the incredible Bose SoundLink lineup, and it goes without saying that this portable Bluetooth speaker has some big shoes to fill. Bose has got the chops when it comes to technical hardware, and that is the case with the SoundLink III as well.
Bose found a way to stuff two high-level drivers, a subwoofer and two mid-level drivers all in this Bluetooth speaker that measures only 10″ by 1.9″ by 5.2″, which is pretty incredible. All this superior hardware crammed in such a small box means that the SoundLink III is the speaker to get if you want the volume and audio quality of the highest level. With 14 hours of battery life, 3.5mm aux jack, and 90 dB volume, it is a product worth getting.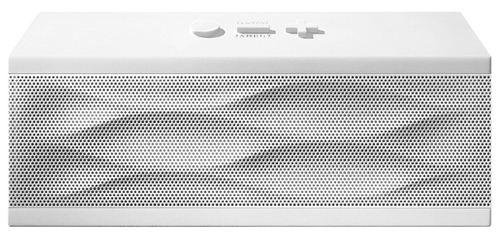 Jawbone is another reputable name in the audio equipment industry, and the Jambox by Jawbone is one product that will definitely catch your attention. The best feature of the Jambox is its attractive price tag, which makes it a fan-favorite, but when coupled with the impressive output of over 90 dB, the speaker ends up becoming one of the best and loudest portable speakers available on the market. The nice design is another plus point and if you want a speaker that has got it all, this should be your next purchase.
The Jambox features two passive subwoofers as well as dual drivers to back up its superior sound performance. The fact that it covers a wide frequency range of 85 Hz to 20 kHz is also impressive. With over 15 hours of playback and the ubiquitous microUSB cable charging, this speaker provides you a long party time as well as ease of use.
The Jawbone Jambox delivers on the audio quality front, but it's not quite what the Bose or the original Marshall has to offer. However, for its small price tag and functionality, this speaker isn't bad at all; in fact, it's one of the best the portable speaker market has to offer.
foxL V2 + foxLO Duet System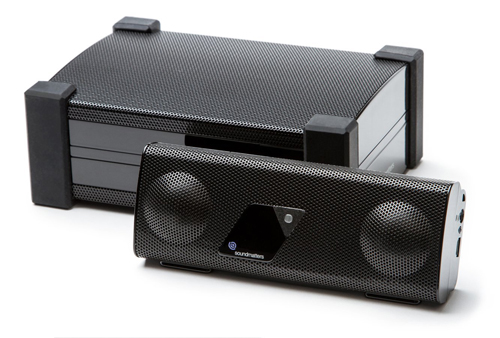 Soundmatters sure does know how to build a superior and high-quality product. The foxL V2 is a very cool product by itself, but the foxLO Duet system pairs it with the even cooler bass boosting unit of foxL.
The two devices can be tethered physically using a 3.5mm aux cable or you can wirelessly connect them via Bluetooth. Together, they allow a frequency range of 30 Hz to 20 kHz, which is really impressive. It's an even more encompassing range when compared to the original Marshall Stanmore.
The foxL V2 utilizes two 25mm drivers with a passive radiator, while the bass boosting unit uses a Linear Magnetic Driver as well as dual passive radiators and provides 30 watts of amplification. When combined, these two units can offer up to 12 hours of playback. If all of that isn't impressive enough, the system also delivers a volume of over 95dB.
The system is also popular among fans for its compact size, usage of microUSB for charging, and the notable endorsement by the Black Flag singer Henry Rollins along with other positive reviews that have led this speaker to the top end of the list of the best portable speakers.
UE BOOM Wireless Bluetooth Speaker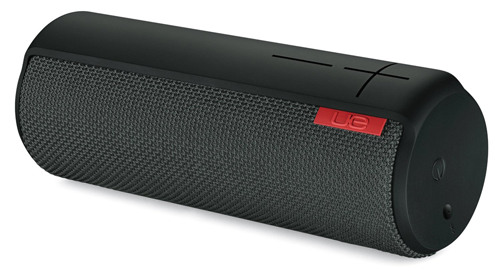 UE BOOM Bluetooth Speaker is the speaker you should get if you want portability as well as high volume. This new and improved wireless speaker gives incredibly high volume without compromising at all on the range of sounds and it takes up a very small space. The response range for this speaker goes from 125 Hz all the way up to 20 kHz.
This speaker gives seamless connectivity and hours of wireless playback so that you can keep the party going. The speaker is engineered such that the music is warm, clean and clear to the ears. When it comes to the device's performance, it's made to give a high level of precision in terms of the outstanding music range.
Compared to Bose and Marshall, it may have some shortcomings, but it's still a very powerful speaker that gives loudness and clarity as well as a wide music range so that you can enjoy all types of music. It's portable and affordable as well, so you can rest easy that you're getting a good price.