AYA Neo Pocket Air isn't just your regular gaming device—it's a pocket-sized Android game console! It is a sleek and super portable gaming device that's both stylish and packed with features.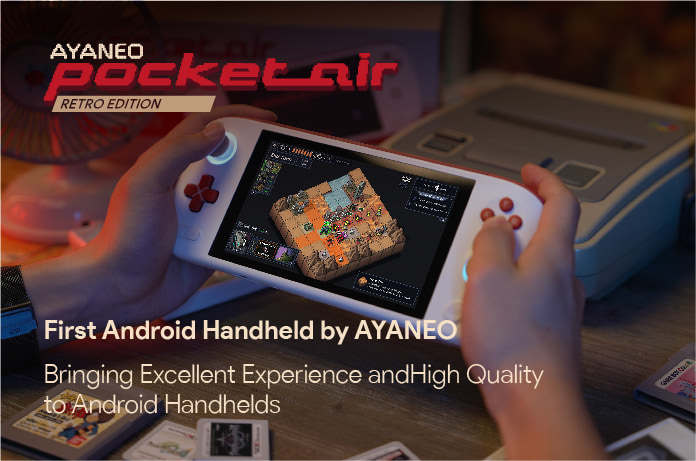 AYANEO POCKET AIR Specs
Chipset: MediaTek Dimension 1200, 1 x Cortex-A78 CPU cores @ 3 GHz, 3 x Cortex-A78 CPU cores @ 2.6 GHz, 4 x Cortex-A55 CPU cores @ 2 GHz, Mali-G77 MC9 graphics
RAM: 6GB/80GB/12GB, LPDDR5
Display: 5.5″ 1080p, AMOLED screen
Storage: 128GB/256GB/512GB
Input: Hall sensing joystick + Hall trigger, 6-axis gyroscope, dual 6-axis linear motor, and vibration motor
Connection: WiFi 6, Bluetooth 5.2, and 4G LTE
Software: Android 12, AYASpace, AYAHome
Battery: 7350mAh
Dimension: 8.8″ x 3.5″ x 0.67″
Weight: 380g
AYA, previously known for creating nifty handheld Windows gaming PCs, has taken a fresh step into Android territory. Guess what? You can snag one right now via their Indiegogo campaign for as low as $279, with the promise of getting it in your hands later this month.
Powering this device is the MediaTek Dimensity 1200 processor. It's top-tier when it comes to Android handheld performance. This chip can smoothly handle retro games at various resolutions, making it a versatile gaming powerhouse.
This handheld comes with a 5.5-inch AMOLED screen boasting a 1080P resolution. Not only does it offer a standard 16:9 aspect ratio, but it also provides a broad spectrum of colors and quick screen responses.
Plus, you don't have to worry about annoying light leaks. This display is excellent for reviving the look and feel of retro games, making each pixel pop with vividness.
If you're watching your budget or have some cash to splash, there's an option for you:
Basic Edition: 6GB RAM, 128GB storage for $279 (Early Bird), $299 (IGG), or $319 (Retail).
Mid-range Magic: 8GB RAM, 256GB storage at $329 (Early Bird), $379 (IGG), and $429 (Retail).
The Powerhouse: 12GB RAM, 512GB storage goes for $399 (Early Bird), $459 (IGG), or $519 (Retail).
All these variants come with a crisp 1080p AMOLED screen, rapid LPDDR5 memory, super-fast UFS 3.1 storage, and a battery built to last. Expect some smooth controls with dual 6-axis linear motors, and don't fret about connectivity.
You've got everything from a 3.5mm audio jack to WiFi 6 and 4G LTE! Bonus points for the nifty fingerprint sensor on the power button and other cool features, minus the camera, though.
Compact and lightweight, the Pocket Air measures at 8.8″ x 3.5″ x 0.67″ and tips the scales at just over 13 ounces. But it's what's inside that counts, right? This tiny titan boasts MediaTek's Dimensity 1200 chip, ensuring an optimized gaming experience. If you're on the lookout for even more oomph, keep an eye out for AYA's upcoming Neo Pocket S with an advanced Snapdragon G3x Gen 2 processor.
AYA ensures your device stays chill with its top-notch cooling system, complete with an adjustable fan speed mechanism. On the software front, you'll be greeted by Android 12, jazzed up with AYA's own launcher and game management app. They've also thrown in a "Cloud Game Database" which jazzes up your game collection by adding cover arts, descriptions, and more.