Jawbone is a reputable name in today's audio equipment industry, and the Jambox Special Edition by Jawbone is a speaker that'll definitely be able to catch your attention. The Jawbone Jambox is right up there with the likes of Bose and Marshall because it delivers an impressive audio output of over 90 dB, and the attractive price tag makes it a speaker worth purchasing. It's one of the most portable and loudest speakers available on the market and if you open up the Jambox, you'll see why and how it delivers such an amazing audio performance at all volumes.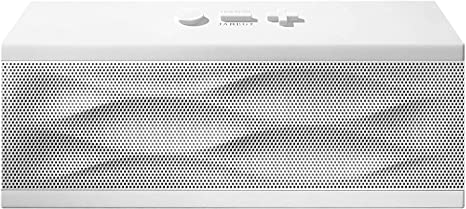 Specifications
Bluetooth and 3.5mm stereo input connectivity options.
Features Jawbone proprietary acoustic drivers and passive bass radiators.
Frequency range response of 60Hz to 20kHz.
MicroUSB charging with Li-ion battery; 10 hours of playback.
Simultaneous connectivity lets you connect two devices to the speaker at once.
MicroUSB charging cable and 3.5mm stereo cable provided.
Carrying case and A/C wall charging device included.
Bluetooth ranges up to 33 feet.
Supports EDR, A2DP 1.2, HFP 1.5, and HSP 1.1.
Features
The Jawbone Jambox Special Edition Bluetooth Speaker is a high-quality speaker that offers users many options for connectivity. The speaker can be Bluetooth-enabled, with 3.5mm stereo input, or Micro-USB charging only. Additionally, the Simultaneous Multipoint feature allows users to make connections to two devices at the same time.
The speaker also has an On/Off switch and an internal rechargeable Lithium-ion battery. The Jambox Special Edition delivers 10 hours of uninterrupted and loud music playback on just one charge so that all your parties go flawlessly. The microUSB charging feature means you can charge it easily and without any problem using any USB charging device.
The speaker comes with a carrying case, an A/C wall charger, a user guide, and a 60″ micro SB charging cable. The audio quality of the speaker is excellent with proprietary acoustic drivers and a built-in microphone. The output level is 85dB at 0.5m with a frequency response of 60 Hz – 20 kHz.
The speaker is all about functionality and that shows because you can not only connect it via Bluetooth, but the speaker also features 3.5mm stereo input. The speakers simultaneous multipoint lets you connect the speaker to two devices at the same time.
Superior Audio Performance
The Jambox features dual audio drivers as well as two passive subwoofers to take care of all your bass and treble needs. The speaker has got the technical hardware to deliver a loud and clear audio performance. The speaker also delivers an accurate response over a wide frequency range, starting from 60 Hz and going up to 20 kHz.
The speaker also features a built-in microphone and delivers an audio output level of up to 85 dB at 0.5m. The Jawbone's proprietary acoustic drivers and passive bass radiators ensure that the treble and bass in your music are heard loud and clear.
The Jambox by Jawbone has got everything you need to look for in a portable Bluetooth speaker, and it comes at an attractive price. The speaker has audio hardware that ensures clear and loud high-quality audio performance, while the functionality of the device is also top-class.
You can connect it to multiple devices, charge it easily with microUSB, listen to music for hours, and enjoy your favorite tracks in the best way. Jawbone gets everything right with the Jambox and delivers a stylish and powerful speaker that you'll definitely enjoy having.