When it comes to immersive virtual reality experiences, the Meta Quest 3 stands tall as a giant leap forward. Let's delve deeper into the features and capabilities that truly set this device apart.
A New Level of Visual Fidelity: The Meta Quest 3's display technology goes beyond the basics, offering an increased resolution of X by X pixels. This leap in pixel density provides an unprecedented level of detail, amplifying the realism of virtual environments to an astonishing degree.
Improved Processing Power and Performance: Driving the high-resolution visuals is the new and improved processor, a formidable engine that powers the Quest 3's virtual worlds. Not only does this translate to smoother gameplay, but it also enables more complex and detailed virtual environments than ever before.
The Ultimate in User Comfort: Comfort and usability are often overlooked aspects of VR technology, but not with the Quest 3. It boasts an ergonomic design that ensures users can enjoy long VR sessions without discomfort. Furthermore, the adjustable straps and IPD settings allow for a perfect fit for a wide range of users.
Expanded Game Library: The Quest 3 is not just about hardware improvements; it also offers a vast and diverse game library. From action-packed adventures to peaceful puzzle games, there's something for every VR enthusiast.
A New Dimension of Interaction with Hand-Tracking: The Quest 3 offers advanced hand-tracking capability. This feature allows users to interact with the virtual world in a more natural and intuitive way, without the need for controllers.
Meta Quest 3 Specs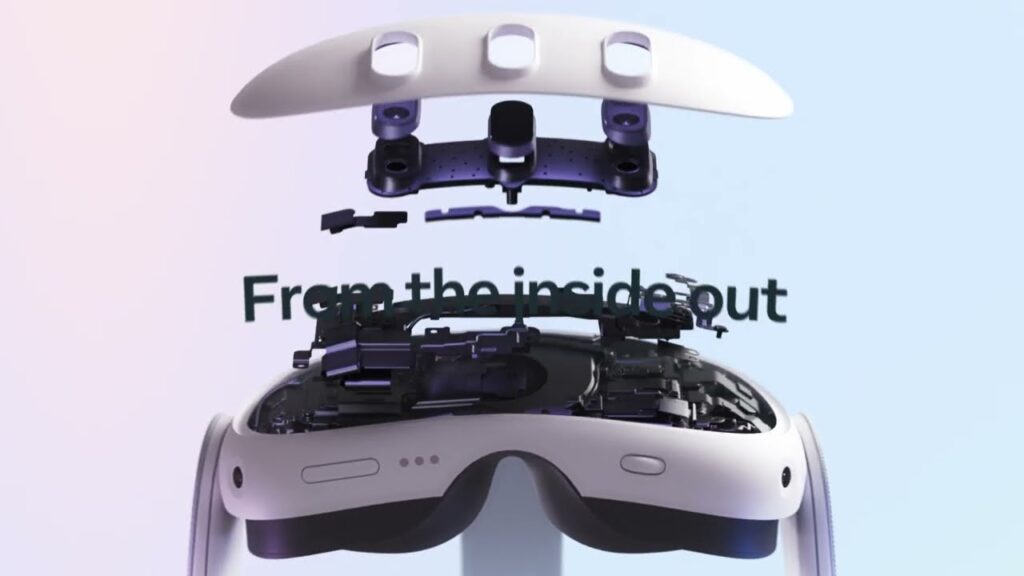 Here are the key specifications and features of the Meta Quest 3:
Processing Power: It has a next-generation Qualcomm Snapdragon chip (Snapdragon XR2), which is likely to be customized for the Quest 3. This will double the graphics performance of the device, leading to higher-quality visuals in VR games and experiences.
Storage: The base model of the Meta Quest 3 comes with 128GB of storage, with options for additional storage, potentially up to 256GB or 512GB.
Sensors: 10 advanced VR/MR sensors to support 6 degrees of freedom inside-out SLAM tracking, as well as color mixed reality and eye/face tracking.
Resolution and Refresh Rate: Although specific figures haven't been officially disclosed, the resolution could be 4,128 by 2,208 pixels or 2,064 by 2,208 pixels per eye, which is a significant boost over the Quest 2's resolution of 1,920 by 1,832 per eye. The refresh rate is expected to start at 120Hz out of the box, with a potential push to 144Hz in some VR games or with post-launch updates.
High-Fidelity Color Passthrough: This feature allows you to see the real world around you in full color through the headset, instead of in monochrome as with the PSVR 2. This could enable users to interact with the virtual and real worlds simultaneously.
Design and Comfort: The Quest 3 has a refreshed design that is 40% slimmer than its predecessor and uses a flexible material for the head strap. The face shield has also been redesigned to better block out external light. It appears to be a more comfortable headset for extended use.
Inter-Pupillary Distance (IPD) Adjustment: The headset features a flexible mesh around the lenses for easier adjustment of the IPD. A rumored feature is that this adjustment could be motorized, allowing the IPD to be set with the press of a button.
Controllers: The Quest 3's Touch Plus controllers have been redesigned for better ergonomics and now feature TruTouch haptics, which could provide the same level of advanced haptic feedback found in the PSVR 2's Sense controllers.
Smart Guardian: A leaked feature of the Meta Quest 3 is the "Smart Guardian". It uses the headset's camera array on the front visor to map out the room, not only to provide a safe space for VR activities but also to ensure that experiences accurately interact with the objects in the room. This is an upgrade over the Quest 2's guardian feature, which required the user to manually outline the space with the Quest controller.
Battery Life: With standard use and settings, the battery life of your device should hover around the 2.5-hour mark.
Meta Quest 3 Pricing and Release Date
Slated for release this fall, the Meta Quest 3, an initiative by Meta, comes with an asking price of $499.
Boasting a sleeker design – 40% thinner than its predecessor – and a new Snapdragon chipset for enhanced virtual and mixed reality experiences, the headset sets a new standard.
While it does command a $200 premium over the Meta Quest 2, the latter remains a viable option for those keen on VR exploration without the additional cost.